Herman Cain to Replace Other Annoying Guy on the Radio Forever
News
June 04, 2012 01:21 PM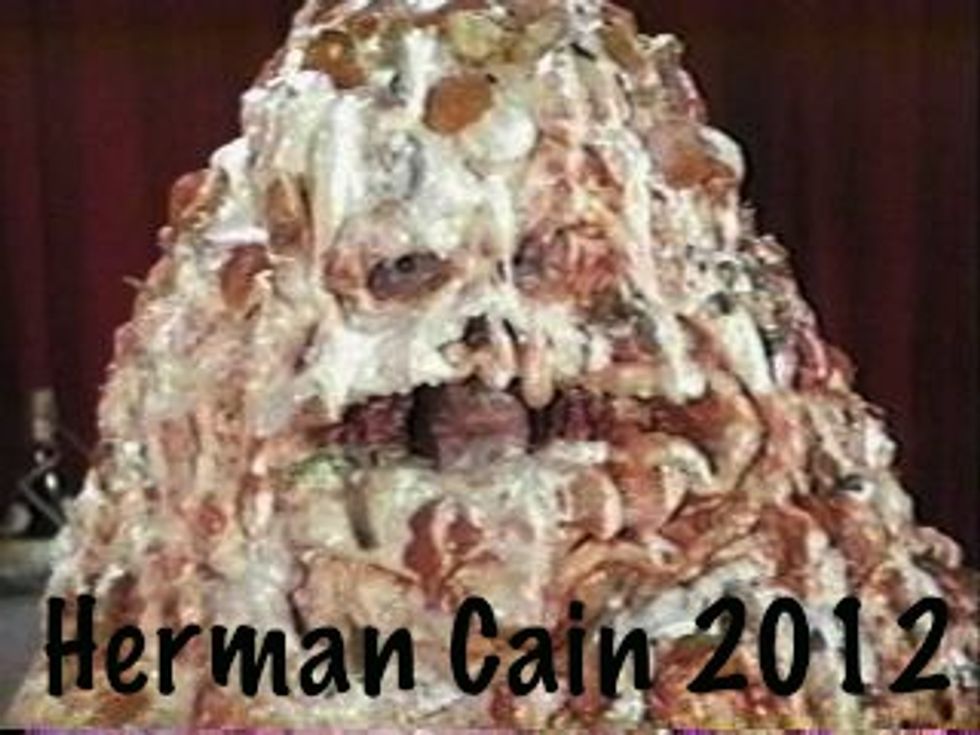 Great news: Herman Cain has been elected president! Is that the news? Of course not. But his presidential campaignhas been 100% successful according to the metric by which he chose to run in the first place. He's landed a big old wingnut radio show to debut in 2013, on the famous Day One of the Romney administration. He had a radio show before, but that was small market yokel fluff. This is a nationally syndicated show. He will replace Neal Boortz, the FairTax Hero who is retiring because he is one million years old.
---
Could the last 12 months have gone any better for Herman Cain? He got to be the frontrunner in a presidential primary process for several weeks -- let us never forget that that happened -- and then got to quit once it was revealed that he (allegedly) squeezed every boob on the Eastern seaboard for decades, boosting his "macho cred." Then he made some A+ videos with little girls killing bunnies while he watched, like Sauron, from the mountain. And now he'll be even richer than fuck, hooray:
Herman Cain, the one-time Republican presidential candidate, will begin hosting a nationally syndicated radio talk show in January, his syndication company said Monday.

Mr. Cain's talk show will be offered to stations in place of "The Neal Boortz Show," which will end at the same time. Mr. Boortz said Monday that he was retiring from his show, which has been broadcast in one form or another for 42 years.

Mr. Cain's show, which as yet has no title, is a natural segue for him. He had hosted a similar show for WSB, a station in Atlanta, before running for president last year and briefly becoming the Republican primary front-runner. While on the campaign trail, Mr. Cain, who conducted a book tour at the same time, repeatedly had to dispel speculation that he was running for president merely to "get a TV show or a book deal."

"I've got books already," he said at one campaign stop in October. "I don't want a TV show. I want to help save this nation from the direction it's going."
He'll have a teevee show soon, also. What wingnut welfare recipient worth his salt gets a radio show but not a weekend hour on Fox News? There's plenty more capital to destroy where this came from.
[NYT]