Hey Georgia Democrats! Give Donald Trump A Big Black Eye Today -- WITH ACTUAL VOTES
News
April 18, 2017 01:00 PM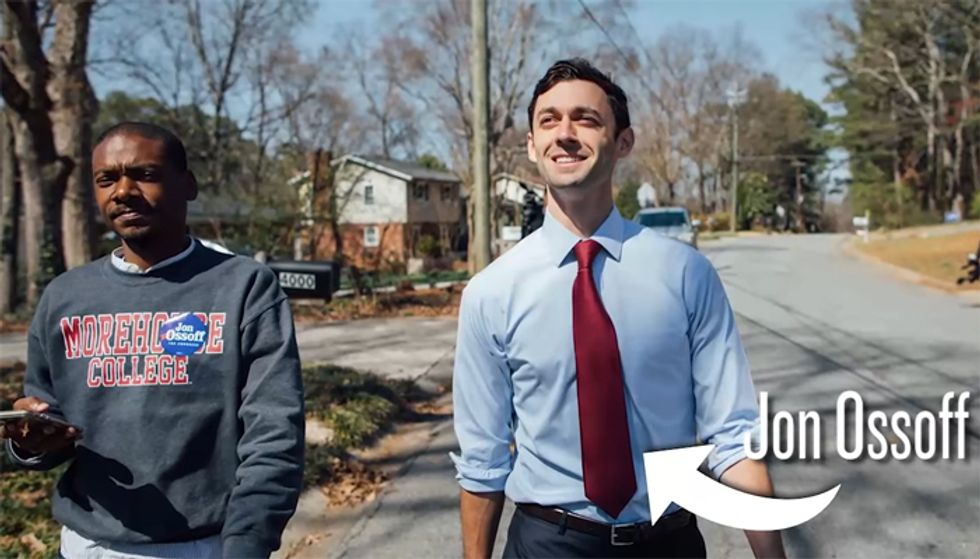 Obligatory sleeves-rolled canvassing action shot!
---
So not only is it Real Tax Day (yes, we procrastinated, and so did you, admit it), it's also Special Election Day in Georgia's 6th Congressional District, formerly held by Tom Price before Donald Trump picked him to be Secretary of Dismantling Health And Human Services. The leading contender in the field of eighteen candidates is Democrat Jon Ossoff, who's doing well in the polls, well ahead of any other competitor, but since this is one of those "open" or "scramble" or "jungle" primaries where everybody runs regardless of party, he'd need a total vote of 50% plus one vote to win the seat outright. Otherwise, the top two candidates will go to a run-off in June. The stats boffins at FiveThirtyEight say an outright win is seriously unlikely, because eighteen freaking candidates (surely somebody could have talked their mom or dad into dropping out?), but wouldn't it be a hoot and a half to defy expectations and elect Ossoff right now?
The Georgia 6th is a really red district, more Republican-leaning than most of the country, even. But while Donald Trump won there, he only won by a couple of percentage points, and this sucker really looks like one that can be flipped. Republicans have tried to hit Ossoff with some really dumb ads, none of which really got much traction. One suggested he's a callow youth because in college he was in a
video parody of Star Wars,
which mostly left people saying Oh yeah,
I like Star Wars, too!
Another ad
tried to suggest
that because his documentary company did some work for the Al Jazeera network, Ossoff and Osama bin Laden spent all their time in a cave braiding each other's hair -- which again didn't get a lot of traction. And
Donald Trump recorded a robocall
against Ossoff, basically saying that Jon Ossoff will personally be the Death of the Republic:
Liberal Democrats from outside of Georgia are spending millions and millions of dollars trying to take your Republican congressional seat away from you. Don't let them do it! [...] Only you can stop the super liberal Democrats and Nancy Pelosi's group, and in particular Jon Ossoff. If you don't vote tomorrow, Ossoff will raise your taxes, destroy your healthcare, and flood our country with illegal immigrants.
Whoa, that's one scary Democrat! He probably wants to open up the tunnels under the Walmarts and let the Chinese troops out, too, and then promote sissy games like soccer. Trump also took to Twitter in the wee small hands hours of the morning to prime the Republican fear pumps: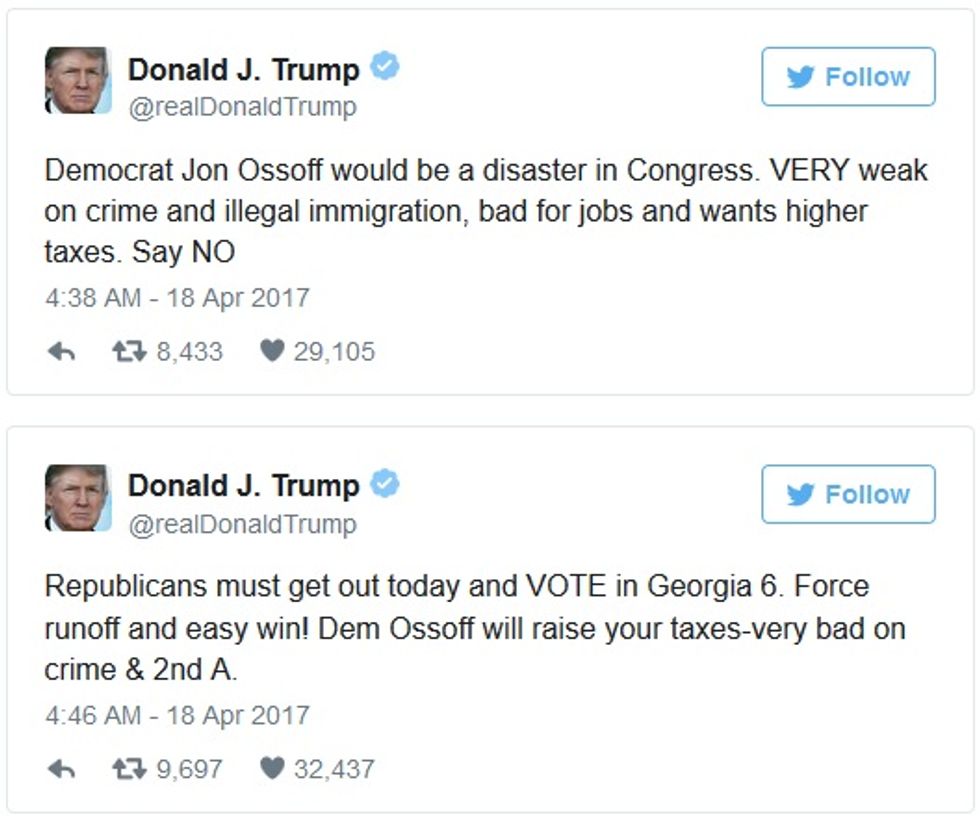 Some smartass offered a translation: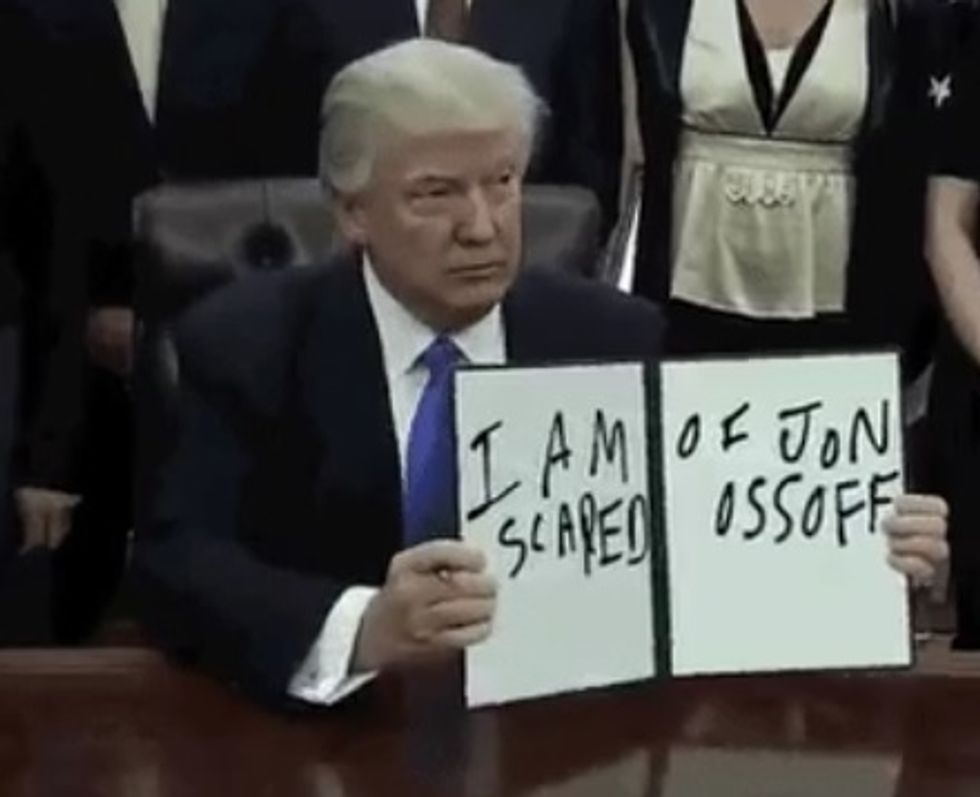 If you're in Georgia, get out and vote, and get out to get out the vote if you have time, OK? Trump is right about one thing only: The best Republicans can hope for is a run-off, and if there's massive Democratic turnout today, it would be a beautiful thing. We'll leave you with this thought from Sam Bee: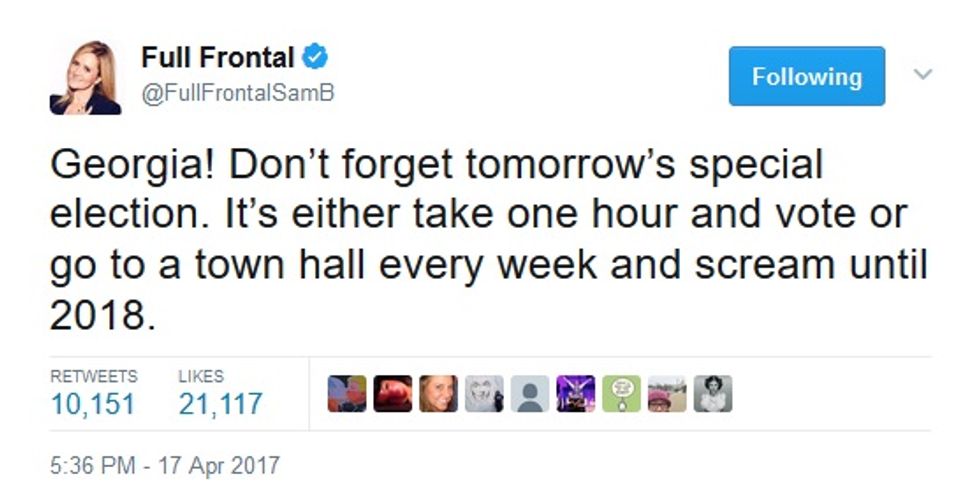 That's TODAY's special election, of course. Vote first, taxes later. If you're doing them online, you can dull the pain of going through the online worksheets by listening to the election returns.
Yr Wonkette is supported by reader contributions. Click the "Donate" clicky below and we'll send you far fewer emails than any candidate using ActBlue! Not to mention dick jokes.
[FiveThirtyEight / NYT / The Hill / AJC]