Hillary's NYT Concedes Election
June 04, 2008 01:23 AM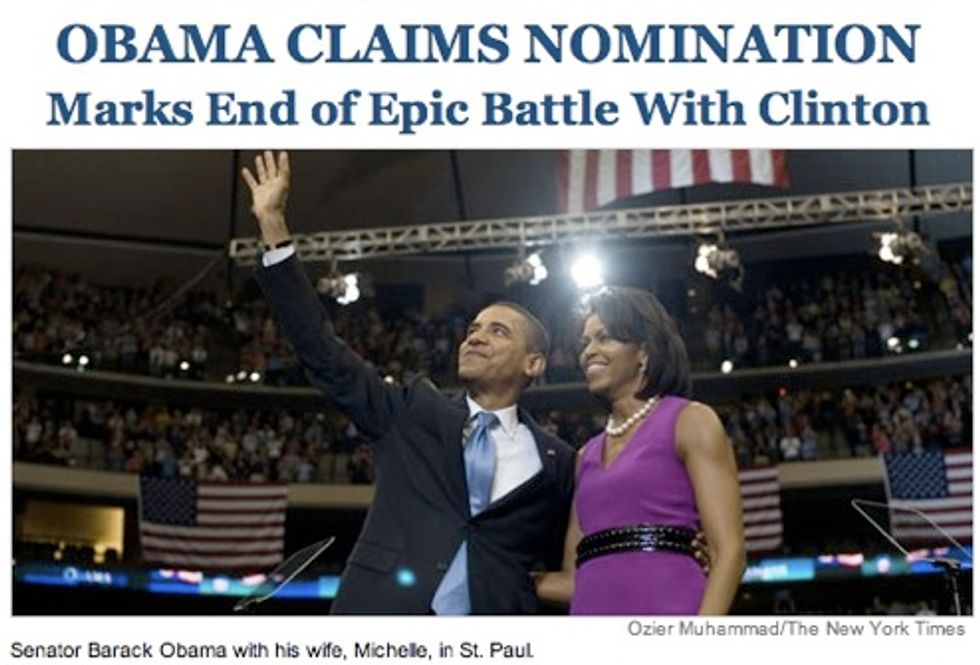 Barack Obama finally has the nomination, according to Hillary Clinton's local newspaper, the New York Times. These liberals who endorsed Hillary are obviously racist. But what about the other local newspapers of Hillary Clinton?
---
In Chicago, where she was born, the Chicago Tribune leads with "This Is Our Moment, This Is Our Time." (It's about Truck Nutz.)
In the "hardscrabble former coal-mining town" of Scranton, Pennsylvania -- where she never lived but where her father was born 97 years ago -- the local paper leads with "Obama seals nomination; McCain eager for battle." (Also, the pop-up ads promise three-bedroom houses for $98,000!)
In Hillary's other hometown college town of Wellesley, Massachusetts, the local elitist newspaper the Boston Globe leads with "Obama clinches Democratic nomination."
In Hillary's other hometown of Little Rock, Arkansas, the only media outlet that updates at night is the teevee channel, Channel 7. It says this: "Clinton's Arkansas Chairman Predicts Obama Nomination."
In Westchester County, NY, where Hillary supposedly lives, the lead story is "3rd teen charged in Peekskill stabbing."