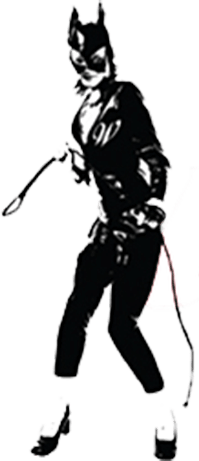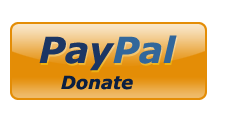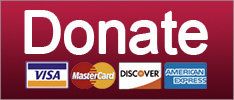 Trump
Ivanka lies like a cheap rug she'd design.
November 09, 2019 12:45 PM
The president's daughter and White House Adviser to Gross Nepotism, Ivanka Trump, gave an interview to the Associated Press yesterday. It was full of lies and slander. Ivanka opposes her father's impeachment because her lawyers inform her she'd also have to leave if he's removed from office. She can't go back to "designing" crap clothing. She won't go back.
Ivanka talked her usual gibberish, but she also shared some insights on presidential politics from her worn-out copy of Hooked on Phonics: History. Get yourself a stiff drink and meet me back here after this clip.
ONLY ON AP Ivanka Trump on the impeachment inquiry www.youtube.com
MORON: So, I happened to be reading at the time a biography on Thomas Jefferson where this letter was quoted and he was writing to his daughter about his experience in Washington. And I went to the source material and read the full letter.
Ivanka acts like she personally got her Dewey Decimal on at the Library of Congress. She probably just asked someone within a foot of her to get "that Jefferson letter" and the person said, "I don't actually work for you." She stamped her foot, demanded her Oompa Loompa, and someone eventually obliged.
When the House voted to give Donald Trump a bag of impeachment rocks for Halloween, Ivanka tweeted an excerpt from Jefferson's letter to his daughter, Martha. She claimed "some things never change" when obviously they've changed a hell of a lot if Trump has the same job as the guy who wrote the Declaration of Independence.
Ivanka was dragged on Twitter for her cluelessness, but over the next week, she discovered other presidents to compare to her corrupt father.
MORON: This is not a new experience for my father and our president. This has been the experience of most.
Trump would only be the third president impeached in US history and only the second for non-fellatio-related felonies.
MORON: Abraham Lincoln was famously, even within his own Cabinet, surrounded by people who were former political adversaries.
As historian Doris Kearns Goodwin documented in Team of Rivals: The Political Genius of Abraham Lincoln, Lincoln deliberately assembled a Cabinet of former rivals because, during a time of war, they were the best men for the job.
LINCOLN: We need the strongest men of the party in the Cabinet. We needed to hold our own people together. I had looked the party over and concluded that these were the very strongest men. Then I had no right to deprive the country of their services.
Trump however filled his administration with Disney villain henchmen and demands total loyalty with ritualistic displays of obsequiousness. But Ivanka wasn't done insulting our intelligence. She also did this.

AP
How can Ivanka "reject" observable reality? Just watch her.
LIAR: [Donald Trump's] wealth, and our wealth, collectively and independently, was created prior to government service and prior to anyone in our lives having run for elected office.
First place, lady, you didn't "create" any wealth. You created wealth like that hipster restaurant in a gentrified neighborhood "created" ethnic food. Ivanka compared her crime family to Joe Biden, who she claims "created wealth as a derivative" of his time in office. Biden earned about $15 million since leaving the White House. Ivanka and her first husband, Jared Kushner, somehow made $82 million during their first year in the White House.
LIAR: Most people do create their wealth post service. We created ours prior.
"Most people" in public service, unlike Ivanka Trump, possess skills and talents that can make them a lot of money in the private sector. There's nothing overtly wrong with that. Biden earned the nickname "Middle Class Joe" because during his almost 40 years in office, he followed the strict rules regarding financial conflict of interests. Ivanka can't even wait four years to cash in on her father's presidency. The first daughter's own company won trademarks in China last year to market products including baby blankets and coffins. I assume the baby blankets were knitted in sweatshops and the coffins are substandard designs.
Democrats, please hurry up and impeach this loser -- oh, and her father, too, while you're at it.
[AP]

Follow Stephen Robinson on Twitter.
Yr Wonkette is supported by reader donations. Please send us money to keep the writers paid and the servers humming. Thank you, we love you.
Feminininism
Said op-ed not written by Paula Cole.
October 25, 2019 11:36 AM
This Wednesday, Matt Labash of The Daily Caller took to the pages of the New York Times to whine about the fact that no one is John Wayne anymore. Did he mean, by this, that there are not nearly enough racist men out there who dodged the draft themselves and then went on to be big ol' cheerleaders for extremely bad wars? Of course not. Dubya ain't dead yet. No, Labash was referring to how fabulously manly John Wayne was and lamenting the entirely mythic days when all of the men were John Wayne, or at least aspired to be John Wayne — and the role of a recent issue of GQ in pushing men even further from the John Wayne ideal.
John Wayne, that repository of testosterone — now considered an illicit substance in many states — once played a character who said, "You have to be a man first, before you're a gentleman." Who knows what, exactly, he meant by it? It sounded like a fine thing to say, back when men were unabashed "men." Now, we have #MeToo, and toxic males, and even such a once man-friendly rag as Gentlemen's Quarterly (i.e., GQ), which has historically celebrated men, seems to be just sick about them, eager to atone for their Y chromosome.
I would love to know more about how #MeToo is preventing men from being men. Does Matt Labash believe that it is somehow not OK to talk about the ways in which "traditional" notions of masculinity have perhaps led to a culture of sexual harassment and even sexual assault? That perhaps the idea that a man's masculinity is dependent on his ability to get women to sleep with him is bad and even, dare I say it, toxic?
But specifically, Labash is very upset about a recent issue of GQ that focused on something called "The New Masculinity." It is, Labash feels, a bad masculinity. And, he says, it is not the business of men's magazine editors "with soft hands" to be weighing in on masculinity, even if they are also men.
Keep reading...
Show less
History Facts
The president has no respect for black people and our history.
October 22, 2019 01:30 PM
Am I really going to write about racial violence and state-sanctioned terrorism again today? Yes, because Donald Trump can't go five minutes without insulting our intelligence on Twitter. This morning, Trump went full Clarence Thomas about his ongoing, perfectly legal impeachment inquiry.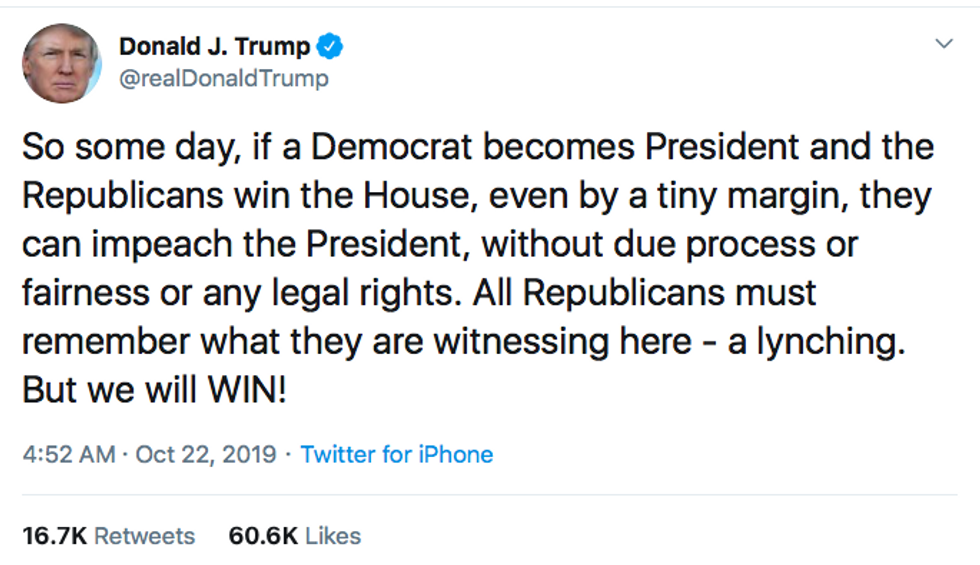 Whine, whine, whineTwitter
First place, the "What If" fantasy plot Trump pitches here has already taken place during the distant past of my mid-20s. Trump's potential impeachment is just as "fair" as Bill Clinton's. Also: This is the "tough guy" president the MAGA hat crowd idolizes? It's hard to imagine John Wayne, Chuck Heston, or Clint Eastwood complaining about their enemies in tear-stained journal entries.
I'd planned to ignore this, but the response from my home state senators made it impossible. South Carolina Senator Tim Scott, who is black, struck just the right balance between craven and cowardly. It's the area of no distinction where all black conservatives reside.
Keep reading...
Show less
Impeachment
He's claiming the Founders did not believe in impeachment, which they did.
October 19, 2019 11:45 AM
Oh goodie. The torture guy has more wisdom to share with us.
War criminal John Yoo, George W. Bush's favorite waterboarding lawyer, is back to lecture us on the Constitution. Because irony, like God, is dead.
Yoo, who once argued that the president could massacre entire villages and crush children's testicles if he wanted to, is back on the scene. But instead of torturing Muslims, this time he's here to torture American history.
So that's on-brand.

Keep reading...
Show less
Trump
Silly old genocide targets had it coming.
October 16, 2019 04:26 PM
President Stable Genius somehow managed to make his decision to abandon America's Kurdish allies even worse today, explaining that the Kurds, who did most of the fighting that destroyed the ISIS caliphate in Syria, were "no angels," so they probably deserve a little light genocide at the hands of Turkey. At a press conference with Italian president Sergio Mattarella, Trump said there's really no reason for the US to get involved in a silly invasion by Turkey that Trump personally greenlit, and that all in all, he's a strategic genius for withdrawing US forces and leaving the region in chaos.
Just to underline that it's no big deal because it's only a bunch of expendable brown people dying, Trump insisted, "they've got a lot of sand over there. There's a lot of sand they can play with." Somehow, he managed to get through the presser without using your drunk uncles usual slurs for the people who live over there, so please hand him a Nobel Peace Prize, OK?
Keep reading...
Show less
History Facts
If the vice president does it, it's still a crime.
October 10, 2019 04:32 PM
Today's a pretty good anniversary, history buffs! On October 10, 1973, that's 46 years ago, Vice President Spiro Agnew resigned and then immediately went and pleaded guilty to a bunch of crimes related to a years-long bribery scheme that started when he was the top executive for Baltimore County and continued while he was governor of Maryland -- and even after he became Richard Nixon's vice president! If you haven't listened to Bag Man, Rachel Maddow's jaw-dropping podcast series on Agnew's crimes and the Justice Department lawyers who brought an end to his criming, you probably should! It's strangely relevant today, for some several thousand reasons!
Keep reading...
Show less
History Facts
Ain't nobody's business but the Turks!
October 10, 2019 09:55 AM
In yet another bizarre press appearance where Donald Trump used the signing of unrelated executive orders as a chance to talk utter nonsense about himself, the "president" explained yesterday why it was perfectly OK to abandon Kurds in northern Syria to the tender mercies of Turkey. Sure, maybe the Kurdish militias largely wiped out ISIS control of territory in Syria, with US help. But that doesn't mean they're our allies or anything. So if withdrawing US troops means Turkey massacres the Kurds, that's really none of our business. If it makes you feel better, Trump hopes Turkey won't massacre them, and even forcefully called that prospect a "bad idea." And he promised, again, to punish his buddy, Turkish president Recep Tayyip Erdogan, if Turkey goes too far, although Trump wouldn't say what would count as "too far."
If it's any comfort to the Kurds, Trump seems equally dismissive of what might happen to our European allies. Asked whether he was worried the Turkish incursion might result in ISIS prisoners escaping, Trump said that was no big deal to him, either: "Well they're going to be escaping to Europe, that's where they want to go, they want to go back to their homes." Totally not an American problem! And besides, Trump pointed out, the Europeans didn't want to take back those ISIS fighters, so Europe had it coming.
Here's Trump explaining why it's OK to let NATO ally Turkey do a little genocide against the people who fought ISIS, so huge numbers of US troops wouldn't have to.
Keep reading...
Show less
2020 presidential election
Elizabeth Warren appropriated her pregnancy.
October 08, 2019 02:30 PM
With election season and impeachment both heating up, the (mostly) rightwing bullshit factory is swinging into gear and trying to find stuff that might tarnish Democratic candidates. At the moment, those without too many critical thinking skills are giddily announcing they've caught Elizabeth Warren in a HUGE LIE about having been fired from her first teaching job for being pregnant, because the school never wrote down "Fired for being a pregnant married lady" as the reason for her dismissal. It's bullshit, of course, and for the most part, respectable media outlets aren't buying into the wingnut (and a few unfortunate leftists') gaslighting. But as with the Obama birther conspiracy bullshit, just the existence of the gaslighting campaign makes a debunking necessary. Doing that debunking without reinforcing the bullshit is the trick -- and believers in (mostly) rightwing bullshit are remarkably resistant to mere facts. Which is, not for nothing, why it's taken 40 years to start doing anything about climate change. Worse, some supporters of other Democratic and/or Democrat-caucusing independent candidates are piling on, advancing the rightwing bullshit, because some people never learn.
Yes, it's all incredibly stupid, and relies on deliberately presenting misleading partial information and insisting minor differences in what Warren has said about the firing -- decades later -- constitute a "lie," even when there are no real inconsistencies in her statements. Let's unwind this fucktangle, shall we? We shall.
Keep reading...
Show less
Impeachment
When the best you've got defending you on the Sunday shows is Ron Johnson and Jim Jordan, your prospects are not looking good.
October 07, 2019 10:10 AM
The long-awaited Trump impeachment is speeding up! Mark Zaid, one of the attorneys for the Ukrainium One whistleblower, has stated he is now representing " multiple whistleblowers. The announcement of a second whistleblower -- the second intel whistleblower, on top of the IRS whistleblower who already existed, and who is being described as "an intelligence official with first-hand knowledge" (NOT "hearsay," Lindsey Graham!) of some of the allegations outlined in the original complaint, threw a wrench on ALL the talking points of Trump's ardent defenders, to the point that nobody from the White House even showed up for the Sunday shows. But a couple of idiots from Congress did!
It was perhaps most difficult this week for GOP Senator Ron Johnson of Wisconsin. Appearing on NBC's "Meet The Press," OshKosh M'Gosh Johnson was asked about what he told the Wall Street Journal about how EU Ambassador Gordon Sondland told him Trump was doing quid pro quos with Ukraine and basically extorting the nation for electoral assistance in exchange, but don't worry, Donald Trump told him that's a damn lie and Donald Trump always tells the truth.
It did not go well for Johnson.
Keep reading...
Show less