House GOP Mysteriously Filled With Spirit of Compromise
News
February 13, 2012 10:35 PM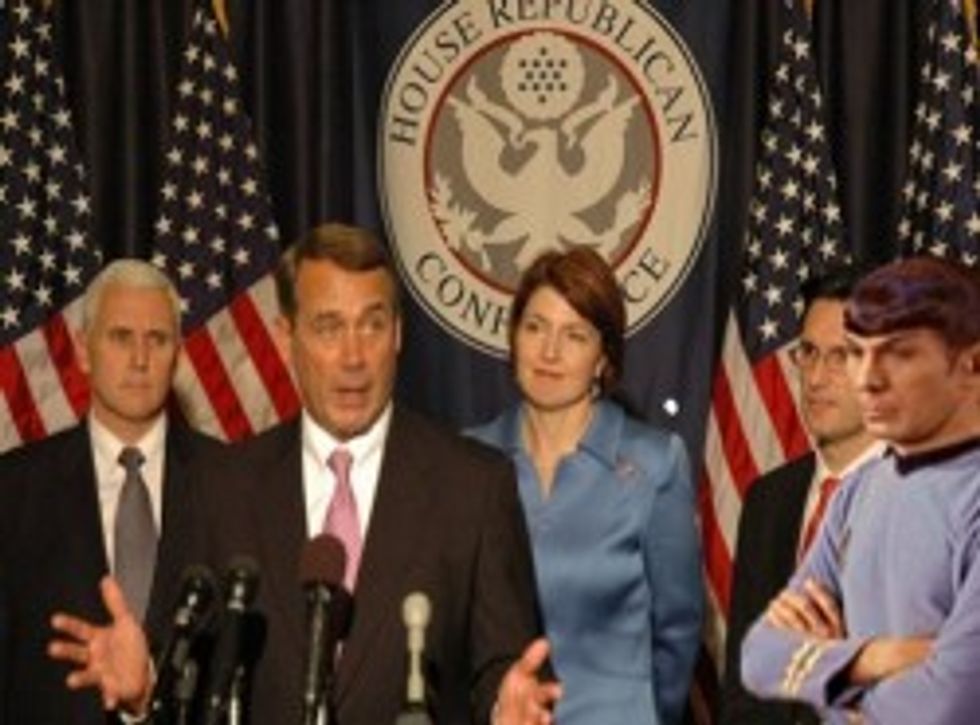 Oh look, here is an unusual sequence of words that is popping up on the newswires: "Republican leaders in the House of Representatives on Monday dropped their demand for spending reductions to pay for extending a tax cut for 160 million American workers, setting up a likely breakthrough for agreement with Democrats." Interesting. Is this a roundabout way of announcing that Eric Cantor has slipped into a coma?
---
Evidence for the coma theory, based on Rep. Dennis Cardoza's hilarious account of Eric Cantor's constant asshole obstructionism that appeared in the Hill today:
This sibling rivalry is not just between Republicans and Democrats; it also exists somewhat more subtly within each caucus. Most obvious is the jealousy and back-stabbing of the Majority Leader, Eric Cantor (R-Va.).

In my decade in Congress, I have spent a fair amount of time with Speaker John Boehner (R-Ohio). I respect him and we have worked well together. John and I often don't agree on policy, but he is always thoughtful and gracious. The rivalry between him and Mr. Cantor is not unusual, but it is unusually destructive, and it is one of the main reasons that this Congress has been so unable to find consensus on anything. I am not the only one to notice the divide, either. Just a few weeks ago at the annual Alfalfa Club Dinner, President Obama ribbed the Speaker saying, "Mr. Boehner, it's good to see you sitting at the main table. I know how badly Mr. Cantor wanted that seat!"

Boehner is captive to this rivalry only because he has no choice but to constantly watch his back. Cantor feeds and exploits the most radical factions in the Republican Caucus, and his jealousy often mires his caucus in ideological impotence. Of course, Democrats are always grateful!
Nice touch there, "impotence."
So really, John Boehner, what did you do to Eric Cantor to make him agree to a "compromise" not to raise taxes on millions of middle class voters in an election year when Cantor fought it so hard last December that he nearly murdered the party? Did Boehner finally let Lindsey Graham administer that badly-needed spanking? [Reuters/ The Hill]