How To Be A Better Person: Eat Food That Comes From The Street
News
March 02, 2010 04:55 PM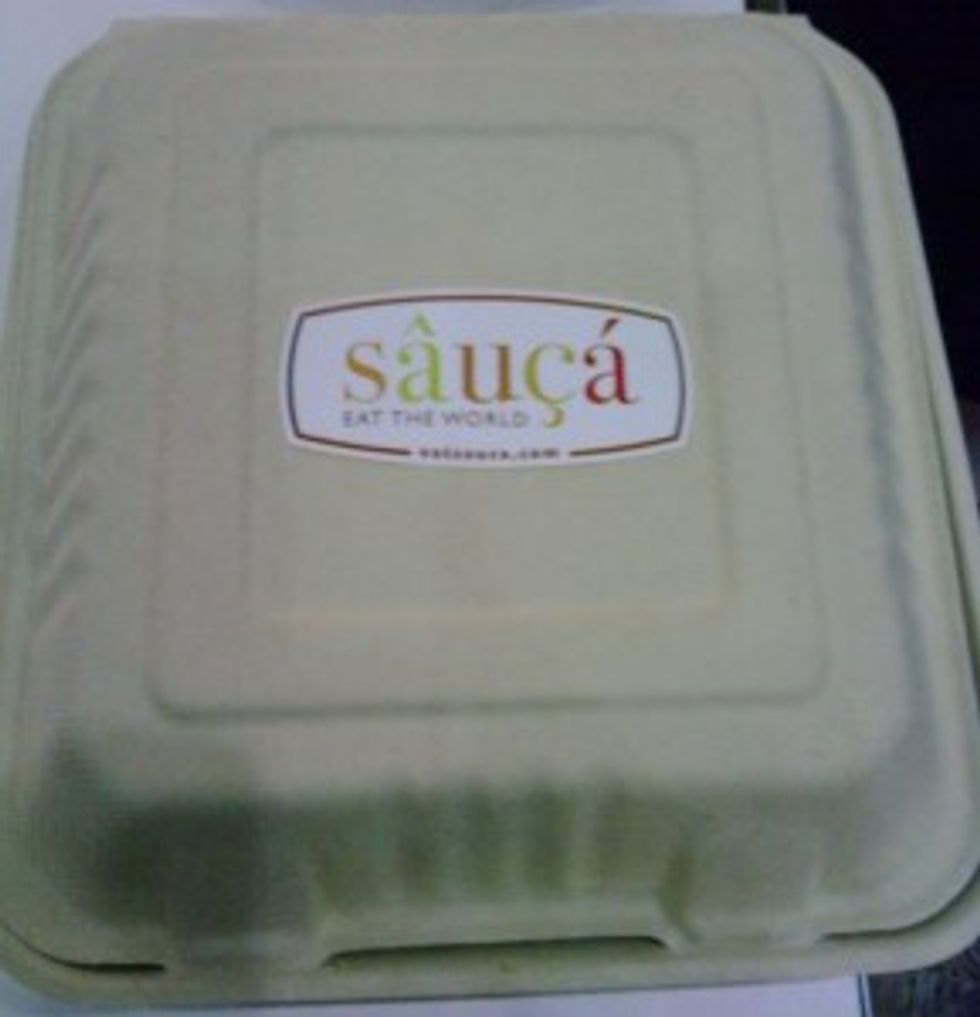 There once was a man who worked for a hedge fund, only to discover that even though he was wealthy and happy, he wasn't satisfied with the mark he was leaving on the world. After much soul searching, he figured, what better way to improve your legacy than by creating a food cart that roams the streets of DC, features food from around the world, and uses the Twitter to notify the masses of its location? And so Sauca was born.
---
A Sauca (Is this a real word? Sure!) is a flatbread wrap-style sandwich for which there are 11 variations.
Look, a Sauca!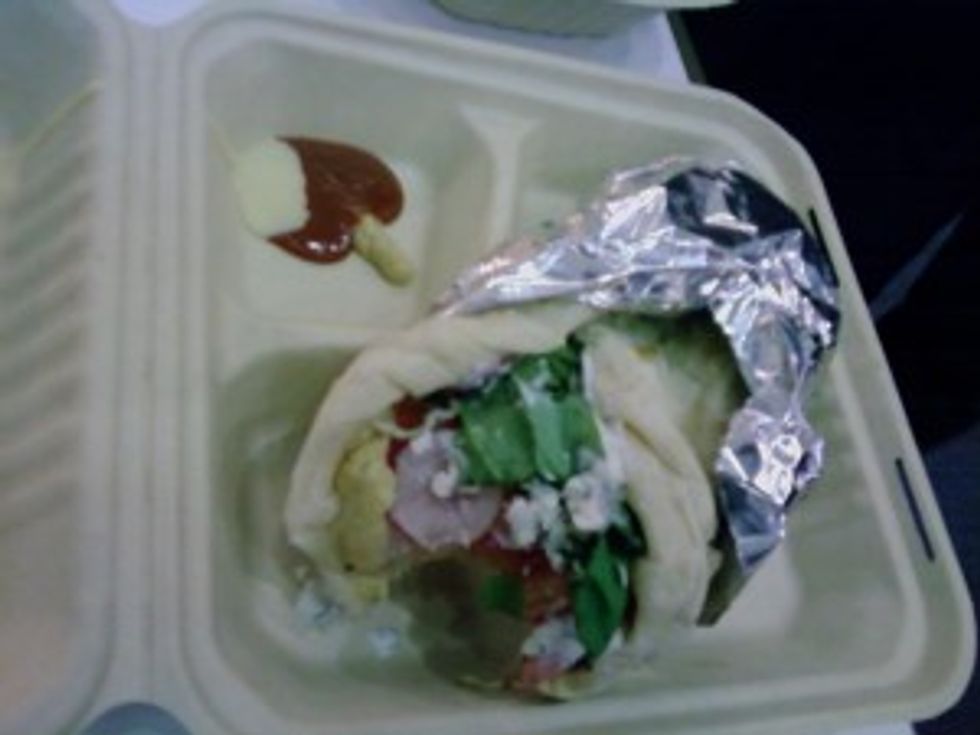 This is the Medi Veggie. It is made with vegetables and hummus and is basically a vegetarian's wet dream. Other Saucass include the Pork Banh Mi (we love anything pork related) from Vietnam, the Lone Star BBQ Beef (this represents America), the Croque Monsieur (ham, swiss cheese and mayo from Europe!), and the Mumbai Butter Chicken (uhh, buttery chicken?). They have at least a dozen different sauces, including tahini, white miso, lobster bisque, and lemon mayo that you can add to your delicious, flatbread sandwich.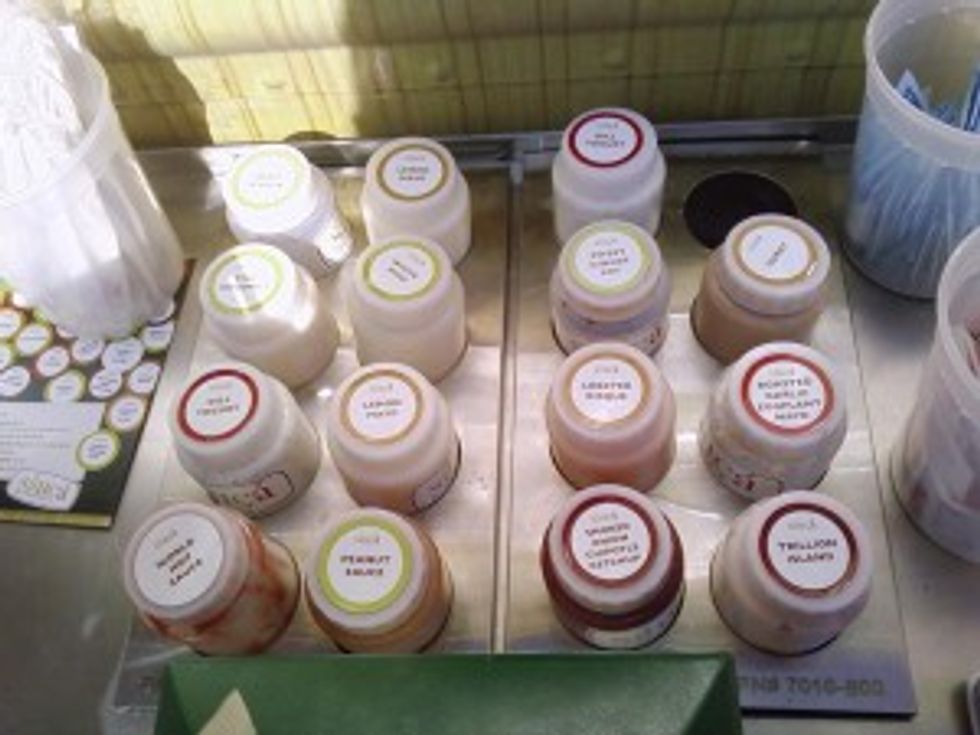 THERE IS MORE. They also serve soups, including a Chicken Mulligatawny (a spicy Indian soup with chicken lentils, rice and curry) and a hot & sour soup (just like the soup you get at your local Chinese restaurant, only better) as well as salads, including a Greek salad (inspired by farming fields in Greece) and a Thai chicken noodle salad (like Thailand!)
For dessert they serve Toffles. WHAT'S THAT. Why it's a waffle that comes with a topping of your choice, be it peanut butter and jelly, fruit, nutella, or marshmallow fluff!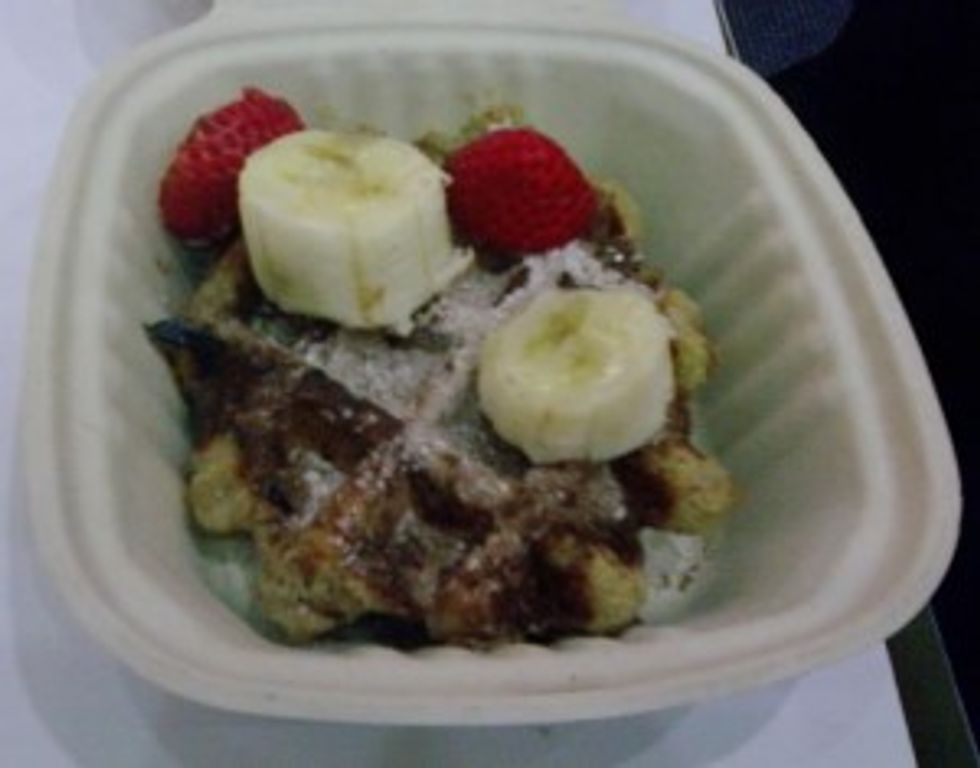 They also serve breakfast, though we're not sure to which country/countries they give credit for their eggs, cheese and meat breakfast creations. Maybe Africa?
Your meal also comes with a side of the Internet and social media! WAIT, HEAR IT OUT. The Saucamobile (that would be the truck that they serve the food out of) has a kitchen and all that good stuff, but also a 37" LCD screen, four karaoke mics, a phone that can be used for international calling, Wi-Fi, and tons of web cams so your naked friends anywhere in the world can watch you eat your lunch!
Remember, this isn't just about eating really good, inexpensive, fun, healthy food. It's all about fulfilling your dreams, saving the world, and a food cart that has a name that makes no sense.