News
'This is not a zoo,' a staffer at a border facility actually had to say to the asshole.
Ted Cruz and 18 other Republican senators who aren't ashamed to spend time with him took a field trip to the border last week. It was more than just a pointless photo-op. Polling shows that President Joe Biden has overwhelming support for his COVID-19 response, but he's underwater on his handling of "the border situation," which is not a situation at all. It's a made-up crisis Republicans are using as a political cudgel.
The Washington Post reported last week that the current rise in border crossings is predictable and is not directly related to Biden's policies. The so-called surge fits a pattern of "seasonal changes in undocumented immigration combined with a backlog of demand because of 2020's coronavirus border closure."
It's not a surprise Republicans would lie, but it's still repulsive that they'd exploit desperate people for short-term political gain. Sunday, Cruz tweeted video he shot at a crowded holding facility in Donna, Texas.
A brave and compassionate staffer — two traits Cruz lacks — stood up to the senator and asked him to "please give dignity to the people" held in the facility and "please respect the rules," which likely prohibited assholes filming detainees without their consent.
"You were instructed to ask us to not have any pictures taken here, because the political leadership at DHS [Department of Homeland Security] does not want the American people to know," Cruz states in the video. "You don't want the pictures taken. The rules are arbitrary and they're designed to keep the American people in the dark."
It's not an arbitrary rule, and it predates this administration, which Cruz damn well knows.
The staffer stood her ground and stated firmly, "This is not a zoo, sir." Because she had to remind Cruz of this fact. That's the type of man he is.

Fortunately, the staffer was masked because Cruz had no problem sharing her image with his four million Twitter followers. He declared on Twitter:
How far is Joe Biden going to stop the American people from seeing inside the Donna CBP facility? Biden sent a political operative from DC to block our cameras and even threatened another senator to obstruct legitimate congressional oversight.

It's President Biden, jackass.
Cruz is smugly confident the president personally sent this woman, who isn't a "political operative," from DC for the sole purpose of blocking his iPhone camera. She also didn't "threaten" another senator. She insisted everyone follow the rules of the facility, which isn't "obstruction." A senator who voted to let the twice-impeached thug walk on inciting insurrection can't credibly speak about "congressional oversight." Cruz seems to think his constitutional duties are limited to annoying Democrats while running for president. (You know, when he's not running to Cancun).
Cruz pretends to care oh so much about kids in cages now that Biden is president. He's so late to this party he might as well dance the Macarena. During an interview with Fox News's Maria Bartiromo, he claimed conditions at the border were the worst he's ever seen. That's only true if he kept his eyes closed during the former White House squatter's administration. Children were actively separated from their families and confined inside abandoned Walmarts. Squalid conditions were reported in 2019 at a Border Patrol processing facility in Clint, Texas. The junior senator from Texas was unmoved. He was a vocal defender of the previous administration's grotesque policies.
"There's actually a court order that prevents keeping the kids with the parents when you put the parents in jail. So when you see reporters, when you see Democrats saying don't separate kids from their parents, what they're really saying is don't arrest illegal aliens," Cruz told KERA, the Dallas public radio station.
Politifact rated Cruz's rationale here "mostly false."
Cruz told Bartiromo last week:
"We went and toured the Biden cages, you know, for four years we heard Democrats and the media talking about kids in cages under president Trump," he said in the interview. "Joe Biden has built more cages, the cages are bigger, and they're more full."

Suddenly, Republicans consider kids in cages a humanitarian crisis. Cruz claimed "Biden's cages" were at 1,500 percent capacity and children were locked in the cages, side by side. He even cares about social distancing now. Pretty much every word out of Cruz's gross mouth is a lie or deliberately lacking context.
Republicans genuinely care about children in cages as much as Melania Trump did about anything. Everything with them is just a political weapon. You'd almost feel sorry for people so bereft of human feeling if they weren't so dangerous.
[Newsweek]

Follow Stephen Robinson on Twitter.
Looking for someone to give that cash to? Why not us?
Keep reading...
Show less
Trump
You know, Donald Trump is bad at most things, but one thing he does deserve credit for is always being able to perfectly recreate the incredibly awkward feeling of being stuck in a conversation with a person you didn't realize was that drunk when you first started talking to them.
This Saturday, prominent Trump donors Megan Noderer and John Arrigo got hitched at Mar-a-Lago. During the reception, Trump was reportedly invited on stage to give a toast to the happy couple, and ended up just weirdly rambling on and on about himself and Joe Biden and Iran and the election being stolen from him. He also had a lot to say about some dude named Jim.
And if it is at all possible, he's even less coherent than he was when he was President. It's like a grand dame guignol if no one in the movie were at all talented.
Transcript via Newsweek:
"Y'know, I just got, I turned off the news, I get all these flash reports, and they're telling me about the border, they're telling me about China, they're telling me about Iran—how're we doing with Iran, howdya like that?" [crowd boos]
Does he think the people on the news are speaking to him directly?
"Boy, they were ready to make a deal, they woulda done anything, they woulda done anything, and this guy goes and drops the sanctions and then he says, 'We'd love to negotiate now,' [and Iran says], 'We're not dealing with the United States at all,' oh, well, they don't want to deal with us."

"And China, the same thing, they never treated us that way, right? You saw what happened a few days ago, was terrible, and uh, the border is not good, the border is the worst anybody's ever seen it, and what you see now, multiply it times 10, Jim. You would know how it handle it—he's the only one I know who would handle the border tougher than me."
Oh yeah. Jim! Jim knows how to handle all of that stuff. Good old Jim. Jim the Fish. We all know Jim.
"We have to, and the tough is... in the most humanitarian way, because that's what it is. What's happening to the kids, they're living in squalor, they are living like nobody has ever seen anybody, there's never been anything like what's, and you're gonna have hundreds, and you have it now, they have the airplane photos, the shocks, and they call 'em shocks, and these things are showing thousands and thousands of people coming up from South America and it's gonna be, it's just uh, look, it's a disaster. It's a humanitarian disaster from their standpoint, and it's gonna destroy the country, and frankly, the country can't afford it because you're talking about massive, just incredibly massive amounts. Our school systems, our hospital systems, everything."
Those were definitely some words. Words that appeared to be about immigration. Beyond that, I really could not tell you.
"So it's a rough thing, and I just say, 'Do you miss me yet?'" [Audience applause]
"As we were saying, we did get 75 million votes, nobody's ever gotten that. They said, 'Get 66 million votes, sir, and the election's over.' We got 75 million and they said... 'but you know, you saw what happened', 10:30 in the evening, all of a sudden I said, 'That's a strange thing, why are they closing up certain places, right?'"
The problem with elections, of course, is that if you get 66 million or 75 million votes and the other person gets more than you, you still lose.
He then finally got around to mentioning that he was at a wedding and there was a couple he was supposed to be toasting.
"Now, a lot of things are happening right now, I just wanted to say, it's an honor to be here, it's an honor to have you at Mar-a-Lago, you are a great and beautiful couple."
You know, I liked this song a lot better when Elaine Stritch sang it.
And one for Mahler!

As you will notice, Trump did not actually mention the couple's names during the toast that was supposed to be about them. Did he maybe think John Arrigo's name was Jim? That seems fairly plausible. Personally, I prefer to think Jim was just some guy he ended up cornering in the buffet line at the wedding.
We haven't heard anything new about the social media company Trump is supposedly starting, but the best thing for America would probably be if Trump could relegate himself to being weird at other people's weddings and planning "projects" that never come to fruition.
Better that than telling his followers to invade the Capitol.
[TMZ]
Do your Amazon shopping through this link, because reasons.
Wonkette is independent and fully funded by readers like you. Click below to tip us!
Keep reading...
Show less
Immigration
They'll ride a BOAT, motherfucker!
Two delegations of members of Congress are in Texas today to check out the situation on the border. A group of Democrats, led by Rep. Joaquin Castro (D-Texas), will visit the Department of Health and Human Services shelter for unaccompanied minors in Carrizo, where some 700 teenage boys are waiting to be placed with sponsors, usually parents or family members already in the US. And a delegation led by Texas Republican Senators Ted Cruz and John Cornyn will traipse around the border area to mutter about how everything is Joe Biden's fault, despite the fact that nahhh.
Last night, several of the Republican senators were escorted by Border Patrol agents to a spot along the Big River River, where the Border Patrol agents told them voices and flashlights on the Mexican side of the river belonged to "human traffickers and cartel members," according to Cruz, who apparently can tell a cartel-held flashlight from a flashlight held by someone else taunting him in Spanish across a river in the darkness. Look, Cruz even posted video of the terrifying encounter!
We encountered human traffickers & cartel members tonight, yelling at us across the Rio Grande and preparing to cro… https://t.co/qXKNpN5YT2

— Ted Cruz (@Ted Cruz)1616739704.0
Oddly, Cruz didn't follow up his video of the criminal gangs "preparing to cross" with any evidence they actually did.
Fox News credulously reported that the senators had encountered real live human traffickers, without the slightest suggestion that the people in the darkness might be anything else, because it's Democrats who lie about the border, nobody else. Cruz sure did all he could to play up just how scary it all was:
We have been listening to and seeing cartel members, human traffickers right on the other side of the river, waving flashlights, yelling and taunting Americans, taunting the Border Patrol because they know under the current policies of the Biden administration they can flood over here. [...]

They're getting paid $4-5000 a person to smuggle them into the country and ... when they smuggle them in, the Biden administration releases them.
You'll search the Fox News article without success for the verbs "claimed" or "alleged."
Sen. Mike Lee (R-Utah) actually one-upped Cruz, telling Fox News that not only had he seen human smugglers and cartel members, they were drug smugglers, too, who are "making $14 million every week while this crisis lasts." "Fox & Friends" host Steve Doocy didn't ask Lee whether he had actually verified the income with receipts of any sort, but they both agreed it's all Joe Biden's fault.
Sen. Susan Collins (R-Maine) was also very impressed with the midnight tour of the border and everything the Border Patrol showed the GOP junket. Some of it may even have been true! At 1 a.m., Collins tweeted that she had
spent the last 3 hours with Border Patrol on night shift in McAllen, TX. 18 Senators learning about the huge influx, 3,000 people per day, including unaccompanied children, illegally entering.

Mexican cartels control who crosses the border. A young mother from Guatemala, sitting on an aluminum blanket with her 1-year-old, told me she paid smugglers $6,000.
Collins was also happy to relay what the Border Patrol told her she saw with her own eyes, dimly, across the river, in the darkness:
Border Patrol is overwhelmed, overworked, & discouraged by new policies. Agents took us through a dangerous path to the Rio Grande where we could hear the Cartel members taunting us across the river. Human trafficking, child abuse, & drug smuggling are rampant. This is a crisis.
We can only assume Collins was horrified when CBP agents took her into a darkened room and asked her to put her hand in a bowl of peeled grapes so she could touch for herself the preserved eyeballs of cartel victims.
Happily, there's been some pushback to the GOP talking points, such as this fact sheet from the American Immigration Council, which points out that, as happens most years, encounters with migrants at the border have been increasing in the winter and early spring months, going back before Biden's inauguration. The AIC fact sheet also notes that punitive measures by US officials only delay migration, rather than deterring it.
There have been spikes in arrivals at the border in 2014, 2016, 2018, 2019, and now 2021. Even family separation in 2018 did not have a significant effect on border encounters, and the numbers of families arriving at the border in 2019 had already begun to reduce before the MPP program went into full effect across the border. A new spike was inevitable.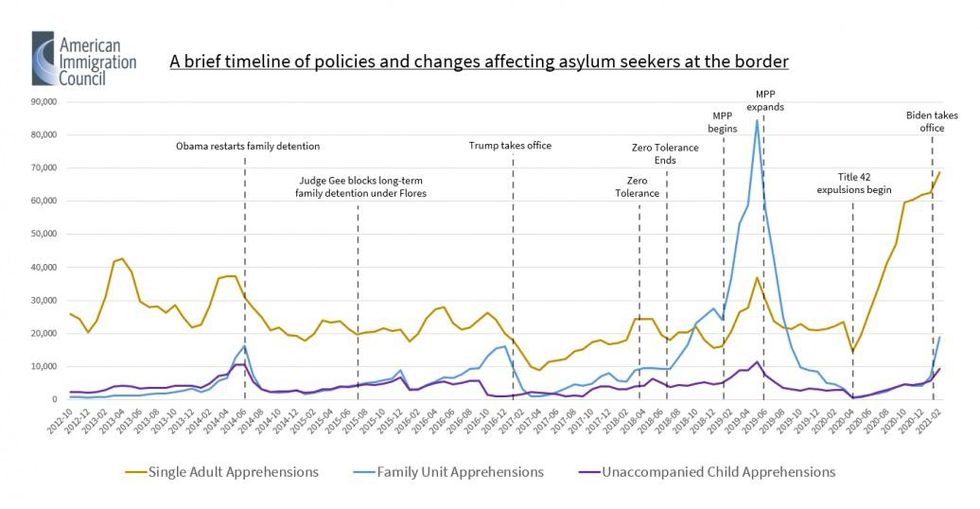 Still, no amount of fact-checking seems to stop the GOP senators' insistence that Donald Trump ended undocumented immigration and Joe Biden threw the borders wide open, if by "wide open" you mean only the small fraction of migrants who are unaccompanied minors are being admitted to the US for processing of asylum claims, while single adults and many families are turned back (which may not be legal, by the way).
AIC's policy counsel, Aaron Reichlin-Melnick, pointed out that contrary to Sen. Mike Braun's (R-Indiana) claims, with Trump's "Remain in Mexico" policy, formally known by the Orwellian term "Migrant Protection Protocols" (MPP), migrants were certainly not protected:
Before @SenatorBraun repeats his praise of MPP, I want him to actually go talk to someone put into the program and… https://t.co/W5OmcljN1Q

— Aaron Reichlin-Melnick (@Aaron Reichlin-Melnick)1616771641.0
Still, the GOP's trip to the border was a huge success, and we're sure that several members of the delegation, especially those with elections coming up in 2022 or even presidential ambitions, are looking forward to the chance to be photographed riding around on the Texas Department of Public Safety's river patrol boat, so they can pose with .30 caliber machine guns and imagine what they'd do if they spotted a cartel member, human trafficker, drug smuggler, or maybe a terrified 15-year-old fleeing a gang in El Salvador.
MISSION, TX: Ahead of the GOP's border tour led by Senators @JohnCornyn & @SenTedCruz, TX DPS Tactical Marine Unit… https://t.co/LgyfCdWILW

— Morgan Chesky (@Morgan Chesky)1616766809.0
Ted Cruz and Mike Lee and all the others can take turns swiveling the machine guns around and pretending they're Sean Hannity!
You ask us, though, we didn't love any of them in Wall Street.
The only question is whether Ted Cruz will bring enough bacon for everyone to cook on the machine gun barrels. He loves the smell of media attention in the morning.
[NBC-DFW / American Immigration Council / Fox News / Yahoo News / Photo: David Davies, Public Domain]
Yr Wonkette is funded entirely by reader donations. If you can, please give $5 or $10 monthly. And never get out of the boat. Absolutely goddamn right.
Keep reading...
Show less
Immigration
Biden transition warned DHS, HHS in December, Trumpers had thumbs up their butts.
It turns out that the COVID-19 pandemic, the rickety vaccine roll-out, and the recession weren't the only problems Donald Trump ignored while trying to overturn democracy following the 2020 election. NBC News reports that the Biden transition team alerted Trump administration officials to a rise in unaccompanied minors crossing the border back in early December, calling on them to prepare to house the incoming teenagers, but the Trump team just sat around with their thumbs up their asses until a few days before Biden was inaugurated. That's according to "two Biden transition officials and a U.S. official with knowledge of the discussions." NBC News 'splains,
The Biden transition team made its concerns about the lack of shelter space known to Trump officials both at the Department of Health and Human Services and the Department of Homeland Security, laying out the need to open an influx shelter in Carrizo Springs, Texas, and to issue what's known as a "request for assistance" that would start the process of surveying new sites for expanded shelters, according to the transition officials.
As we've noted and as Joe Biden pointed out at his press conference Thursday, arrivals of migrants at the border tend to be a seasonal thing, regardless of who's in office. Now we know the Trump team knew there were a lot of unaccompanied minors coming, but didn't do much of anything to prepare for them. After all, by the time the numbers really started growing, it would be Joe Biden's problem, and even better, it could be spun as a "crisis" he'd caused.
One of the former transition officials said, "They were sitting on their hands. [...] It was incredibly frustrating." Why yes, we bet it was!
The problem was made worse by the coronavirus pandemic, which meant that HHS's system of shelters was only able to house half its normal capacity under social distancing rules. That's part of the reason HHS hasn't been able to quickly move kids from crowded Border Patrol intake stations to its own facilities. Biden said at his presser yesterday the administration is doing all it can to get minors out of those overcrowded border stations, which Biden called "totally unacceptable."
After the Biden transition team told Trump officials about the growing numbers of unaccompanied kids in "multiple meetings, multiple times a week" starting in December, Trump's HHS Secretary Alex Azar finally did something. On January 15, Azar issued that "request for assistance" so the search for places to house incoming minors could start. Even so, the Carrizo Springs HHS facility didn't open until the Biden administration did it in February; other sites at military bases and convention centers are only now starting to be opened, including the expansion of capacity by another 500 beds at Carrizo Springs.
"In a transition team, you don't have hold of the buttons of power. You can advise, you can strongly direct, you can strongly recommend, but at the end of the day, the outgoing administration was responsible for action and they just didn't take it. They gave no reason," the Biden transition official said.
Maybe we should put up some kind of monument to the four years of the Trump administration, with "IT DIDN'T HAVE TO BE THIS BAD" carved in granite.
NBC News also quotes an unnamed "senior Trump administration HHS official" who said that at the time Trump slunk off to Florida on January 20, "we were confident we had enough beds to handle any pre-existing surge from the last 20 years." After all, didn't HHS have thousands of empty beds in its existing HHS shelters, where the total capacity was 13,000 beds? Bit of a problem with that confidence, though, since only half the capacity on paper was really available due to the pandemic safety rules.
Warnings about the shortage of shelter space weren't only coming from the Biden transition, though; another official who "served under both the Trump and the Biden administrations" told NBC News that career HHS staff warned about the lack of space.
The official said it was "irresponsible of the Trump administration not to listen to us when we were throwing up red flags."

"The writing was on the wall," the U.S. official said. "It was not at this level yet, but if the number of beds needed was going up, what do we do?"
Haha, as if the Trump people would ever listen to their enemies in the incoming administration or the Deep State! Experts are bad.
There was one other factor at play, of course, which is that under the guise of the pandemic, Trump's DHS was simply not admitting anyone claiming asylum at all. It used a public health ruling from the Centers for Disease Control and Prevention to deport all asylum seekers, including minors. Yes, even after the administration was told to knock that the fuck off:
Shortly after the election, on Nov. 18, a federal judge ruled that the Trump administration could no longer expel children under that CDC authority, leading the numbers of children entering the U.S. to begin climbing. That injunction was later lifted, but the Biden administration made the decision to allow unaccompanied migrant children fleeing violence to enter the U.S. to pursue asylum.
We should also note that Biden has not yet lifted that health rule, known as "Article 42," for any but unaccompanied minors, and is still using it to expel adults and families. That's not good!
The ACLU, which sued the Trump administration over the practice, saying it violated asylum seekers' due process rights, is continuing the lawsuit against the Biden administration. Some "open border," huh? But there again, the actions of the Trump administration have added to the problem: To get back to the rule of law, the Biden administration has to undo the mess that Trump and his team of fascists created. And as soon as we go back to a constitutional immigration process, the Right will again scream about Biden's having caused a "crisis."
Yr Wonkette is funded entirely by reader donations. If you can, please give $5 or $10 a month so we can keep letting you know the lunatics are no longer running the asylum process.
Keep reading...
Show less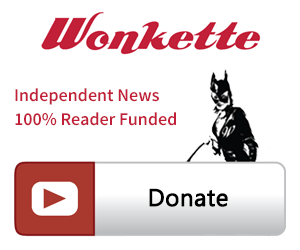 ©2018 by Commie Girl Industries, Inc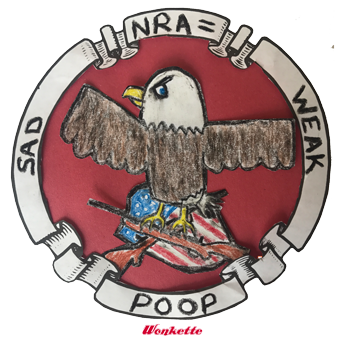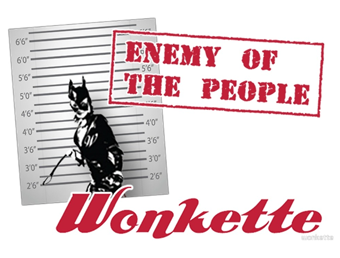 This Is Not An Ad
Privacy