Indicted GOP Congressman Says Fuck It, These Idiots Will Probably Re-Elect Him Anyway
2018 Congressional Elections
September 18, 2018 08:47 AM
HE'S RUNNING! New York Congressman Chris Collins (R-Insider Tradingville) has un-broken up with his constituents. They were on a break, but now they're back together. Reunited, and it feels so good ... for his Democratic opponent Nate McMurray.
Way back in October, we told you about Congressman Collins's little ethics problem. He'd apparently taken a real hands-on approach to his pet pharmaceutical company, Innate Immunotherapeutics, getting all his friends to invest in it, giving them inside info on clinical trials, and sending a blast email to his pals saying that maybe the company was going to be sold and they'd all be OMG, so stinkin' rich! When fellow New York Congresswoman Louise Slaughter, may her name be a blessing, filed an ethics complaint against him, Collins slunk off in shame with his tail between his knees.
LOL, just kidding. He attacked Slaughter, and filed the papers to run again for his House seat. The Post reported,
She's on a witch-hunt, she's a despicable human being ... You don't go after another member with fabricated allegations like she did!
And then Innate's drug trial failed. Which meant Collins was going to lose alll the munneeez, oh noes! So he phoned up his son Cameron and told him to SELL, SELL, SELL!
---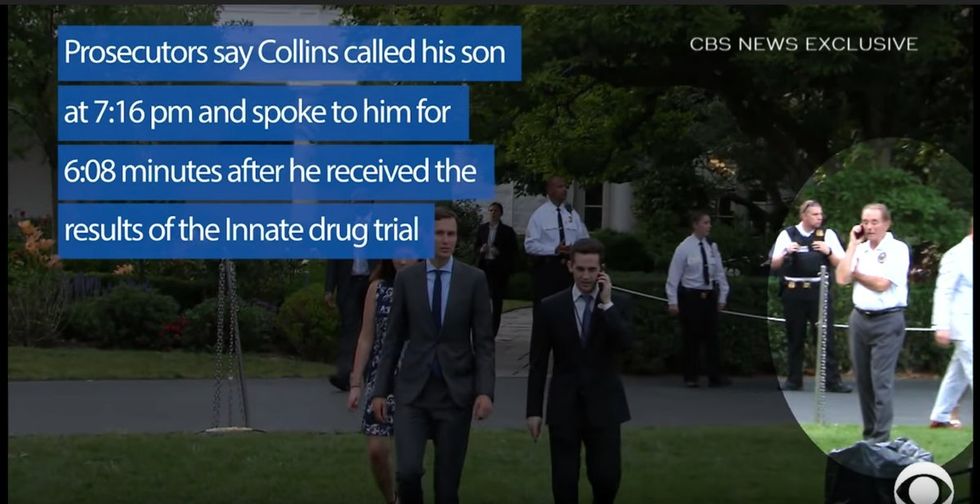 Screengrab, CBS
Oh, look! There he is, making that fateful call from the White House lawn! Go home, 2018, you are drunk.
Last month, Collins was charged with insider trading. He's mounted a serious defense, which appears to consist of whining about cops talking to him in his bathrobe, telling the Times,
"As it turns out, they don't read you your rights, they don't tell you you could have an attorney, they don't tell you while you're there," Mr. Collins said in the interview last week. "It's just a 'We'd like to talk.' And the next thing you know, of course you're innocent, you invite them in. I'm in a bathrobe, and bare feet and just got out of bed and I chatted with them for 45 minutes or so."
UH HUH.
After his arrest, Collins decided perhaps he'd better not run in November after all. But New York election law is tricky, and there's no clean way to replace a nominee after the June primary. Democrats vowed to sue if Republicans put another name on the ballot, and today Collins announced that he's still in it to win it.
Which was news to the New York GOP, as The Buffalo News reports.
"It's very fair to say there's been a drastic shift," said one of the sources, referring to the congressman's earlier commitment to cooperate with local GOP officials and step aside for a substitute candidate. One GOP source noted the decision has always remained an option for Collins and that Republican strategists were prepared for his continuing presence on the ballot; but other sources remain unhappy that the move derails efforts to find a substitute candidate.

Erie County GOP Chairman Nick Langworthy said during an afternoon news conference that he felt like a "groom jilted at the altar" after Collins changed course.
Democrat Nate McMurray is as happy as a bride in June, however. Cook Political rates NY-27 as having an 11-point Republican advantage, and McMurray gets to run against a guy who's currently under indictment. FiveThirtyEight still rates the race as Leans Republican, giving McMurray just a 1 in 5 chance of beating Collins. But no one has polled the heavily pro-Trump district yet. Will they reject Collins, or pull the lever for the Red Team, in hopes that their guy will resign in January, forcing Cuomo to hold a special election where the GOP holds an advantage? Not clear! But the GOP heads into this race -- and all the races this fall -- with a huge black eye.
FOR THE WAGES OF SIN IS DEATH. And probably losing the House.
[WaPo / NYT / Buffalo News]
Follow your FDF on Twitter!
Shit's so crazy, AND IT'S BARELY TUESDAY! Wonkette will be here all week long, so click here to support your snark.
Liz Dye
Liz Dye lives in Baltimore with her wonderful husband and a houseful of teenagers. When she isn't being mad about a thing on the internet, she's hiding in plain sight in the carpool line. She's the one wearing yoga pants glaring at her phone.