Insane, Crabby Lesbian Jack Welch Quits 'Fortune' Like A Little Bitch
News
October 09, 2012 03:44 PM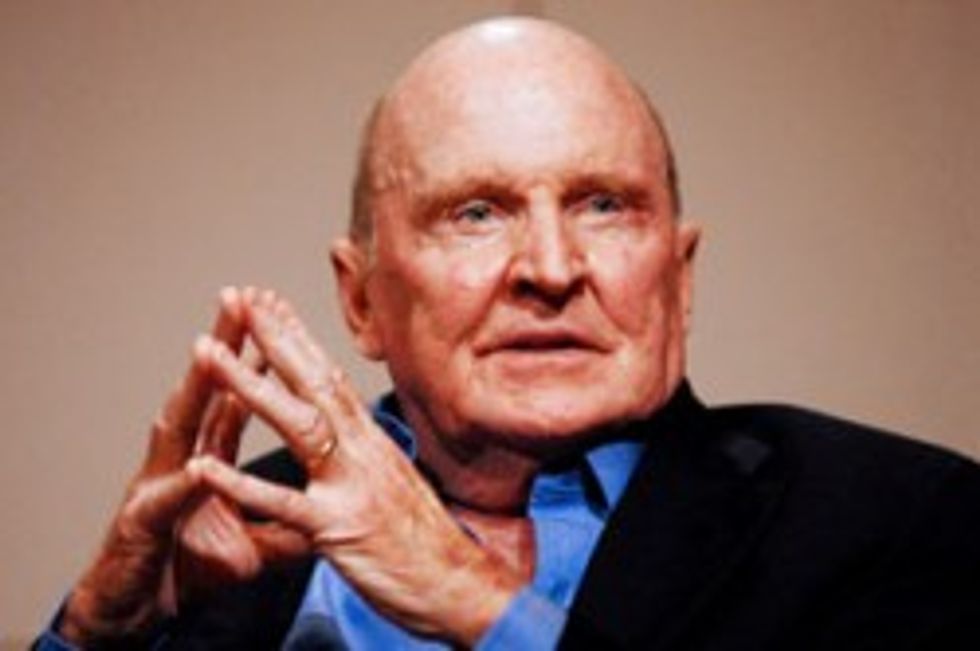 Hey remember last week? Probably not, it was last week. Well that was when the new jobs numbers came out, putting unemployment below 8 percent for the first time in President Afrika Bambaata's presidency and destroying in one blow eight million Miffed Romney speeches about how B. Barry Bamz was too lazy to make jobs for people, and also food stamps or something probably too. WELL. You remember a small hullaballoo ensued, as fucking idiots like former GE king Jack Welch (and also Donald Trump, in case you were wondering if there was anything to it) started screaming and freaking out that Barry hadCOOKED THE BOOKS. Sadly, everybody then started asking if had Alzheimer's like Ronald Reagan or something, because it was truly embarrassing. Now Jack Welch has huffed off from his prestige job spitting out nonsense at Fortune and CNN because they had no choice but to distance themselves from this crazy old man by writing many articles explaining that he was either a blithering idiot or had lost his freaking mind.
---
CNNMoney, which shares content with Fortune.com, ran a story on Friday covering Welch's tweet. The piece said that even conservative economists thought Welch was wrong to question the jobs numbers. On Tuesday, Fortune.com ran a story detailing Welch's record as a job destroyer. GE lost nearly 100,000 jobs during the 20 years in which Welch ran the company. "I never put myself out there as an employment agency," Welch told Fortune.
That dude sounds like a fucking prince!
Following the story, Welch sent an e-mail to Reuters' Steve Adler and Serwer saying that he and his wife Suzy, who have jointly written for Reuters and Fortune in the past, were "terminating our contract" and will no longer be sending our "material to Fortune." Reuters' story about Welch's tweet quoted money manager and blogger Barry Ritholtz, who said Welch's comments were laughable. Reuters wrote that Ritholtz comments were referring to allegations that Welch regularly manipulated GE's earnings during his tenure as CEO in order to best Wall Street profit estimates.
Wait, did we say "prince"? Sorry, we meant "criminal."
Fortune tried to contact Welch to find out if the resignation was related to our reporting of his tweet, but Welch didn't return our phone call.
The best part of Fortune's story on Jack Welch stomping off from their employ is this link they stuck in the middle, apropos of everything but not necessarily fitting into the particular flow of the story at that particular moment, just your normal nonsense SEO, like, "READ MORE: 15 Orangutans Who Wear Dresses" or whatever:
MORE: Obama trounces Jack Welch's jobs record
Nobody leaves the family, Jack. Nobody.
[Fortune]
Rebecca Schoenkopf
Rebecca Schoenkopf is the owner, publisher, and editrix of Wonkette. She is a nice lady, SHUT UP YUH HUH. She is very tired with this fucking nonsense all of the time, and it would be terrific if you sent money to keep this bitch afloat. She is on maternity leave until 2033.