Insightful Colorado Billboard Contends There Are Four Obamas
News
October 13, 2010 01:24 PM
Here is a great work of American art: A billboard from Grand Junction, Colorado, featuring some sort of editorial cartoon inviting voters to "Vote DemocRAT" and hang out with this booth full of offensive Obama caricatures. That actually sounds like it would be rather interesting! This thing was sent in an e-mail to the National Review, which doesn't openly endorse this for some reason, probably because the artist didn't sign up for their gay cruise. A somewhat clearer version of this cartoon is after the jump.
---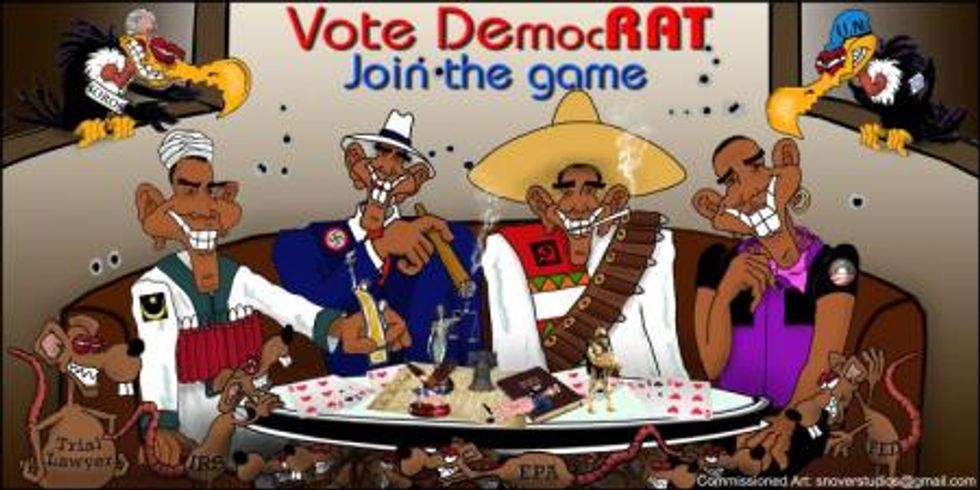 Here is the grand unifying theory of Obama for wingnuts. Look, they never have to fight anymore about whether Obama is a Muslim terrorist, a Chicago gangster, a Messican illegal immigrant, or a flamboyant gay. He's all four of those things, because there are secretly four Obamas! THAT'S how Obama can hijack airplanes in New York and have anal sex with a dude in San Francisco at the same time.
Here's a full rundown:
The billboard's tagline, "Vote DemocRAT–Join the game," is littered with every conceivable meme that has been leveled at President Barack Obama as four iterations of the President–as Muslim/Terrorist, Nazi/Fascist and gangster, Communist/open borders supporter, and a supporter of gay rights–play cards, ostensibly "gamble" with the Statue of Liberty, a figure of blindfolded Justice, the Holy Bible, an American soldier, Uncle Sam, and a bald eagle. As they play, grinning vultures bearing the labels "$oro$" and a blue U.N. helmet look on, while several rats lurk from below, variously labeled "trial lawyer," "IRS," "EPA," and "FED."

The billboard itself lacks the shoulder badges emblazoned with the Muslim crescent and star, the swastika, and the hammer-and-sickle that appear to either have been part of the original picture, or were added later.
Makes sense! This will definitely influence voters. Good thing on which to spend one's money. [NR]