Introducing Lauri Apple, Several Months After She Arrived!
News
June 20, 2010 06:40 PM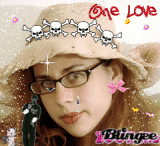 Wonkette contributing editorLauri Apple started blogging for us two months ago, but her art has been seen here since before Barry Hussein Nobama even became the socialist president. What is going on? We will find out.
---
HELLO LAURI APPLE, how did we find you? Geez, I'm trying to think ... was it at the Red Lobster? OH WAIT I REMEMBER -- it was December 2008, and you found a jpg of a painting I had made of Rod Blagojevich parachuting toward a prison and going "I can parachute me there," which had been posted on Chicagoist.com. And you took the jpg and used it, just like that. And then I kept making more pictures and started sending them to you in little emails, and you kept using them, which made my parents very proud.
Then I started writing for the site when Sara K. Smith left your redheaded family business-blog to join a mommyblogging cult, and also because she didn't have red hair (even the boxed kind). So here I am
today --- living in a Wonkette-subsidized public housing unit with Zima, one of Jim Newell's discarded pet cats.
Oh, and I am pretty sure that Rod's bringing us all together proves he is innocent.
SO it was Blago parachuting to prison, which seems "made for Wonkette," even though it was actually made for a Chicago blog. Which means you are part of Barry Hussein's Chicago street-thug ward-heeler culture?
That's right: I am a proud member of the Amalgamated Union of Barry's Brawlers, Local 5. We have satin jackets and hold illegal raffles, and we tag garage doors with hammers and sickles in the middle of the night. But I used to be part of Perry's Right-to-Work Posse, back in the 00's. That would be Rick Perry, not Steve Perry or his stepmother, Katy.
OH WAIT so you are Texan, or from DC, could you just quickly name the fourteen U.S. cities where you've lived and worked in the past couple of weeks?
I am from neither Texas nor DC but Western Pennsylvania, which I left during the Clinton years to bask in the bright lights of the nation's capital for a while. Then I moved to Austin to become a foreign
affairs correspondent, working abroad and earning Alamos, the local currency.
WHY did you leave the journalistic womb of that newspaper in Houston or wherever, for the life of an itinerant blogger/alt-weekly editor?
Well, before I became this itinerant blogger/editor person I had to make a pit stop in New York City to live the "Big Apple experience," since the city's nickname came from my family. Also, I went to law school there, specializing in comedy law and student loans.
(Speaking of my alt-weekly life: The reporter that Mayor Daley threatened with a gun is my coworker! He's doing OK, no PTSD.)
SO you are legally a lawyer now, and does that mean you cannot legally make cartoons?
I am not a legal lawyer, because I only passed the Make a Funny Picture portion of the Bar exam. So I can cartoon as I want, with liberty and freedom by my side. (IMPORTANT DISCLOSURE: Because I am
not a real lawyer I can never give any of you Wonketteers real legal advice, except "buy my artwork so that I can feed my poor little Zima." He was just skin and bones when I got him. Not sure what was
going on there.)
HOW do you make your cartoons, anyway? They look like they are drawn with markers and paints on paper, but is it all a kind of Computer-Internet Fraud?
Well, during my tenure with Wonkette I have gone through a number of changes media-wise. When we started our relationship, I was all about paint and canvas, because back then Billionaire George Soros was buying art supplies for me as part of a microloan initiative. Then that ended and I switched to markers and paper, which are cheaper. Lately, I have been using colored pencils and paper, which has proven to be the most cost-effective method of art-making in these penny-pinching times.
WHAT if people want to buy prints or T-shirts of your arts? And also do you want to make a T-shirt for the Fall 2010 Line of Wonkette Apparel? (Yes, there really is a Wonkette Apparel store opening in TWO WEEKS.)
All they have to do is go to my art blog, Trendpiece.blogspot.com, and drop me an email at FOUND_CLOTHING AT YAHOO DOT COM telling me which pictures they want. I tell them how much the art costs and they either buy it or I never hear from them again. We make an e-transaction and then they get their picture within a few days. For now they get originals, because I am always too busy hustlin' to bother with setting up a printing operation.
And yeah sure I will make Wonkette clothes! Perhaps we should go "offline" and discuss this, or put it to a vote ("Which famous art picture would you wear on your person?").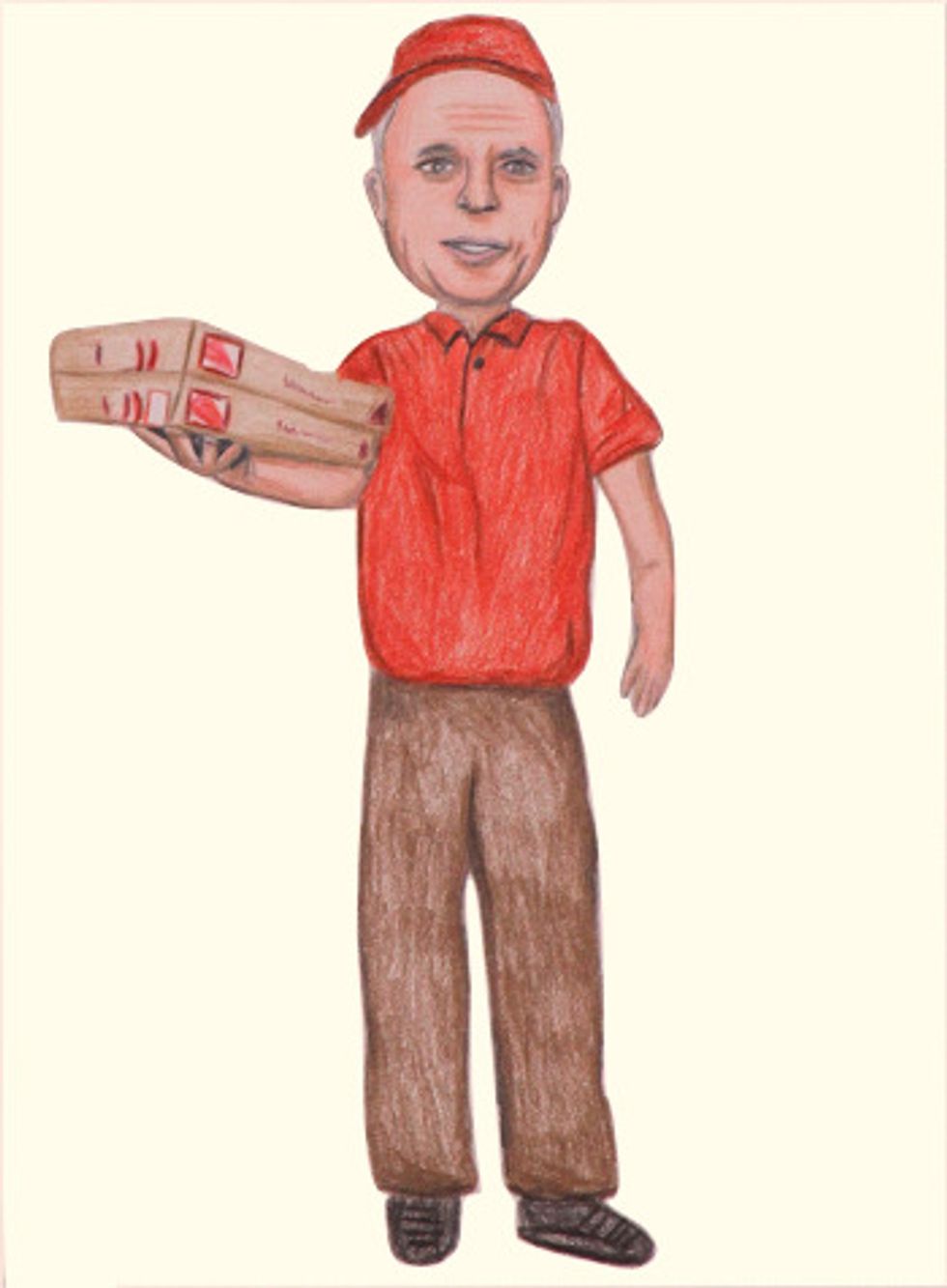 HERE is a Free-Form Essay Question. Do not screw it up.
Ronald Reagan was the smartest American president ever for three reasons. One, he could act very well, both in the movies and on the news. Two, he understood the importance of astrology, which is a very complex science. And three, he created an America in which everyone learned the value of saving a penny today for a dollar earned tomorrow. His legacy lives on, never forget, amen.
WHO is your political hero? (Somebody asked me this, once, at a job interview as copy editor or something at a shitty libtard alt-weekly in Sacramento about 15 years ago. I said "Clint Eastwood." Never heard from them again.)
Oooh, that is a good California-flavored answer, though I would have guessed Sonny Bono. I'm going to represent for Illinois and say Abe Lincoln, who was the most honest politician ever to come out of this state after Rod Blagojevich.
And so we close where we left off! Everything in life points back to Rod Blagojevich, it is in the scriptures.