Introducing Our New Oil-Spill Columnist, BP CEO Tony Hayward
News
June 10, 2010 01:57 PM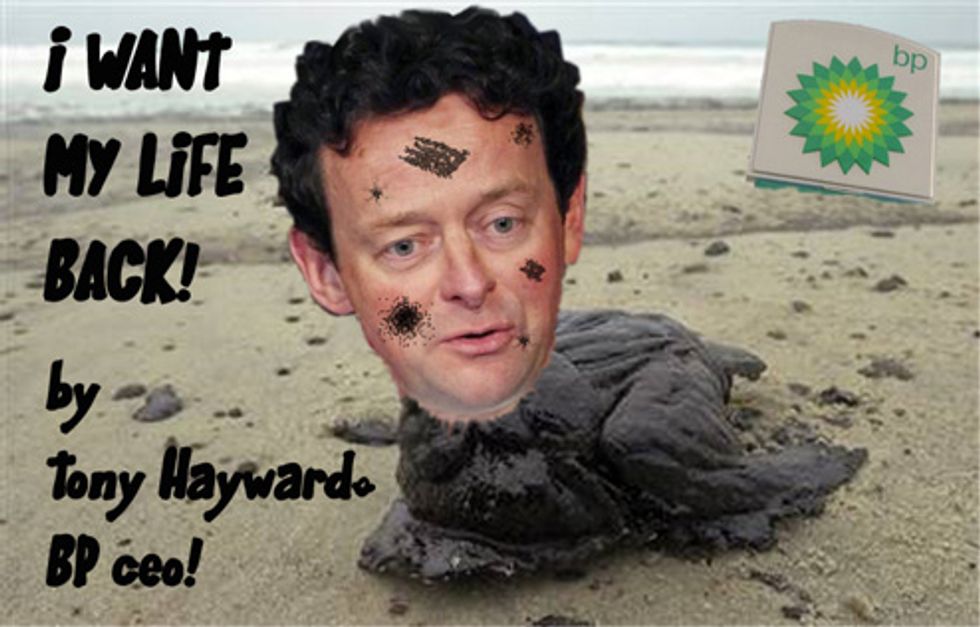 Hello there, quite sorry about all of this. Terrible mess everywhere, isn't it? Tony Hayward here, BP CEO, just popping in here at Wonkette to say, once again, that I'm awfully sorry about the troubles with the well. That crude oil does seem to get everywhere, doesn't it? Like children tracking in mud from the garden or the cricket pitch. We can all relate, of course, and it's unfair to place the blame for a natural catastrophe such as the Gulf oil spill on an individual, when we all should come together and roll up our sleeves and etcetera. Terrible shame about the birds and all that, as well.
---
But I simply must say that there's no-one who would like to see this crisis over more than me, Tony Hayward. Things had been rather going my way, if I could be immodest for just a moment, for the sake of clarity. Lord Browne hadn't exactly plucked me off the back bench, right? Been with the company for a good while now, no complaints about Tony Hayward, not before this cock-up at least.
Strange thing, about that whole replacing Lord Browne affair -- the old man had been criticized a fair bit over safety issues on the Alaska wells. Criticized by me, actually, ha ha. In the most professional tones, of course, and strictly for the benefit of the company and the shareholders. That's our chief concern, for all of us.
Shame about the workers, too. Can't forget them I suppose.
The effects of the oil spill, over time, will of course be very modest. It's not as if we manufactured the oil from whole cloth, or seawater, or what have you. Just natural oil, straight from the sea. And in any case, those fishermen can use a little spending money over these next few years or decades, tidying up here and there, helping the natural processes. And we'd all appreciate it if you stopped taking so many pictures of all the oil and goop and dead things. Focus on the positive, that's what I always say.
Well then, hope we've covered all those concerns. Really, really can't wait to put this behind me. One can't begin to understand the burdens faced by an executive like myself, and though it pains me to say it, this is quite a lot more rubbish than I ever thought I'd have to deal with, being in the prime of life and fortunate to be well-off, and etcetera. I'd like my life back, and I'm sure you would like your lives back, and as far as the birds and the fish and so on, who are we to imagine their thoughts, if birds or fish have thoughts at all, right? So here's to hoping they cap the bloody well or whatever it takes, nuke it if they must, because frankly I've got things I enjoy doing and by god I plan to get back to that, before they send me to the granny farm.
Yours most sincerely,
Tony Hayward