Iowa Voters Doing The Polka On Joni Ernst And Chuck Grassley's Stupid Trump-Loving Faces
Russia
January 16, 2018 12:16 PM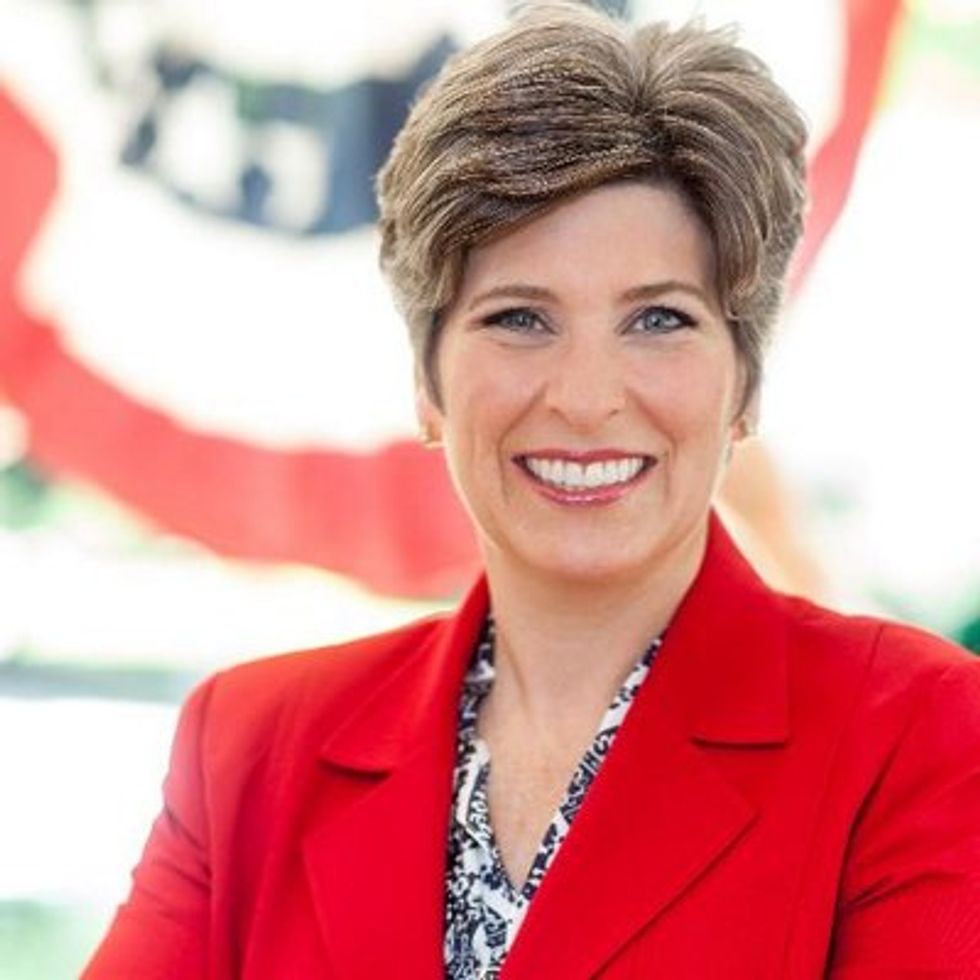 Don't think about Norway!
---
The corn is popping in Iowa! Seems the good people in the Hawkeye State are a mite concerned with President Blowhard and his caca-hole caca-house potty mouth. So Senator Joni Ernst tied on her fanciest Bread Bag shoes for a town hall in Red Oak this weekend. From the the local ABC affiliate,
"You should be taking a stand or doing something about the damage Trump is doing to our neighbors around the world with his white supremacy talk," Barb Nelson, of Stanton, said.
HMMMM. Seems the constituents are a mite riled up about Trump's remarks on all the brown people he doesn't want in God's Holy White Homeland US America. He'd rather have tall, blond immigrants from a Nordic paradise whose sovereign wealth fund boasts $192,000 per citizen. Don't think about Norway, Joni! For God's sake, don't think about Norway!
Rural Iowa voters laugh out loud at Republican Senator Joni Ernst's defense of Trump. pic.twitter.com/yu0ywmwQAd

— ☇RiotWomenn☇ (@riotwomennn) January 16, 2018
Ernst: He is standing up for a lot of the countries where we have seen ...

Constituent: Name a few! Could you name a few?

Ernst: Yeah, you bet! Norway ...
Well played, Joni! In addition to getting laughed at by your own voters, you just got yourself into this morning's news cycle about craven Republicans enabling a racist president. Got anything to add?
He's standing up for a lot of countries. Norway supports him. You might laugh at that, but think about what country borders Norway. It's Russia.
So your hot take is that President Trump can't be racist because he helps defend snow-white Norway against its neighbor Russia? Cheese and crackers, Joni! Why don't you just bring up the pornstar payoffs, while you're at it!
But don't feel bad for the senator. After she'd castrated three hogs and refreshed herself with an apple fritter, she was right as rain!
Meanwhile her fellow Iowa senator was getting reamed a new cornhole in another of Iowa's 4,000 counties. (Okay, it's only 99 -- or one for every 31,000 people!) Harrison County went 65% for Trump, but they sure did give Chuck Grassley the business last Friday about not standing up to the president. Via the Des Moines Register,
"He gets on Twitter and says the last thing that Fox News told him to say," she said. "That's not presidential. It's concerning. Are you personally concerned?"

"I have a job to do," Grassley replied. "I'm not president of the United States. I'm a check on the president of the United States. That's my constitutional responsibility. I'm going to do what I can under our constitution to make sure that nothing bad happens to our country."
Trump should learn to Twitter good like Chuck Grassley.
Fred and I hit a deer on hiway 136 south of Dyersville. After I pulled fender rubbing on tire we continued to farm. Assume deer dead

— ChuckGrassley (@ChuckGrassley) October 26, 2012
In fact, Grassley has been using Twitter to attack the FBI and flog the bullshit Uranium One story for months. But he doesn't use swears, because he's Iowa Nice! So the Great Corn God spared him a smiting for pretending to be "a check on the president." Emboldened, he made some more lie words to the just plain folks complaining about Trump's salty talk and loose stool Twitter feed.
I think it detracts from the very important issue we've got to get solved by March 5 [the DACA deadline]. I think, generally speaking, that you're better to keep to the issues, don't do anything to detract from the issues and, bottom line, all people ought to be treated with respect.
Oh, yeah. Senator Ethanol will serve his country by running interference for Emperor Dementia and ignoring all his hateful nonsense. He's a hell of a patriot! Say, how's that DACA stuff going, Senator?
Assume DACA dead.
Please click here to fund us! We'll never be Iowa Nice, but we do snark good!
Liz Dye
Liz Dye lives in Baltimore with her wonderful husband and a houseful of teenagers. When she isn't being mad about a thing on the internet, she's hiding in plain sight in the carpool line. She's the one wearing yoga pants glaring at her phone.