It's Sarah Palin's Last Weekday In Office
News
July 24, 2009 10:13 AM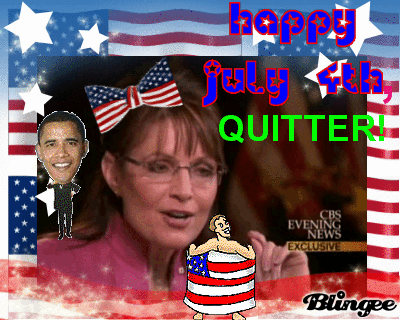 Hey YOU GUYS why is this day different from all other days? Because it is the very last weekday in the history of Man in which Sarah Palin will serve the great state of Alaska as its mascot. On Saturday she will rest. And on Sunday she will turn over the reins of power to somebody who won't be harassed to death by frivolous libtards.
---
Remember last summer, when John McCain said he picked her as his running mate because she was the most popular governor in America and so awesome at everything? She was popular because she handed out socialist oil-state welfare checks to every citizen, but now there's no money to pay off a citizenry composed entirely of retired drunks and crazed Vietnam war vets. So now everybody hates her, too bad!
Overall, the new poll found that 53 percent of Americans view Palin negatively and 40 percent see her in positive terms, her lowest level in Post-ABC polling since she first appeared on the national stage last summer as Sen. John McCain's running mate.
Today also marks the beginning of the picnic that will culminate on Sunday in the ritual sacrifice of her career.
It's an annual tradition for Alaska governors and includes free food, live entertainment, games and activities for children and "much more," according to a press release from Palin's office.
"Much more" is just Inuit for "free live sex show," presumably.
Palin Favorability Rating Dips As She Nears Exit, Poll Finds [Washington Post]
Palin's picnics begin today [Anchorage Daily News]