It's Spring Break In Miami! Take Some COVID-19 Home With You!
coronavirus
March 22, 2021 09:05 AM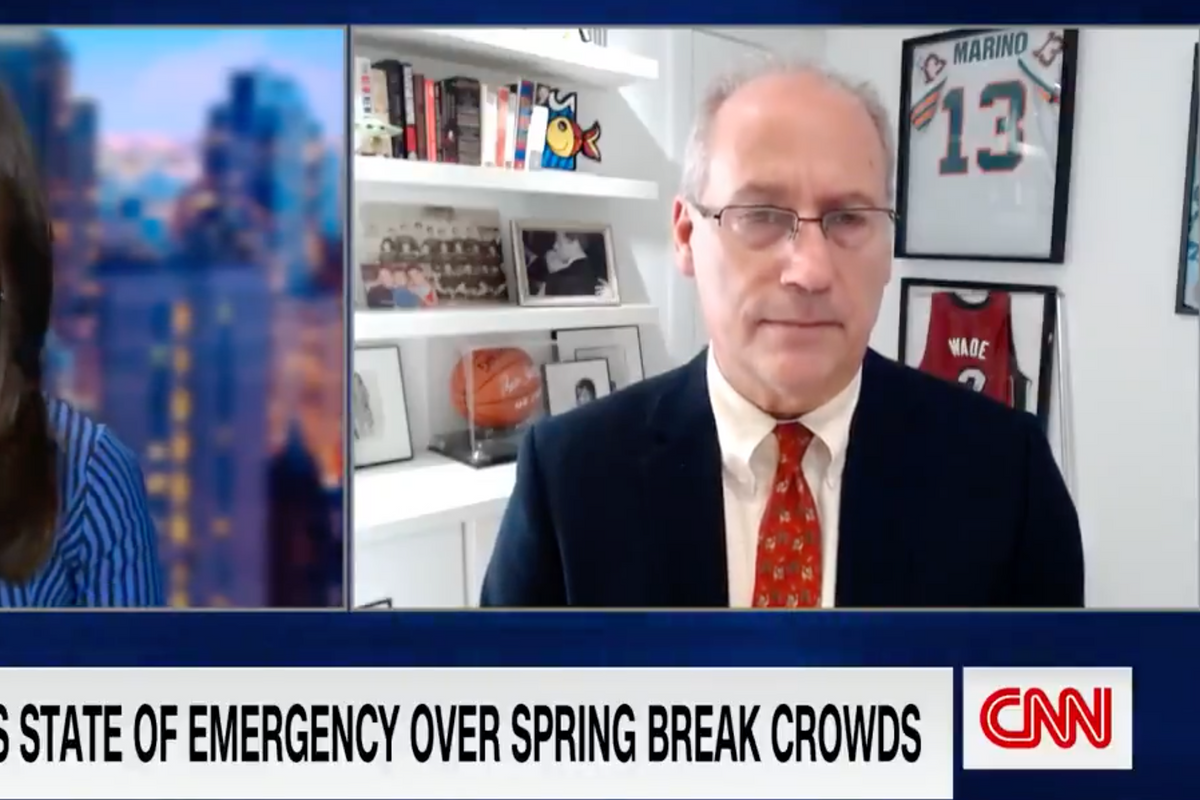 There's a riot going on right now in Miami Beach, Florida. Don't worry. These aren't Black people protesting against police violence. No, these idiots are fighting for their right to party during a pandemic. It got so bad that Mayor Dan Gelber declared a state of emergency Saturday and set an 8 p.m. curfew.
The curfew didn't go so well.
Miami Beach last night looked absolutely insane https://t.co/tl13LEIETf

— philip lewis (@philip lewis) 1616334609.0
Here's Miami Beach tonight, 10 minutes after new 8 p.m. city-wide curfew. City also declared a State of Emergency… https://t.co/ugLZMSwTeJ

— Brooke Shafer (@Brooke Shafer) 1616286213.0
Miami Beach Police SWAT teams fired pepper balls into crowds of revelers, causing stampedes, and arrested at least a dozen people. Police spokesperson Ernesto Rodriguez claimed law enforcement "ultimately achieved a satisfactory level of compliance," but streets reportedly weren't cleared out until well after midnight in some areas. Raul J. Aguila, the interim city manager, said the scene resembled a "rock concert," and people were packed so tightly together you "couldn't see pavement, and you couldn't see grass."
---
The Spring Breakers wouldn't let pepper balls and sirens stop a good time. They would just move on to the next block. They were determined to get their freak on. That's American exceptionalism in action or just reckless disregard for others. Take your pick.
From The Daily Beast:
In front of the shuttered News Cafe on 9th and Ocean Drive, a very large crowd had gathered around four young men having a dance off, with the unmistakable odor of marijuana hanging in the air.

A cop over a loudspeaker barked, "Everyone needs to leave the area. The curfew started at 8 p.m. You need to disperse."
Mayor Gelber told CNN's Ana Cabrera that Miami Beach was flooded with more people than the city could handle: "Too many are coming, really, without the intention of following the rules, and the result has been a level of chaos and disorder that is just something more than we can endure."

The mayor announced at a press conference Saturday that the 8 p.m. curfew and road closures in the city's entertainment district would continue through at least Tuesday. He also closed the causeways between Miami Beach and the mainland to non-local traffic starting at 9 p.m.
After an emergency meeting Sunday, the 8 p.m. to 6 a.m. curfew from Thursday through Sunday was extended for another three weeks, through the end of most people's spring breaks.
Miami Beach @MayorDanGelber's message to spring breakers: "If you're coming here to go crazy, go somewhere else. We… https://t.co/fXV9GbRPe2

— Ana Cabrera (@Ana Cabrera) 1616276666.0
Gelber isn't a party pooper. COVID-19 cases have topped two million in the state, and more than 32,000 Floridians have died from the virus. This natural disaster might not be visible but its presence is undeniable. Florida's also believed to have the highest concentration of B.1.1.7, the more contagious and possibly more lethal COVID-19 variant. Tourists flocking to Florida for Spring Break are obviously a serious concern for the rest of the nation, even the states that aren't run by idiots.

Rodriguez revealed this weekend that since February 3, Miami police have made more than 900 arrests in the city, "more than 300 of which were for felony offenses" and "at least 50 percent of those arrested reside outside of Florida." It's an anarchist jurisdiction!
So, where's GOP Governor Ron Desantis during all this? He's recently described Florida as an "oasis of freedom" from COVID-19 restrictions. Florida is an alligator-infested swamp, but you have to talk your state up when you're governor. We don't hold that against him. However, he's abdicated any moral responsibility during the pandemic and runs insulting victory laps. Last week, DeSantis was fine with hundreds of thousands of maskless morons coming to "bike week" at Daytona Beach. He shared Rand Paul-style delusions about public health messaging around vaccines.
"You tell people to get the vaccine and then you live your life. When you tell them you have to abide by all these restrictions — I think it's odd to tell people to get the vaccine and nothing changes. But the whole reason to get the vaccine is to not have to worry."
That is completely wrong on every level.
Meanwhile, California Governor Gavin Newsom is facing a recall. Sure, DeSantis never hypocritically ignored his own COVID-19 rules. Instead, he's ignored COVID-19 entirely. That's worse, right? (That's a rhetorical question: It's obviously worse, you dummies.)
DeSantis claimed when tourists visit Florida now it's "almost like you are in a different universe." While that sounds like a fitting state motto, we should stress that this fantasy land isn't safe for anyone.
[CNN / Daily Beast]
Follow Stephen Robinson on Twitter.
Looking for someone to give that cash to? Why not us?
Stephen Robinson
Stephen Robinson is a writer and social kibbitzer based in Portland, Oregon. He writes make believe for Cafe Nordo, an immersive theatre space in Seattle. Once, he wrote a novel called "Mahogany Slade," which you should read or at least buy. He's also on the board of the Portland Playhouse theatre. His son describes him as a "play typer guy."