Jake Tapper: Fuck YOU, Fuck YOU, Fuck YOU, You're Cool, Fuck YOU, I'm Out
Culture
February 17, 2017 04:30 PM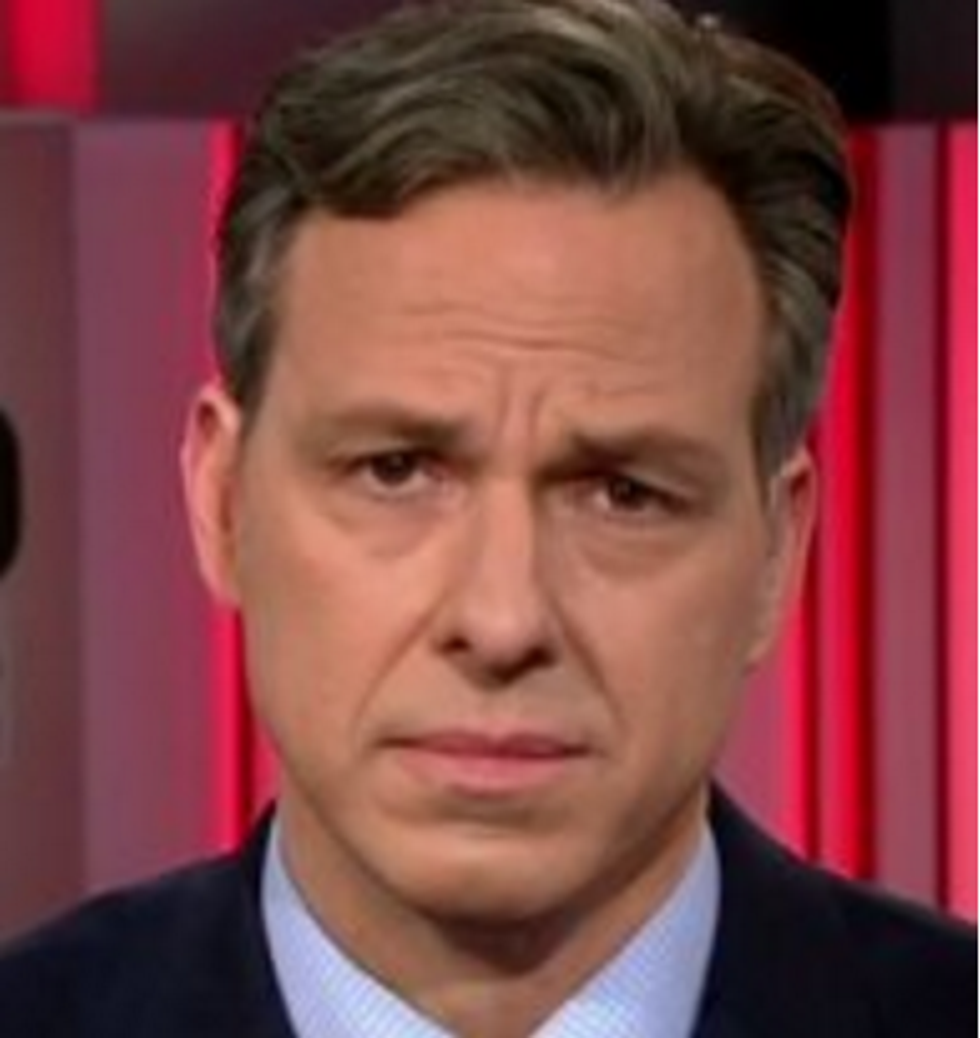 He is just saying.
---
What is Wonkette's adorable boyfriend and Kellyanne Conway-destroyer Jake Tapper doin'? Let's see!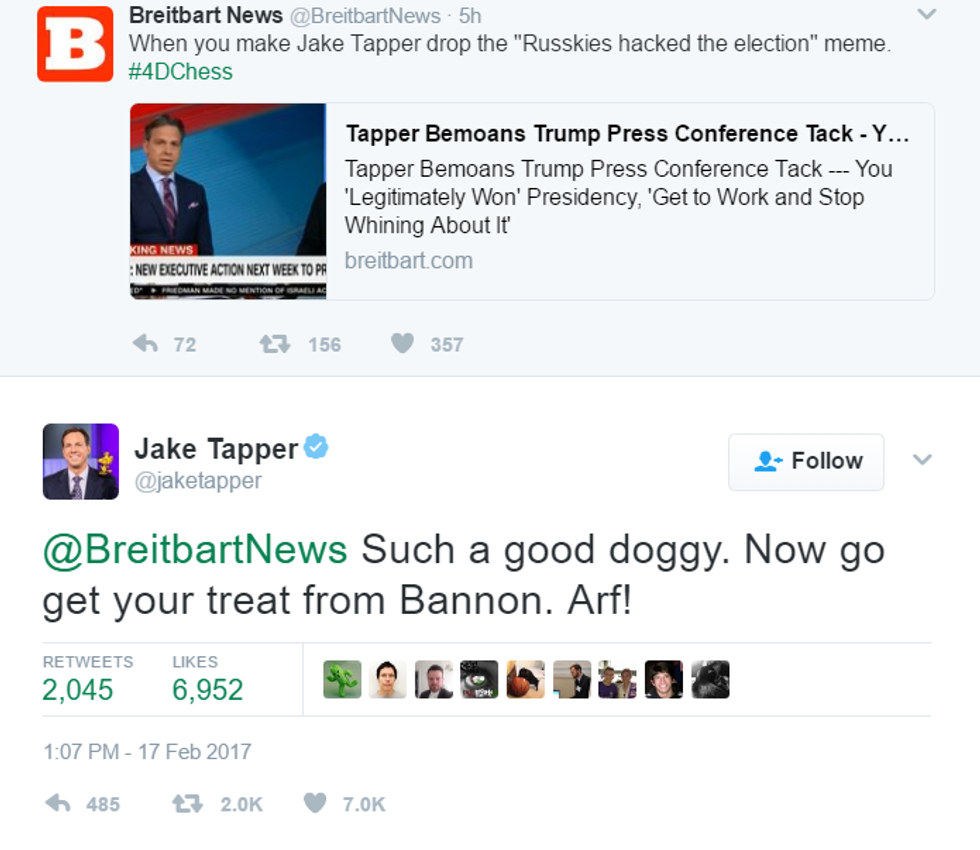 Oh, MEOWZERS! Our boyfriend Jake is in a sassy mood!
What's that all about, you might be a-wondering? Well, Breitbart had a GOTCHA! article about how Jake Tapper said Trump was "legitimately" elected, which therefore means there was no hacking and Donald Trump doesn't have cybersex with Vladimir Putin every night, HA HA CAUGHT YOU LAMESTREAM MEDIA DUMB DUMB ADMITTING TRUMP'S VICTORY WAS YOOGE! It came in response to that amazing moment during Trump's Thursday press conference, when Trump claimed he had the biggest electoral college victory since Reagan, which is HILARIOUSLY WRONGSTUPID. If you didn't see it, watch as nice NBC reporter Peter Alexander explains to The World's Dumbest Puppet that he is lying. Alexander goes HARD, and this is how all reporters should do when Trump lies:
This needs to happen on EVERY lie. It's up to the press to do this EVERY time. Go hard, y'all. On EVERY lie. pic.twitter.com/TGbishcDRj

— Ava DuVernay (@ava) February 16, 2017
Trump flailed about in response, saying he was "given that information," because apparently he's not capable of looking things up for himself, and also because he's clearly never watched election night returns for ANY PRESIDENTIAL ELECTION during which he's been alive. Or maybe Trump would have known how tiny and weak and sad his "victory" was, but unfortunately this doctor may be on to something in suggesting Trump has syphilis in his brain.
Regardless, Peter Alexander's response to Trump's lie shows just how weak Trump is, as John Stoehr explains in an article at Washington Monthly, about how progressives can REALLY beat Trump:
Fact is, the president is weak. We saw that yesterday. When confronted with the fact that he did not win a bigger electoral victory than anyone since Reagan, he immediately backed down, spluttering something about how he had been given that information so it's not his fault. Some have implied he will never accept the truth, so don't bother. But that's an argument of logic and reason. What happened in that brief exchange needs to happen a million times over in order to reveal that the president is weak and that in that weakness his supporters have misplaced their trust.

So, say it with me: The president is weak.

Say it again. Over and over. Then when the president really does demonstrate weakness, as he did when confronted by the reporter about his fake electoral landslide, the president will have substantiated the opposition's charge of weakness.

That will hurt.
Damn right. As they say on the internet, READ THE WHOLE THING.
In conclusion, Donald Trump is a pussy and Jake Tapper is still our boyfriend. Also, this is your open thread, so feel free to talk quietly, and no fucking cussing.
Wonkette is fully supported by Readers Like You, so if you liked this post, throw us a few buckeroos!
Evan Hurst
Evan Hurst is the managing editor of Wonkette, which means he is the boss of you, unless you are Rebecca, who is boss of him. His dog Lula is judging you right now.
Follow him on Twitter RIGHT HERE.