Poor James O'Keefe Can't Even Trick Dumb Dems Into Committing Voter Fraud
News
October 21, 2014 10:24 AM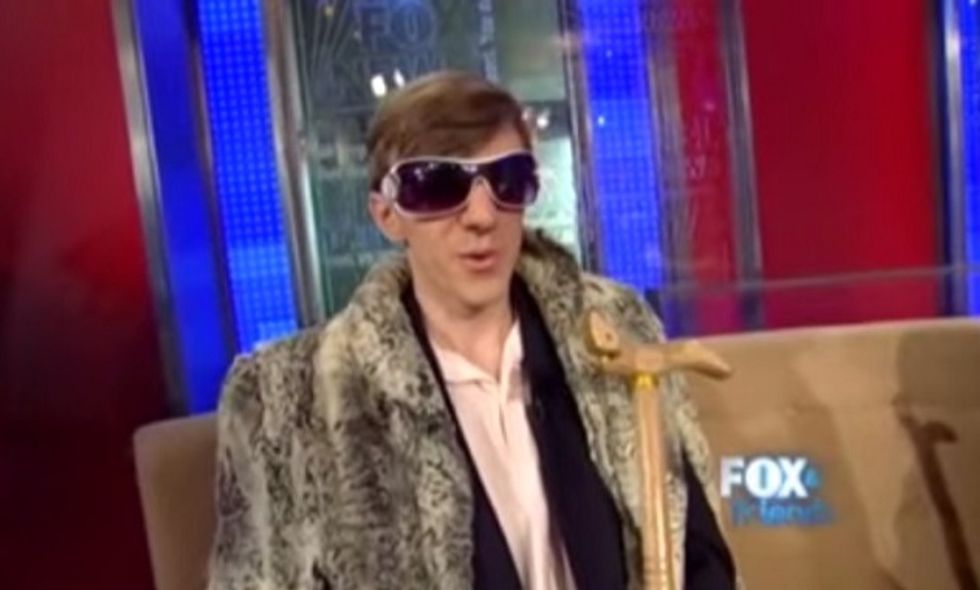 Image via YouTube
---
James O'Keefe's fault -- if he has a fault -- is that his flair for the dramatic can sometimes get in the way of his top-secret undercover investigations. Subtlety is not something that comes naturally to the wunderkind who rose to conservative fame on the strength of his downmarket Huggy Bear impression. During his most recent operation in Colorado, however, things took a turn for the intellectual. O'Keefe's new approach to expose all those left-wing ballot bandits: pass himself off as a liberal academic with the help of a young sidekick, grownup facial hair and, presumably, some leather elbow patches.
Mother Jones has the full report on the Project Veritas incursion into the Rocky Mountain State.
Last Tuesday, a man who appeared to be in his 20s showed up at a Democratic field office in Boulder wanting to volunteer to help elect [Democratic Sen. Mark] Udall and Rep. Jared Polis (D-Colo)...The man introduced himself as "Nick Davis," and he said he was a University of Colorado-Boulder student and LGBT activist involved with a student group called Rocky Mountain Vote Pride. Davis mentioned polls showing the race between Udall and [Republican challenger Cory] Gardner was tight, and he asked the staffer if he should fill out and mail in ballots for other college students who had moved away but still received mail on campus. The Democratic staffer says he told Davis that doing this would be voter fraud and that he should not do it.
Wow, Colorado Dems, get it together! You have someone willing to volunteer his time to voter-fraud your candidates to an easy re-election, and you just turn it down? This Nick Davis kid was determined to help them, even if they wouldn't help themselves, so he went and got his friend, "Professor John Miller," aka "James O'Keefe with a mustache and some heavy makeup." Professor "Miller" claimed to be a civics professor -- isn't that what most liberals do? -- and the faculty adviser to Rocky Mountain Vote Pride.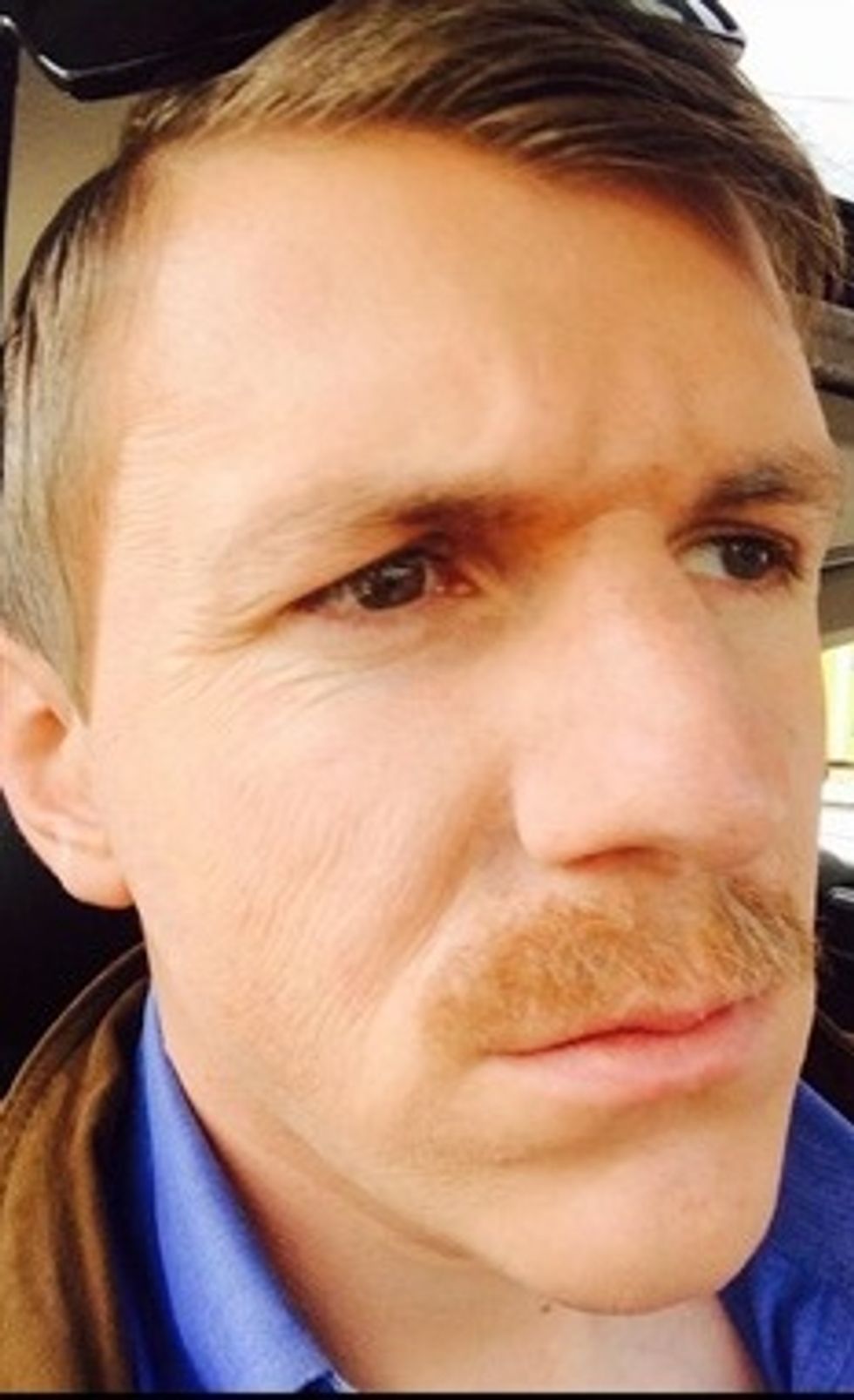 via James O'Keefe's Tweet-hole
And what is this Rocky Mountain Vote Pride? Their website is a single welcome page with an email collection box and a word salad introduction.
Rocky Mountain Vote Pride was created by students to empower other students who support progressive policies to advance voter participation and equality in America by connecting with student and community groups and organizing discussions with candidates to restore voting pride in our democratic society.
Kind of hard to break that down, but it sounds pretty liberal, right? The only post on the group's Facebook page, set up over the summer, is a link to a poll showing growing support for marriage equality. Armed with this solid cred, James popped up asking for a meeting at an office for progressive organization New Era Colorado, where he tried to bluster his way in with an armload of Mark Udall campaign swag.
The three men arrived carrying Udall campaign literature, [New Era executive director Steve] Fenberg notes, but a New Era organizer met them outside the office's front door and refused to let them enter with the Udall materials. Outside groups such as New Era cannot coordinate with political campaigns, and Fenberg says he believes O'Keefe and his collaborators "were trying to establish evidence we were working together."

When New Era's staffers began taking pictures of O'Keefe... O'Keefe and a colleague went to their car and returned with a large video camera and a microphone. "If you want to take photos of us, we'll take photos of you," O'Keefe said, according to Fenberg, and the New Era staffers closed the door while O'Keefe and his friend tried to push it open and stick their microphone inside. Fenberg says New Era filed a police report about the incident.
So we're expecting to see videos any day now showing how the criminal left in Colorado is going steal the election with all this refusing to mail in fraudulent ballots and illegally coordinate with candidates. Since James's cover as a liberal professor and Women For Udall booster seems to be blown, perhaps he will have to reprise his roles as Village People construction worker and border-penetrating Osama bin Laden in order to get yr Wonkette's attention, which it is clear he desperately craves. His mustache might not have taken down the entire Democratic power structure in Colorado, but the election isn't over yet. We assume he'll be turning up at the polls attempting to vote for Mark Udall while dressed as the Pope.
You can follow Beth on Twitter if you're not doing anything right now.