Jeb Bush So Grateful He Won New Hampshire, If You Don't Count Everyone Else
News
February 10, 2016 03:50 PM
Here is Jeb Bush on Tuesday night, thanking the voters for his stunning victory in New Hampshire:
---
We need -- we need a president with a steady hand, with a proven record. Who has a servant's heart. Who doesn't believe it's all about him. That's why I'm running for the presidency of the United States, and why I'm so grateful for the people of New Hampshire. You've given me the chance now to go to South Carolina, where we are going to do really well, thank to you all. God bless you all, thank you very much, thanks for all your help.
One minor detail: Jeb didn't actually win. Nor did he come in second. Or even -- oh screw it, let's just go straight to the pretty picture: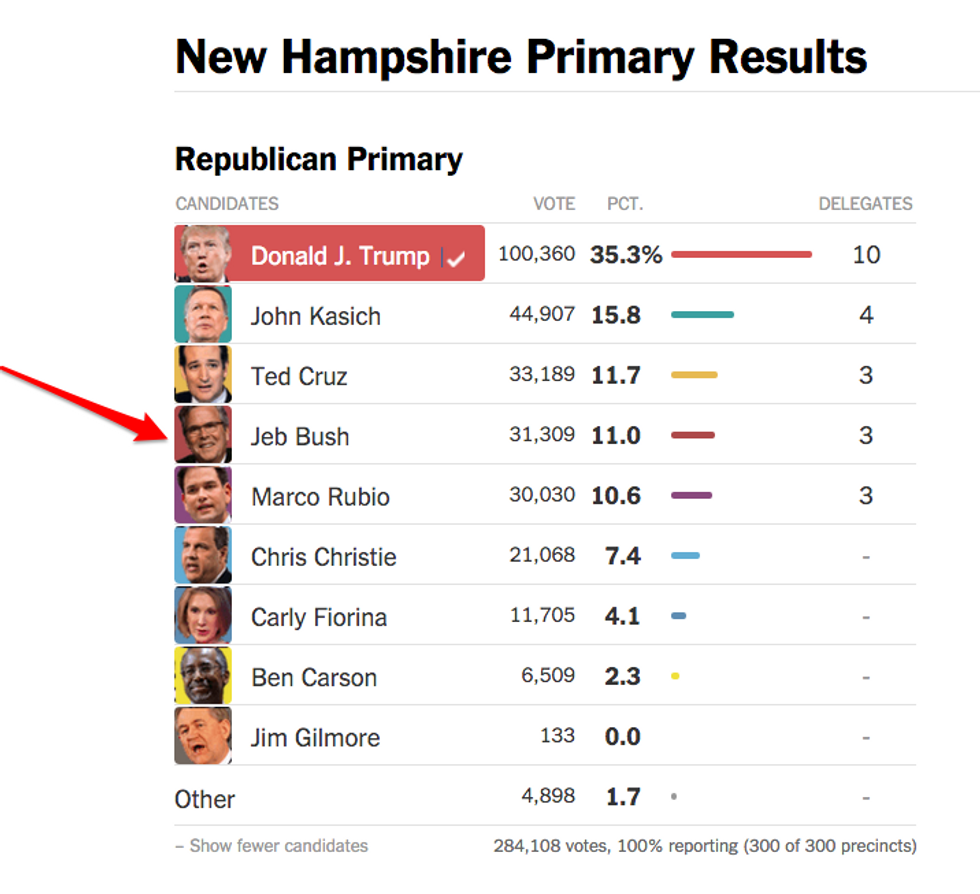 Results via NYT
On the other hand, he did beat Gov. Chris Christie, who isn't going on to South Carolina and plans to drop out of the race any second now. What a victory!
Oh, and here is Jeb Bush, trying to do "really well" (what, like he's even going to pretend he can actually win South Carolina? HAHAH AS IF!) on Wednesday, at some country club where he's giving a speech, is suddenly cut off and told to stop talking, so he shrugs and sits down and quietly finishes his lunch. It is the saddest, most pathetic fucking thing we have ever seen Jeb do since, well, since his "victory" speech in New Hampshire on that we just watched:
Come on, South Carolina, please give Jeb Bush the last place he needs so he can finally -- FINALLY -- quit this charade and go home.
[h/t Mediaite]