Jesus Sends Josh Duggar's Penis Home From Sex Rehab With Clean Bill Of Health
News
March 10, 2016 01:00 PM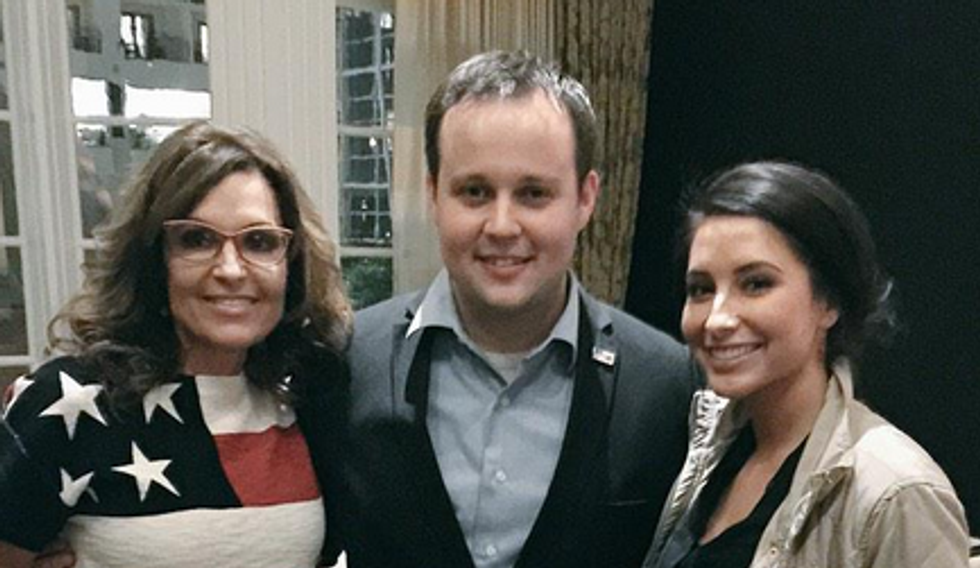 Hey Bristol, guess who hasn't had sex in a while probably?
---
[contextly_sidebar id="yz79I6kE4OZXZ9yoQlSI8UfLe4MwHPIB"]Hide your kids, hide your wives, hide your sisters, hide your dogs, hide your other sisters, hide your porn stars, hide your mom, hide your granny, hide your Ashley Madison password, BASICALLY HIDE EVERYTHING that has a vagina or another kind of genital, or maybe just a mushy inside like a watermelon or one a-them Tyson brand cordon bleus, because Josh Duggar has been released from the Christian Sex Rehab For Remaking Your Penis In The Image Of God's Holy Penis:
Sources confirm to ET that Josh "has been out for a few days," though his current post-rehab whereabouts are not clear.
He's probably at a KY Jelly factory begging for free samples since he ain't got no job, all's he's got is this Duggar dick, and it ain't been used in a while.
But that's mean of us to say because this should be a day of celebration. HALLELUJAH, he is healed! If you had a burning sensation in your loins wondering how long it actually takes for a gross sex monster like Josh Duggar to get cured of his ungodly perversions, the answer is almost SEVEN MONTHS (because "7" is the Official Number Of God).
[contextly_sidebar id="vkLeMyeXrILwZtiXIoMVvkwdXcMT60sS"]If you've repressed all the memories already, we must re-torture you by reminding you of last year's revelation that when Josh was a teenager, he made fingers unto his sisters when they were sleeping, over the course of a couple years.
[contextly_sidebar id="fYXF2uRmlcWsLhTVMXhcsIPbuPIci79i"]Then he went to Jesus Rehab for sister-finger-makers with pervy Christian homeschooling guru Bill Gothard and UH OH PISKETTI-O, it didn't work, because the now growned-up Josh Duggar has left a snail trails of sanctimonious Jeezy Jizz all over America, including on at least one porn star lady what is not his wife. Oh, and he was "addicted to porn," because that's a thing that happens to repressed Christian fundamentalists.
But MAYBE this time it worked. Maybe the nice counselors taught him how to Just Say No to dirty stank 'tang from the internet, and Just Say Yes to blessed sexy time with his wife Anna, who may or may not be knocked uppeth with Josh's fifth child. Maybe they taught him how to think of his grandma playing baseball naked when he starts thinking about forbidden sex dirties, and MAYBE that makes his Duggar dong retreat back up under his grundle where it's supposed to be. Unless he's into his grandma playing baseball naked too, GODDAMMIT, GROSS, HE PROBABLY IS. Is that why Josh Duggar's nickname for his penis is "Slugger"? (ALLEGEDLY?)
[contextly_sidebar id="66L3SXtq1JWqNH9Pw0DOWlt1sCS18mKG"]We do hope Josh Duggar's penis and testicles have been reformed in the likeness of his lord and savior Jesus Christ, mostly for Anna's sake. If she is for actual pregnant, and since she refuses to leave his creeper ass, we hope he can be a good husband to her from here on out. Not crossing our fingers, of course.
And we also hope he's reformed for his sisters Jessa's and Jill's sakes, what with how they got a sweet new TV show on the TLC to promote. Hahaha just kidding, fuck those grifters. We hope their show fails HARD.
IN CONCLUSION AND IN SUMMARY, we assure you that when Josh Duggar inevitably lubes up and backslides into a pile of hookers, livestock, or both, we will be here to mock it mercilessly.
Evan Hurst
Evan Hurst is the managing editor of Wonkette, which means he is the boss of you, unless you are Rebecca, who is boss of him. His dog Lula is judging you right now.
Follow him on Twitter RIGHT HERE.