John Boehner Wants To Know Why Hillary Clinton Isn't Helping Congress Get Stuff Done
Featured
May 04, 2015 08:30 AM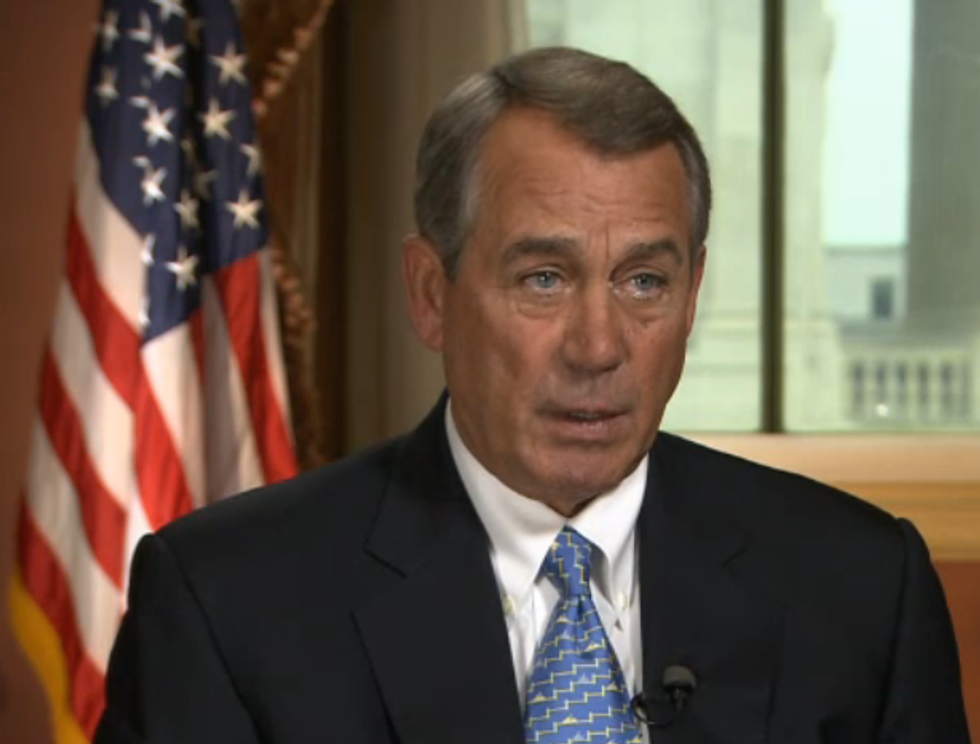 ---

Speaker of the House John Boehner appeared on "Meet the Press" Sunday and said a whole bunch of dumb stuff. On the death of Freddie Gray and the charges brought against six Baltimore police officers: "Public servants should not violate the law." That's deep. Maybe Congress ought to make a law about that. Also, the solution to impoverished cities like Baltimore? Lower taxes. Of course! As for the any-day-now national marriage equality? Yeah, he still "believes in traditional marriage," but it's not like he's a bigoted asshole, blah blah blah, same ol' thang, not gonna matter soon anyway. Shockingly, he still thinks Obamacare is THE WORST, and he says a whole bunch of dumb words about that. Then there's the trade deal President Obama is trying to make happen, even though Democrats are really not into it. You know whose fault it is that Congress hasn't acted on that yet? Not the dude in charge of the House; don't be ridiculous. Nah, man, it's Hillary Clinton's fault:

The fact is, the president needs her help in order to get Democrats, those in the House and Senate, to get this passed [...]

She can't sit on the sidelines and let the president swing in the wind here.

In case you're confused, no, Hillary Clinton did not rejoin the Senate or President Obama's administration, and no, we did not already elect her president while no one was watching. But so what? Like that's an excuse for not helping Boehner to get a trade deal through Congress. What a slacker.

Listen, we've got a majority here in the House and in the Senate. But we can't do this by ourselves.

Hmm, maybe Hillary should swoop in and save Boehner and the Republicans to help make this deal happen. They can pay her back by cooperating with her when she's president.

The socialist senator from Vermont, Bernie Sanders, raised a big fat pile o' cash online -- $1.5 million -- in the first day of his presidential campaign. Is that a lot? Here's some perspective:

The three Republican senators who are running for president — Ted Cruz, Rand Paul and Marco Rubio — all boasted about raising $1 million in their first 24 hours as candidates.

USA! USA! We're No. 1 -- except for when we're not:

Fifteen Baltimore neighborhoods have lower life expectancies than North Korea. Eight are doing worse than Syria. [...]

If you want to understand what's happening in Baltimore, and to understand how to fix it, you need to know the social and economic context behind the anger and frustration many of the city's residents are feeling. Imagine being a child and knowing that you could expect to die 20 years earlier than another kid who simply had the good fortune of being born just a few miles up the road from you. For Baltimore's poorest, that's the reality they're living in.

STOP THE PRESSES! Rick Santorum said something decent and nice about another human being, and it is Bruce Jenner:

"If he says he's a woman, then he's a woman," Santorum, who is weighing running for president again in 2016, said in response to a question from BuzzFeed News during a roundtable with reporters at the South Carolina Republican Party's convention. "My responsibility as a human being is to love and accept everybody. Not to criticize people for who they are. I can criticize, and I do, for what people do, for their behavior. But as far as for who they are, you have to respect everybody, and these are obviously complex issues for businesses, for society, and I think we have to look at it in a way that is compassionate and respectful of everybody."

According to our friends at Happy Nice Time People, this is happening:

With the Full House revival making headlines, Lifetime has just announced an unauthorized behind-the-scenes original movie about the show, and we wish we were joking, but no. But if it's going to happen–and it is–then why not join in on the fun?

Real good job, everyone:

A study published in the journal Science has revealed that the world's 60 percent of large herbivores, including black rhinos, camels, elephants and buffalos are at the risk of extinction and the disappearance of these animals will adversely affect the ecosystem by creating "empty landscapes." [...]

It isn't surprising that the human's habit of excessive hunting, resource depression by livestock and destruction of their habitats, such as deforestation, pollutions etc., are the reason for the decline of large herbivores.