John Culberson Would Like To Ask Hillary Clinton For Something
News
November 18, 2009 03:52 PM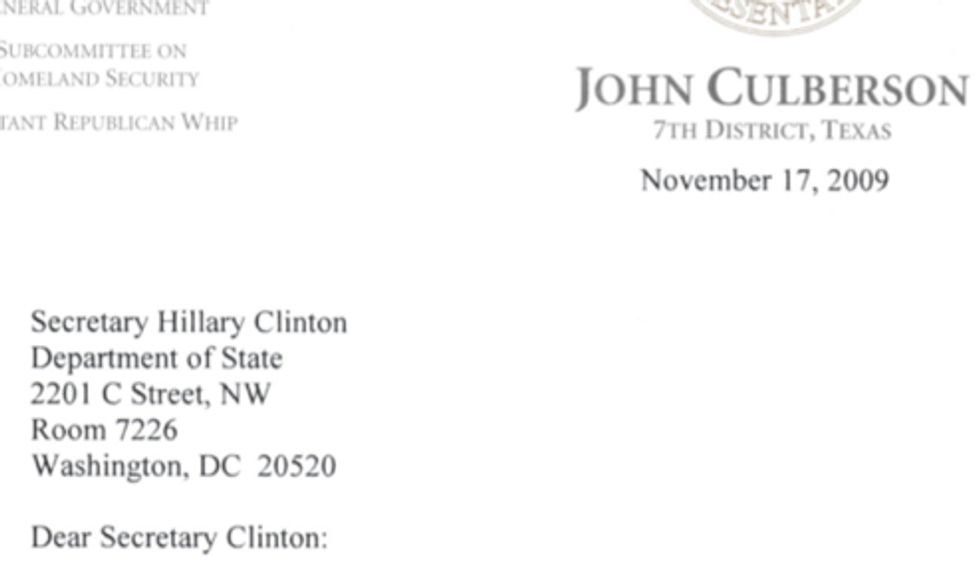 Texas Rep. John Culberson is ajackass, and yesterday he wrote a letter to Secretary of State Hillary Clinton. He requested help with something, internationally. So what was his pressing concern for the nation's top diplomat?
---
Dear Secretary Clinton:

I urge you to use all diplomatic tools at your disposal to press the United Kingdom to remove Michael Savage from the list of individuals banned from the United Kingdom, and to ask the British government to grant him a travel visa as soon as possible. Dr. Savage's rare plant speciments have been archived at Kew Gardens since 1969. They are a world-class collection of rare medicinal plant specimens from Fiji and Tonga. Dr. Savage needs to visit London for his scientific research, but he is unable to do so because of the Home Secretary's travel ban. I strongly urge you to press the British government to lift these restrictions on him immediately.
Hillary Clinton: Oh, yeah, I'll get right on top of that, soon as I finish trying to prevent Pakistan from crumbling, or North Korea from dealing nuclear warheads, or whatever else... actually, you know what? Scratch that. Maybe I can put off those things for a while. MAYBE THEY'RE NOT AS IMPORTANT. MAYBE, RIGHT NOW, I SHOULD USE "ALL DIPLOMATIC TOOLS AT MY DISPOSAL" TO GET A VIOLENT RADIO HOST REMOVED FROM A TRAVEL BAN LIST SO HE CAN GO PICK UP HIS ARCHIVED MARIJUANA PLANTS FROM 40 YEARS AGO. MAYBE I WILL "PRESS THE BRITISH GOVERNMENT" ABOUT THIS ISSUE, JOHN CULBERSON.