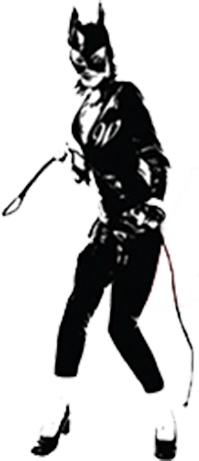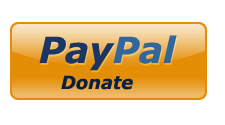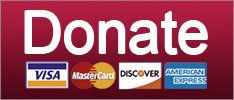 News
Just waiting for a good 'caravan' panic now.
February 28, 2020 02:24 PM
Fox News has been really big on warning its viewers there's an epidemic out there: an outbreak of terrible Democrats trying to destroy Donald Trump by claiming the administration is not up to speed on handling the coronavirus outbreak.
On "Fox & Friends" this morning, proud non-hand-washer Pete Hegseth told viewers Democrats are "rooting for coronavirus to spread" so it will harm Trump's re-election campaign, because that's just how insane and evil they are.
And listen, I don't want to say this, it's not, it doesn't -- I don't relish the reality, but you start to feel -- you really do, watch the Democrats, watch the media -- you start to feel like they're rooting for coronavirus to spread. And I don't say that flippantly, I really don't, but they're rooting for it to grow, they're rooting for the problem to get worse, they're rooting for mysteries, unknown cases, quarantines, towns, for it to become an absolute national crisis for one reason and one reason alone. They have yet to find a reason to try to drag down the presidency of Donald Trump.
Hegseth went on to say what America really needs to do is to come together and start "pointing the finger exactly where it should be, which is at China, which has not contained this [...] and that's become something we should all agree on" -- so we can all support the administration, which is trying to keep us safe.
The same basic point was pushed by Mick Mulvaney, Trump's budget director, (acting) chief of staff, and the newest member of the coronavirus task force, who explained at CPAC today that the administration actually ended coronavirus last month by stopping flights from China, but nobody noticed, you see.
"Why didn't you hear about it? What was still going on four or five weeks ago? Impeachment, and that's all the press wanted to talk about" [...]

"The press was covering their hoax of the day because they thought it would bring down the president," Mulvaney concluded. "The reason you're seeing so much attention to [the coronavirus] today is that they think this is going to be what brings down the president. That's what this is all about."
Wow, we'd have sworn we actually saw a trial and everything, but apparently even that was a hoax, just like the coronavirus!
Mulvaney went on to explain that the best way to calm the record stock market downturn sparked by fears of the epidemic's economic impact would be to just ignore the virus so it will have time to go away, possibly through the "miracle" Donald Trump predicted yesterday. He said he'd told a reporter exactly how he'd settle everyone down:

I'm like, "Really what I might do today [to] calm the markets is tell people turn their televisions off for 24 hours."
Not that you'd want to watch anything but Fox News anyway, where the coverage has focused on the evil Democrats trying to scare people about the virus to hurt Donald Trump, and of course where Tucker Carlson has been blaming the disease on foreign people and diversity.
By the way, later Friday in a House hearing, in a testy-ass exchange with Democratic Rep. Ted Lieu, Secretary of State Mike Pompeo refused to say Mick Mulvaney was wrong when he called coronavirus a "hoax," because that is a "gotcha" question.
Then he waddled off to CPAC, where people don't hold him accountable and the questions aren't hard.

But back to Fox News!
Just today, Fox had the Hegseth bit, as well as another "Fox & Friends" segment where Donald Trump Jr. agreed Dems "seemingly hope that it comes here, and kills millions of people so they can end Donald Trump's streak of winning," calling that a "new level of sickness," because duh, anyone who opposes Trump is evil and wants people to get sick. He even added a very funny joke! "I don't know if this is coronavirus or Trump Derangement Syndrome, but these people are infected badly."
Fox's serious and real news website also featured a story on Geraldo Rivera saying in a radio interview yesterday that -- get ready for it -- he is

deeply disappointed in the response of Democrats who have chosen to weaponize this apolitical virus. Shame on them for what they have done. They have attempted to use this to ridicule the president and to campaign against him. Shame on them.
Then there was the charming Tucker Carlson column today explaining that instead of studying things that matter, the CDC was studying dumb liberal stuff like "social determinants of health in a diverse neighborhood in Georgia" two years ago, which he proclaimed had turned up "Nothing that helps us fight a rising pandemic." It had to be worthless, because after all, "diverse" was in the description. He also had nothing but scorn for "Another $300,000.00 CDC grant funded to look at how an American Indian tribe in Washington State could improve health outcomes by eating traditional foods." Like American Indians are even real!
He explained that while doctors may want to study disease prevention, they're actually ordered to study dumb diversity stuff instead because of identity politics, and if coronavirus spreads, it will be because liberals prevented the CDC from doing its job.
Does Carlson mention Trump's decision to gut HHS's leadership for pandemic planning? Of course not. That was just smart management, we suppose.
The unrelenting focus on how those dirty liberals are politicizing the disease outbreak prompted this tweet from a Daily Kos editor this morning:
Well ha-ha Herman, Ms. Liberal! By the time we looked at Fox's website, it had an entire one story on prevention, so there!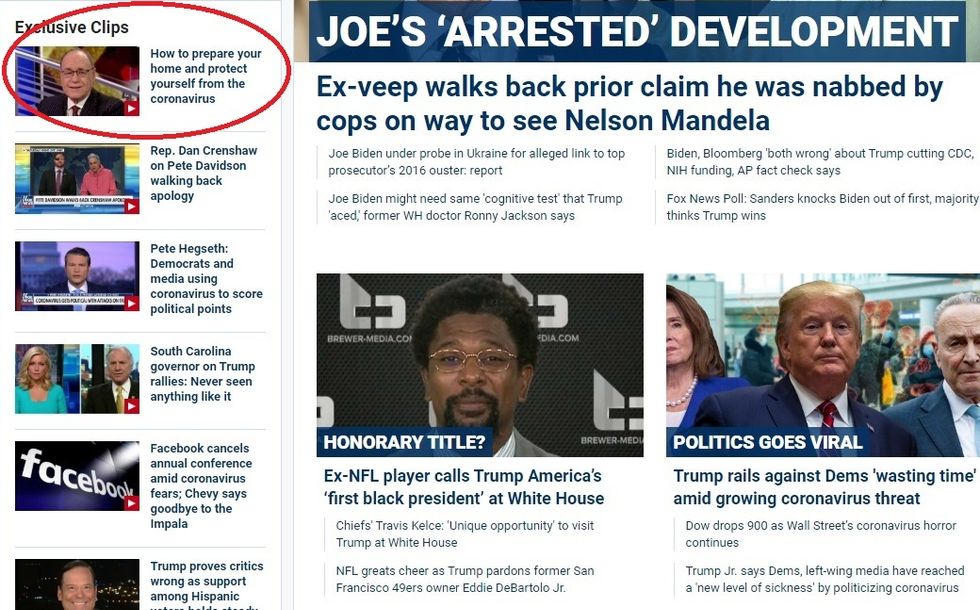 Sure, it went up this morning, and it's video-only, with no accompanying article, but it mentions prevention, at least after a clip showing Mike Pence taking charge of keeping America safe. The Fox News doctor, Marc Siegel, talked a lot more about the current lack of test kits for coronavirus, which sure sounded like an attempt to bring down Trump by saying the administration isn't ready for the challenge, but eventually he did say you should wash your hands and disinfect surfaces, so that surely balances out the week of bullshit so far, don't you think? He also said categorically that no one who's sick should go to work, without noting that isn't exactly easy if you're not a Fox News correspondent.
And now, the Fox News front page is back to normal, with this up top, and the prevention video still in the sidebar.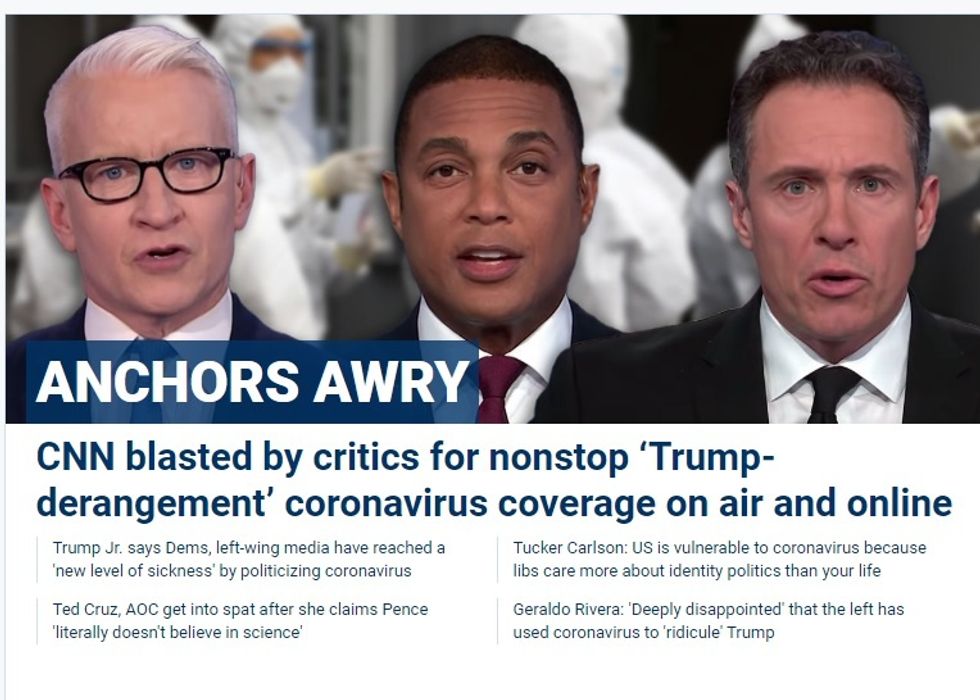 Hmm. We know what we're washing our hands of.

[Media Matters / Fox News / NBC News / Fox News / Fox News]
Yr Wonkette is entirely supported by reader donations. Please help us keep the servers humming and the writers paid!
Journalism
February 14, 2020 09:24 AM
John Kelly, Donald Trump's former chief of staff, got a lot of attention for his speech the other day in which he said Lt. Col. Alexander Vindman had simply been doing his duty by testifying to Congress about Donald Trump's shakedown call to the president of Ukraine. Yesterday, the Washington Post's Philip Bump focused on another part of Kelly's speech at Drew University, in which Kelly also said, in essence, that a steady diet of Fox News is bad for your brain.
Sure, that's pretty obvious, but it's always a little remarkable when a Republican admits it.
Keep reading...
Show less
White House
Who greenlighted this reunion special?
February 13, 2020 03:30 PM
Jared's getting the old gang back together! With Hope Hicks and the hot one already signed on for the comeback tour, can Ol' Two Shirts Bannon and the wife beater be far behind?
Let's go out on a limb and assume that Hicks's attempt to reinvent herself as a West Coast publicist wasn't exactly a smashing success. The last we'd heard of her was in a gauzy Vanity Fair profile largely focused on the former White House liar's shiny hair and dedication to her fitness routine. There were, however, already hints of clouds on the horizon because she'd immediately gotten caught lying to the LA trade press like they were a pack of common Maggie Habermans.
"The journalist-publicist relationship in this town is all about the trust in the exchange of information," the reporter explained. "I'll sit on a story about A-B-C in the short term in exchange for X-Y-Z down the line. It's all about the long-term gain, and I don't think that she got that."

Other reporters moved on. It was a fairly minor issue, they told me, that was probably blown out of proportion because most people didn't want to like her. But the media executive made clear: "You do not lie. Not here. You will be run out of town."
Your Wonkette has no idea what went down with Hope Hicks in California. But we're gonna take a wildass guess that the habit of breezily feeding bullshit to a press corp that will swallow it as long as they can maintain their access didn't translate to her new gig. Either that or Jared begged her to come back since he and Vanky can't ever get a sitter anymore and it's taking a toll on their marriage.
Keep reading...
Show less
Trump
And Eric Trump lied about it to your face.
February 07, 2020 01:55 PM
Donald Trump, for all his imbecility and incompetence, has one truly impressive talent: He knows how to grift. This is not the same as being a great businessman, as his bankruptcies and multiple failed enterprises readily illustrate. (Trump Steaks! The Trump Shuttle! Trump Organic Free-Range Condoms!) But when it comes to petty shit that can squeeze out a few tens or hundreds of bucks, Trump is on it, like refusing to pay his contractors when he was building casinos, or making sure his 2016 campaign paid top dollar to rent rooms in Trump Tower, and to maintain his fleet of gold-plated trashjets. Since becoming "president," the grift has continued, as Dok Zoom's pretend boyfriend David Fahrenthold details in yet another jaw-dropping Washington Post story about just part of the money Donald Trump's businesses make from renting rooms to the Secret Service, which has to stay close to Trump at all times.
As with most of the reporting that earned Fahrenthold a Pulitzer Prize in 2017, the piece is a combination of dogged research and an eye for details that just leave you blinking in astonishment. The bottom line is that records Fahrenthold was able to compile -- some from the public record, others from watchdog groups' lawsuits, plus interviews with insiders -- "show more than $471,000 in payments from taxpayers to Trump's companies." But that's just a start, since, as he notes, "these records cover only a fraction of Trump's travel during a fraction of his term — the actual total is likely to be higher."
For instance, during the first year of Trump's maladministration, his Mar-a-Lago club charged the Secret Service rates up to $650 a night. Later, that nightly rate seems to have dropped some, to payments of "$396.15, dozens more times in 2018." But don't go thinking that had anything to do with the Trump Organization deciding the high costs looked bad. Don't be silly! Instead, it appears that's because the "2018 receipts list the Secret Service as an "honorary member" of the club, which could have made it eligible for a member discount."
Such a great deal maker!
Keep reading...
Show less
fox news
February 07, 2020 01:05 PM
Which Trumpland media figures know the whole thing is a lie, and which are true believers? It's one of the enduring mysteries of this three-year nightmare. Who is running a con, and who thinks the insane conspiracy theories they flog hourly are actually the truth? Sure Don Jr. is a drooling idiot who thinks Mitt Romney is a crypto-Democrat in cahoots with Nancy Pelosi to impeach the greatest president since Lincoln to please George Soros. But does Laura Ingraham, a former Supreme Court law clerk, actually buy into all this crap?
Apparently, the higher-ups at Fox are in on the joke. The Daily Beast got its hands on an internal Fox News briefing book, which makes clear that the network has known all along that Rudy Giuliani and Hill "opinion" writer John Solomon were selling a pack of lies about Joe Biden in Ukraine. But the rubes eat that shit right up, so ... LOL! And also KA-CHING!
Keep reading...
Show less
News
If only everyone had been nicer to Donald Trump. What a missed opportunity. So sad.
February 06, 2020 02:49 PM
Now that Republicans in the Senate have formally endorsed Donald Trump's Ukraine fuckery and made it clear he can do anything he wants, America's Greatest Moderate, David Brooks, has thoughts. No doubt he'll flesh them out in a full column for the New York Times tomorrow, but it will pretty much be this tweet, again and again and again:
We are left wondering yet again what version of Earth David Brooks resides on. Particularly as we've been trying to write this while the very reasonable Donald Trump ranted very presidentially on live TV about the need to exact vengeance on all his enemies.
Keep reading...
Show less
Impeachment
We kid! Also Adam Schiff, Nancy Pelosi, Chuck Schumer, and Baby Mr. Peanut, on which there's bipartisan agreement.
February 05, 2020 09:04 AM
Now that Donald Trump is pretty much assured of getting away with it, even despite the interference of those meddling kids the House impeachment managers, he has a whole lot of great ideas to bind up the nation's wounds and restore the harmony and fair play that make America a great nation. Which means it's time for his enemies to taste his wrath, or possibly his literal taint. He's a strong leader that way.
In a story that's sure to evolve further as the bodies metaphorically (?) pile up, Vanity Fair's Gabe Sherman reports "Republicans briefed on Trump's thinking" say it's pike-sharpening time at the White House:
"It's payback time," a prominent Republican told me last week. "He has an enemies list that is growing by the day," another source said. Names that came up in my conversations with Republicans included Adam Schiff, Jerry Nadler, Mitt Romney, and John Bolton. "Trump's playbook is simple: go after people who crossed him during impeachment."
Remember kids, those terrible Democrats and liberal traitors like John Bolton were out to get Donald Trump from day one, so it's only fair for him to use all the power of the Executive Branch to smite his enemies. They started it by not loving him, and now look what they're going to make him do.
Keep reading...
Show less
Class War
Also please put a lady with cancer in prison for stealing groceries. That's justice.
February 04, 2020 09:04 AM
In the week that the US Senate is set to formally declare Donald Trump above the law, a couple of reminders that people who make the grievous mistake of not having the right connections will get every bit as much justice as the rich and powerful can pile on them. In Portland, Oregon, a nice woman who worked for U.S. Bank got shitcanned after giving $20 to a bank customer who was being screwed over by the bank's delays in processing a check he deposited just before Christmas, and a Pennsylvania woman being treated for two advanced types of cancer has been sentenced to 10 months in prison for stealing $109.63 in groceries a bit over a year ago. And somewhere in the cosmos, Anatole France may be rolling his eyes that his 1894 line about the law's "majestic equality" in forbidding both the rich and the poor "to sleep under bridges, to beg in the streets, and to steal their bread" is still so very apt.
Keep reading...
Show less