Juggalos And Trump Supporters Are Marching On Washington. Two Will Enter, Both Will Be Clowns. (A Live-ish Blog)
Culture
September 16, 2017 12:52 PM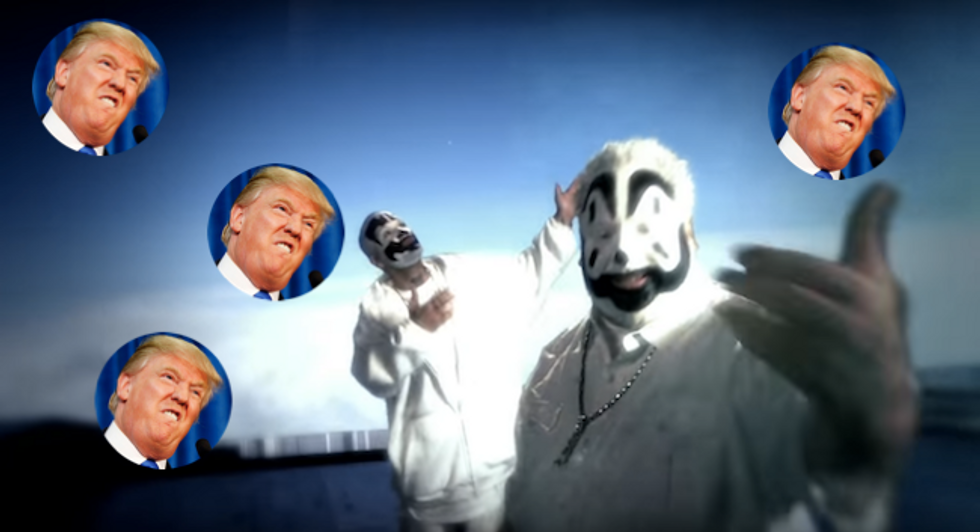 The day of reckoning has finally arrived. It's Saturday, September 16th, and The Juggalos are marching on Washington to protest their designation as a gang. Trump Supporters are marching on Washington to show their definitely-not-racist support for preserving "American Culture." A culture which simply loves a good dogwhistle.
---
Shit is weird, yo.
White supremacist tattoo on Illinois guy with "American Guard" at #MOAR. After I took this photo, guy flexed muscles to intimidate me. pic.twitter.com/XR02d3Dj4m

— Lacy MacAuley (@lacymacauley) September 16, 2017
MOAR stands for Mother Of All Rallies. So far, about 1,000 people have shown up, and 2,000 people have RSVP'd to the official Facebook invite.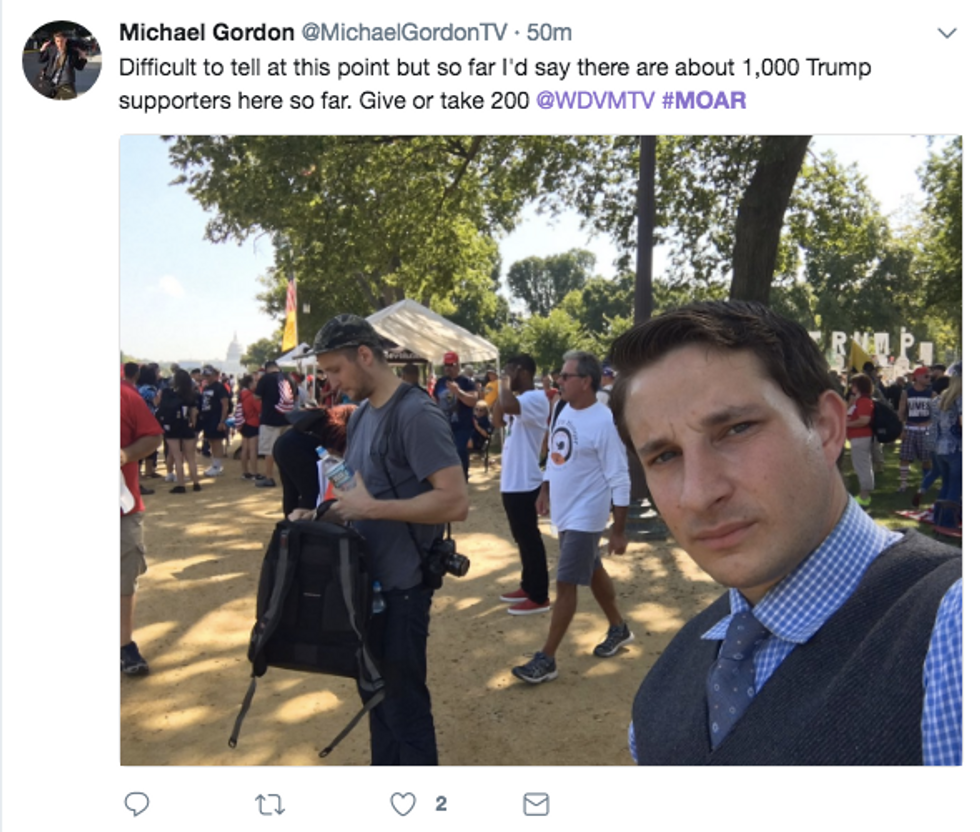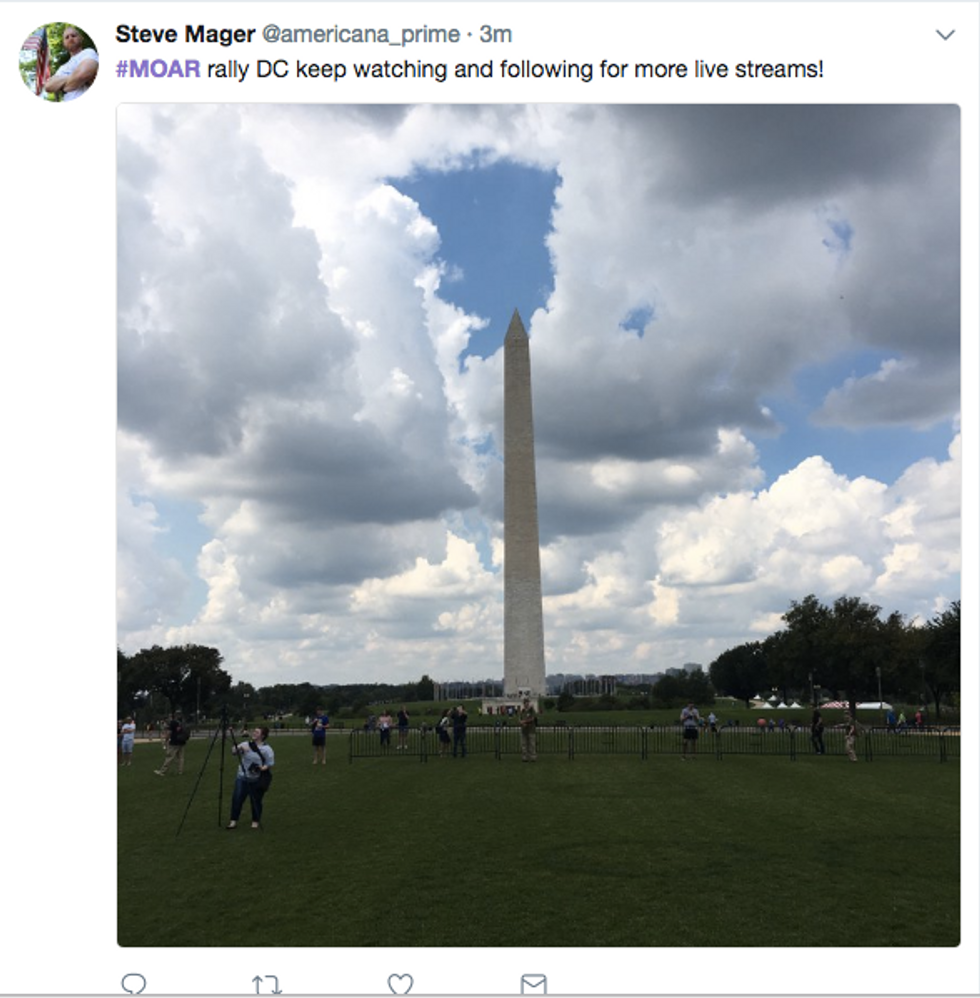 In what we can safely assume is a response to Charlottesville, the organizers of the MOAR rally are banning confederate flags and also trying to present themselves as some sort of non-partisan, non-white nationalist rally that is just really all about AMERICA. In all caps.
MOAR - The Woodstock of American Rallies

THE ONLY FLAG THAT UNIFIES US ALL IS THE AMERICAN RED WHITE AND BLUE FLAG. NO CONFEDERATE FLAGS, COMMUNIST FLAGS, OR FOREIGN FLAGS ALLOWED THIS IS NOT A DEMOCRAT OR REPUBLICAN RALLY. ITS NOT A LEFT OR RIGHT RALLY. WE CONDEMN RACISTS OF ALL COLORS AND SUPREMACY OF ALL COLORS. OUR PATRIOTS ARE OF ALL COLORS AND WE ARE UNITING UNDER OUR CONSTITUTIONAL RIGHTS. WE ARE AMERICANS AND OUR COLOR SHOULDN'T MATTER. ANYONE WHO WOULD PROTEST THIS RALLY IS PROTESTING AMERICA AND SHOWING THEMSELVES TO BE THE VERY DOMESTIC ENEMIES OUR FOUNDING FATHERS WARNED US ABOUT. ANYONE ATTEMPTING TO SILENCE US IS COMMITTING A DIRECT ASSAULT ON OUR CONSTITUTIONAL RIGHTS OF FREE ASSEMBLY.
Sneaky! Just getting it in there ahead of time that if you protest them, you are protesting AMERICA. So there. I guess this is the protest version of Sovereign Citizen rules or something?
But then there is this part, in NOT all caps:
You are invited to join with us on September 16 at the National Mall in Washington DC.Due to increasing political and social unrest, many believe that core American values, customs and traditions are being sacrificed. Rally participants will demand protection for traditional American culture while they express their love for the United States and the America First agenda. MOAR will send a message to the world that the voices of mainstream Americans must be heard.
Bolding mine. In case you were having trouble hearing all the dogwhistles.
Despite the fact that many juggalos made it clear ahead of time that they were very much not down with the MAGA cause, there has been some crossover and Pizzagate idiot Jack Posobiec has been VERY excited about it. Because it like, SO proves that the MAGA idiots are super counter cultural now.
There is also... whatever this is.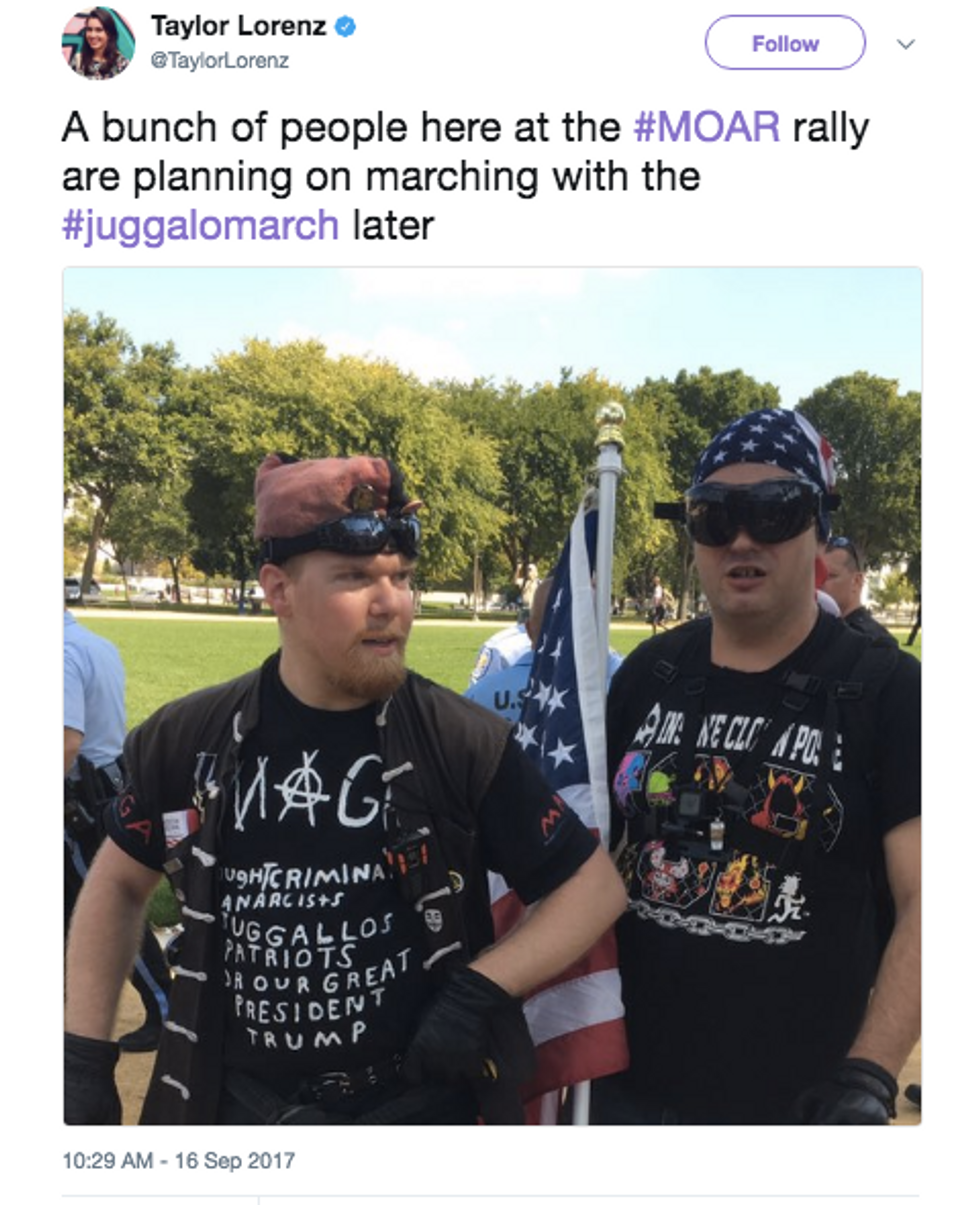 I really need a better view of that t-shirt.
The rallies are not expected to intersect until around 4ish, but I'm staying late here to see how that goes. I'm gonna keep updating this post intermittently in case stuff happens.
1:32pm: Apparently the Juggalo March is very nice! Check out this thread!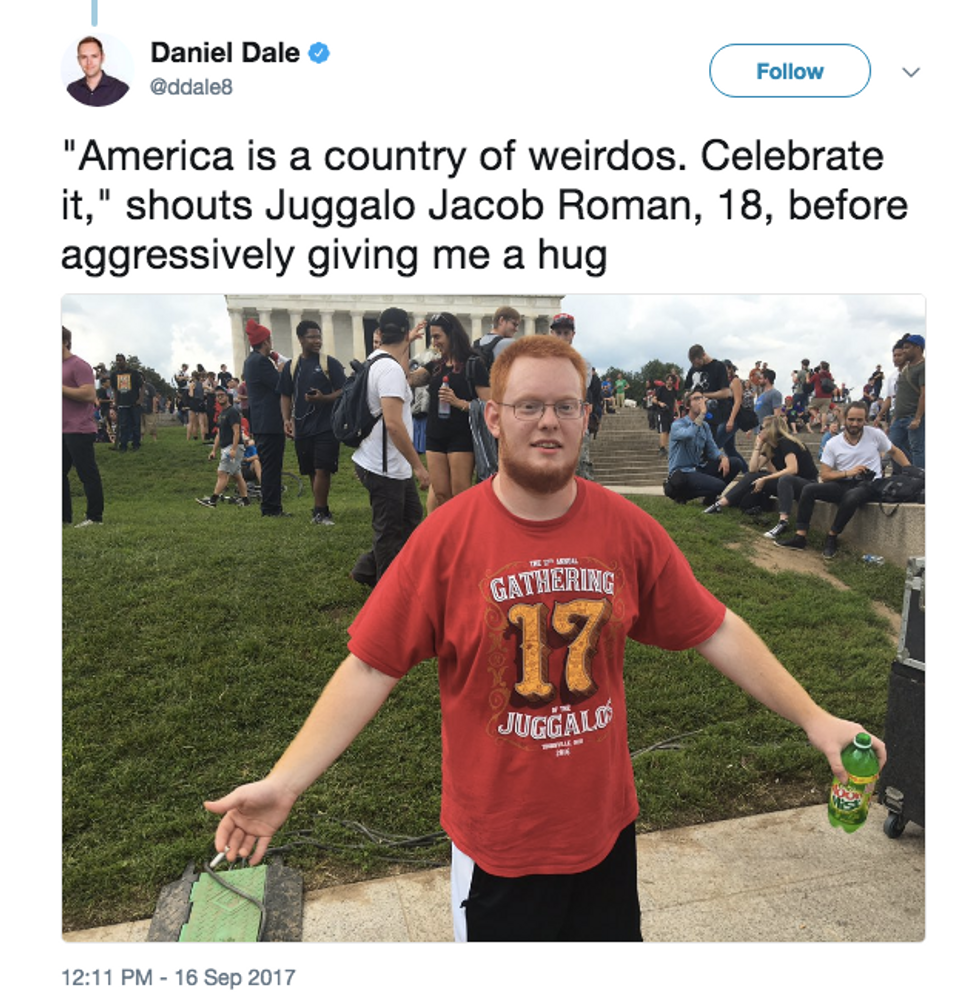 3:18pm: There are apparently way the hell more juggalos than Trumpers. Good for the Juggalos!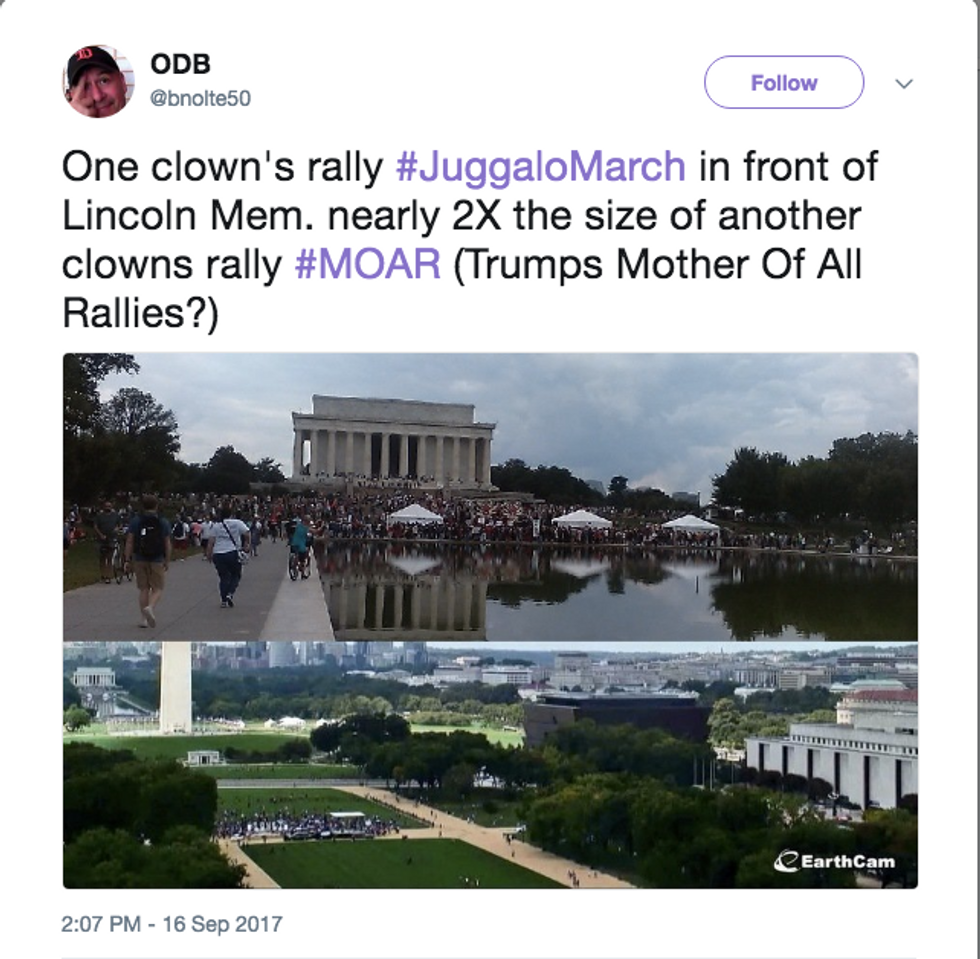 4:03pm: Nice man offering to give Trump supporters Black History tours gets yelled at for his sign.
RT aletweetsnews: #MOAR: Man with "black history tour" sign sat in front of Trump supporters, refused to move. Hea… pic.twitter.com/nvQWw62Vt4

— Sebastian Anthony (@sebastianant517) September 16, 2017
Our salaries are paid for by readers like you! Click to donate!
Robyn Pennacchia
Robyn Pennacchia is a brilliant, fabulously talented and visually stunning angel of a human being, who shrugged off what she is pretty sure would have been a Tony Award-winning career in musical theater in order to write about stuff on the internet. Follow her on Twitter at @RobynElyse