K-Lo Ticked Boston Marathon Tragedy Didn't Happen While She Was in Town
News
April 15, 2013 03:10 PM
Gosh darnit, Kathryn-Jean Lopez left Boston just when "news" started happening. Don't worry, K-Lo, you still win the reporting award as usual for communicating the least amount of information about any given topic while still managing to make it all about yourself. What are we even talking about? Oh, right. There is a horrible tragedy unfolding in Boston. Two explosions went off near the Boston Marathon finish line. Holy shit.
---
From WCVB.com:
Two people were killed and at least 22 people were injured in two explosions that rocked the Boston Marathon steps away from the finish line.

The blasts happened at about 2:50 p.m. near the intersection of Boylston and Exeter streets. Bloody spectators were carried away from the area, and witnesses said several victims lost limbs.

Boston police said two people died, and at least 22 were injured.

"I was turning the corner. I was near the Hynes (Convention) Center. I saw two explosions. I just turned around and ran. It was a fireball -- a huge fireball," one runner said.
You can follow the station's live updates here.
Longtime Wonkette pal Garrett Quinn is on the scene and posting photos to his Twitter, including this one: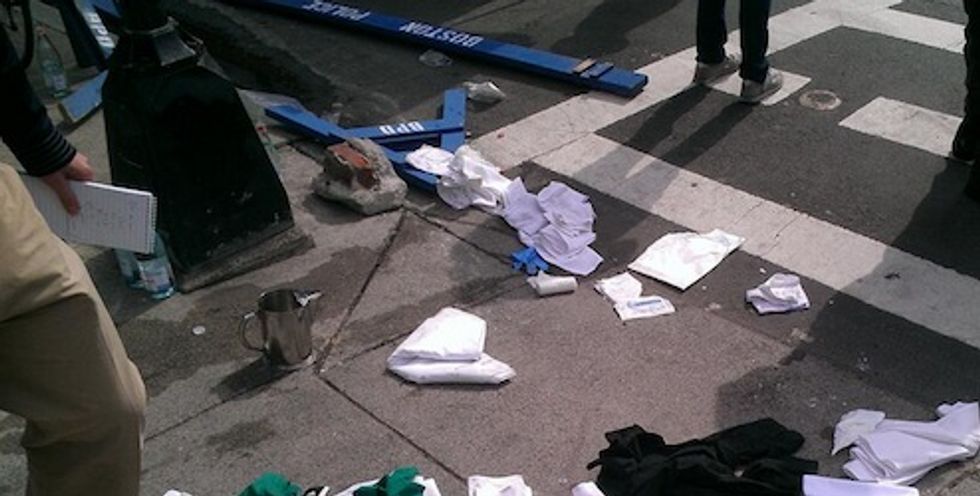 And this:

If you are in the Boston area, you can find a place to donate blood here.