Trump Spokespiece Katrina Pierson Says It Is Super Cool And Not Sexist To Call Women Bimbos
2016 Presidential Election
May 10, 2016 12:36 PM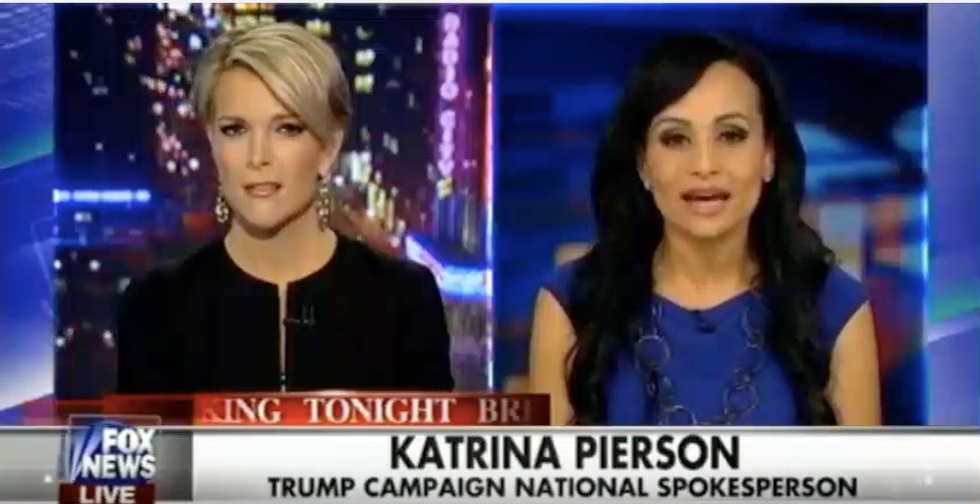 Katrina Pierson, Donald Trump's oft-bewildered spokesperson, stopped by The Kelly File last night to have a chitchat with Megyn Kelly about how nobody respects women more than Donald Trump. How does he show that respect? By calling women who criticize him "bimbos." Just like how he would call a man who criticized him a bimbo, just as long as that man had a vagina.
---
Kelly had brought up the fact that Donald Trump has said some pretty gross things about women, and that -- as she predicted during the first debate -- the Clinton campaign is now using that against him. Like for instance, in this ad here created by a pro-Clinton PAC, which barely skims the surface of all the gross ass things Donald Trump has said about women.
Sadly, the ad does not include footage of the time he said he'd be dating his own daughter if she were not related to him. Or talking about how awesome his other daughter's rack was gonna be back when she was only a year old. Which, actually, they should make into an ad as well, and play it constantly, because that is a gross thing to think about for everyone due to a little thing they call the Westermarck Effect.
Of course, Pierson believes that despite all of these gross things, it is Donald Trump who will win with women in the end, because actually Hillary Clinton is a bad woman for being married to Bill Clinton. PLUS, when her surrogates go on The Kelly File to talk about how women do not care for Donald Trump (like former Michigan governor Jennifer Granholm just did), they talk about how Hillary Clinton is good at women's issues. Which, obviously, means she is ONLY running on women's issues and doesn't care if all the men die in fires.
All the fun starts at about 7:11:
Pierson explained that the ONLY reason Trump said those things about women was because they criticized him, which is not allowed, and he was forced to retaliate. Also, too, he criticizes men who criticize him, and so what would AKSHALLY be sexist would be if he DIDN'T retaliate against women who criticize him as well. Donald Trump is an equal opportunity insulter of people.
"What about the word bimbo?" Kelly asked, having oft been on the receiving end of this descriptor by Trump herself.
"What about the word bimbo?" Pierson responded after staring blankly off into the distance for about twelve minutes, "It's another thing, Mr. Trump has criticized women who have criticized him."
Armed with what I have to say is a truly impressive side-eye, Kelly asked "So that word is fine by you, you don't see that word as sexist at all?"
After another long pause, Pierson explained "Well, even if it is sexist or not sexist, depending on how you perceive it, the point is, he doesn't reserve criticism for women, that's sexism, that's misogyny." So, technically, it would actually be MORE sexist if Donald Trump did NOT call women bimbos. Logic!
This is pretty great news for all of the sexists and misogynists out there! Congratulations, fellas! You can now say all the sexist things you want about bimbos bleeding out of their wherevers, talk about how it is "disgusting" that they have bladders and have to go to the bathroom sometimes as a result of that, talk about how women without large breasts can never be a ten, etcetera etcetera... just so long as there are also some men you don't like also. And no one can call you sexist!
Given the fact that it is probably very unlikely that any men out there like literally every other man on the planet whilst simultaneously hating all the women, this means that sexism does not exist! Yay! We won! Sort of!
Pierson went on to explain that Trump is the least sexist person ever, as he hired women-folk to be executives in the NINETEEN EIGHTIES, back before they even had the vote. This is a lot like how he is not racist because he let black people play at his golf courses in the 1980s as well. Also, he's totally leaving his empire to Ivanka (the daughter he would like to be banging if they were not related) when he dies rather than his idiot sons, so THERE.
Robyn Pennacchia
Robyn Pennacchia is a brilliant, fabulously talented and visually stunning angel of a human being, who shrugged off what she is pretty sure would have been a Tony Award-winning career in musical theater in order to write about stuff on the internet. Follow her on Twitter at @RobynElyse