Keep That Shutdown Spirit Alive In Semi-Back-To-Normal D.C.
April 12, 2011 03:05 PM
Post-no-government-shutdown blues? Everyone was all excited for the anarchy and lawlessness, that is, until they came after the hoohaws of D.C.'s low-income women. Even if D.C.'s mayor did go to jail to protest the Republican Riders, short of throwing fetuses on Boehner's lawn, it seems like Washingtonians are just going to have to go back to doing what they do best: indiscriminately disposing of income at a food and beer establishment. Which takes us to H Street NE, where, for its newest act, it has unveiled aMongolian restaurant where food is consumed under the faded glare of multiple flat screen teevees. D.C. at its best!
---
The Mongolian restaurant, Khan's Bar and Grill, which once employed young a Riley Waggaman, until he suddenly stopped showing up for work, is reminiscent of a college cafeteria's stir fry station, only it also has a 110 inch HD projector and a full service bar.
Unlike most of the new places on H Street, Khan's offers good food at fast-foody prices. A nice-sized bowl of fresh vegetables, noodles, and chicken or shrimp, which you get the pleasure of creating all by yourself using whatever sauces you desire, is just $8. Though the restaurant isn't a part of The Great D.C. Tradition of Food and Booze Free-For-Alls  (see: the all you can eat and drink brunch at Cuba Libre, Masa 14, and Ping Pong Dim Sum), meaning this is not all you can eat Mongolian BBQ, you do get to watch the cooks stir-fry your meal on a giant skillet. For a town full of people who were monumentally excited by the prospect of parking in front of a fire hydrant during the shutdown, we can't even imagine the amount of joy that watching noodles and vegetables be warmed on a large skillet will bring to Washingtonians.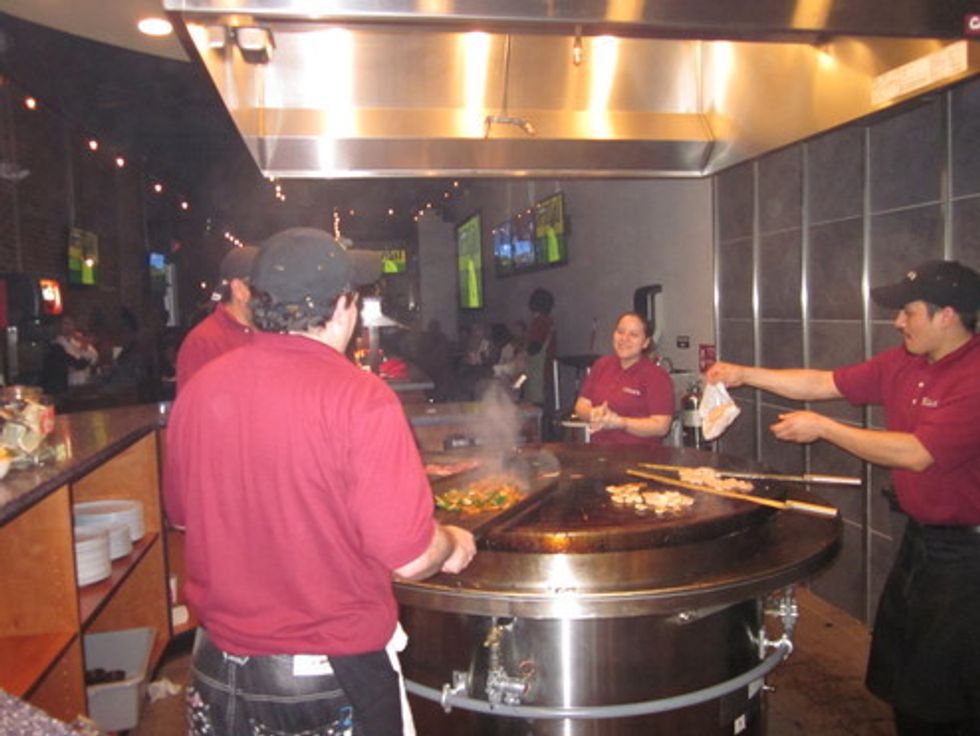 The good news is that at Khan's, you're not dining in a bizarre, low-lit, New York-ified Carnival Wonderland. That doesn't mean the place isn't without its own oddities: the restaurant is awkwardly Mongolian BBQ to your right and full bar to your left. Soon it will also have a la carte Asian Fusion small plates menu, because, as we've learned when it comes to dining in D.C., why not?
If you're looking for less gimmick-y dining experience on H Street, before you go play blingo, eat tater totz, spend $6 on slice of pie, or try out the new underground, much hyped, above ground Ramen noodle emporium, Khan's is the place to go. And, have no fear, they have PBR on tap.
Khan's 1125 H St NE, Washington, DC 20002, (202) 399-6010