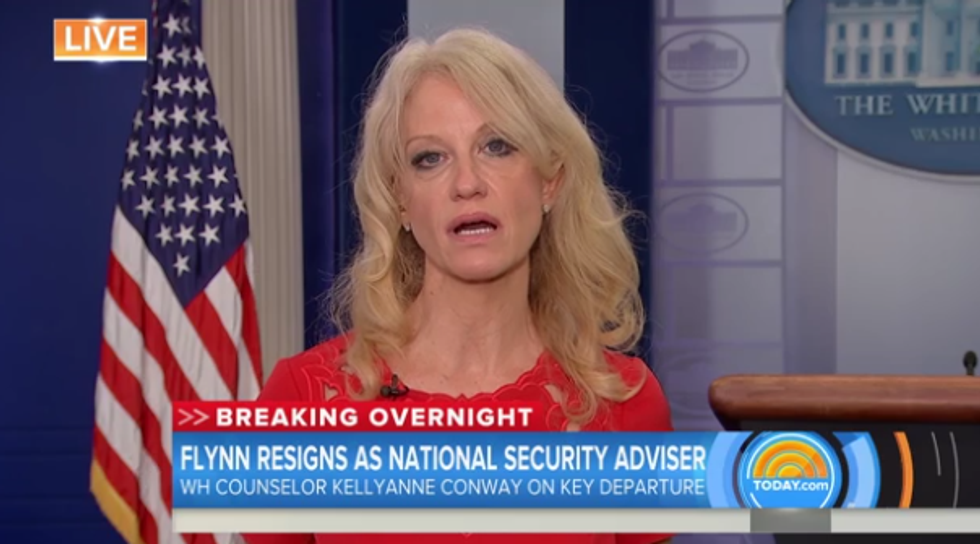 All our sympathies.
---
Oh lord, what hath become of our lie-faced blueberry princess Kellyanne Conway? Her last twenty-four hours of human-esque life on this planet haven't seemed much fun, and we're worried she finds herself in the doldrums! We're also worried she's about to lose her job, due to how nobody likes her, everybody hates her, and Donald Trump won't even come to see her anymore, because he's scared of the staircase between his office and hers.
Gaze upon this tweet, and feel the resignation and ennui wash over you: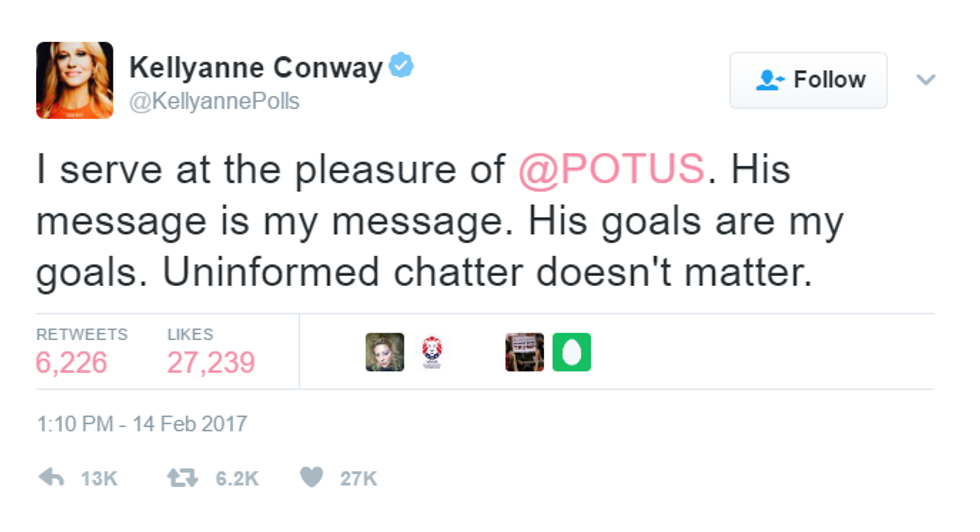 OK, first of all, that is a shitty poem. Only the last line rhymes, the entire thing is formless, and oh holy crap, is she quoting those old lesbians in the book of Ruth?
And Kellyanne said, "Entreat me not to leave you, Donald, or to return from following after you: for where you go, I will go; and where you lodge, I will lodge: your people shall be my people, and your God my God."
LOL. Lady's position in the White House must be on the damn rocks.
[wonkbar]<a href="http://wonkette.com/612726/joe-and-mika-just-turned-on-lying-kellyanne-conway-like-a-couple-of-heathers"></a>[/wonkbar]Conway's terrible, horrible, no-good, very bad last twenty-four hours started Tuesday morning, when those mean girls Joe and Mika decided to spend an entire segment telling the whole world what a liar she is, and Mika said she "blathers" and cries "SEXISMS!" whenever she gets caught in a lie. They suggested Our Kellyanne is not even worthy of appearing on "Morning Joe"!
At roughly the same time, Conway was appearing on the hard-hitting investigative journalism program called "The Today Show," getting the third degree from extremely tough reporter Matt Lauer, who made her look like a great big dumb liar idiot with split ends, making fun of her for saying Mike Flynn has the "full confidence" of the president AT THE SAME TIME as Press Secretary Sean Spicer was saying the president was "evaluating the situation." Just a few hours later, Flynn was fired unceremoniously as a scapegoat in the mounting Trump/Russia scandal. Lauer said to her, "Kellyanne, that makes no sense," in response to some bullshit done fell out her mouth that ain't made no sense! Unfair!
WATCH: @MLauer's full interview with @kellyannepolls on departure of #MichaelFlynnhttps://t.co/PZ1PGtACUY

— TODAY (@TODAYshow) February 14, 2017
What a tough day, and it wasn't even noon yet!
[wonkbar]<a href="http://wonkette.com/612383/fashion-icon-kellyanne-conway-cant-stop-pimping-ivanka-trumps-ugly-ass-clothes"></a>[/wonkbar]But there was more to come. Not long after "Morning Joe" and "Today," the New York Times published a story saying the Office of Government Ethics (OGE) believes Conway should be in Big Trouble Mister for being VERY NAUGHTY and doing a free commercial for Ivanka Trump's fugly lady clothes on TV, and that she should be disciplined. Doubleplus more unfair!
Anyway, the possibility of getting in trouble, and the meanness from Matt Lauer, Joe and Mika may have led to #SadnessTweet you see above. And for God's sake, it was Valentine's Day!
[wonkbar]<a href="http://wonkette.com/605251/can-somebody-please-give-sean-hannity-a-pacifier-or-a-buttplug-for-his-mouth"></a>[/wonkbar]So, Kellyanne Conway did what any sad, overburdened Trump liar in her situation would do: She went to see Fox's Sean Hannity, a sycophant so pathetically devoted to Trump he sleeps with a Trump-flavored buttplug in his mouth (allegedly), so they could have a pity party together about how people only ask her mean questions because she is a conservative and a lady:
HANNITY: You know, just one observation, we've been friends for over two decades -- I've seen you on media appearances, and just my own thoughts, that if somebody was a liberal and a woman and were treated in certain circumstances the way you've been treated, I think it would be news. Do you feel in any way the media's been extremely hostile to you?

CONWAY: I don't like to think that way. [...]

[J]ust saying that I made no sense, or it made no sense, is inaccurate and unfair in this instance because as our Press Secretary Sean Spicer said later in the daily briefing today, Sean, our White House Counsel reviewed that information and concluded that this is not a legal matter. And ultimately it was a matter of trust. It was an erosion of trust matter. [...]

...[I]f we don't answer the question the way they want it answered, they ask it again, accuse us of not being credible or not answering the question ...
POOR BABY! We guess Trump's trust in Michael Flynn really "eroded" in the four hours between Conway saying Trump trusted Flynn completely and Flynn getting the ax, or MAYBE it's that Trump knew all along that his Russian spy friend had been covering up all his communications with the Russians on behalf of Trump, and when news got out, he had to pretend to lose "trust" in order to keep the cover-up going.
Anyway, Kellyanne Conway went to bed last night, remembering that when you have a terrible day, you should turn that frown upside down, because tomorrow will be better! Unfortunately, Wednesday morning on "Morning Joe," the Mika one revealed that Conway tries to text them all the time, begging to be on TV, but that she needs to put her Obamaphone down, because they literally never want to see her lying face again:
"I will say: Kellyanne Conway does not need to text our show, just as long as I'm on it" the Morning Joe cohost continued in the 6 a.m. hour Wednesday, "because it's not happening here."
HAHA ANOTHER BAD DAY!
So, what will become of our precious lying Kellyanne Conway after the terrible 24 hours she's had? Is she about to become the next Michael Flynn, forced to move back to New Jersey and cry a lot, assuming she's capable of actual human tears? Or is she right now curled up in Donald Trump's sumptuous bosom, as he strokes her with his orange mini-paw and tells her everything is going to be OK? Time will tell, we guess, but we hope it's the first thing, because we don't like to think of Trump stroking things with his orange mini-paws, ew gross.
Wonkette is entirely reader-supported, which means we don't have shitty ads to eat your browser. If you liked this post, drop us a couple bucks, why don't ya?
Evan Hurst
Evan Hurst is the managing editor of Wonkette, which means he is the boss of you, unless you are Rebecca, who is boss of him. His dog Lula is judging you right now.
Follow him on Twitter RIGHT HERE.