KELLYANNE CONWAY WISE ENOUGH TO KEEP MICHELLE OBAMA'S NAME OUT HER MOUTH
Post-Racial America
April 23, 2018 04:08 PM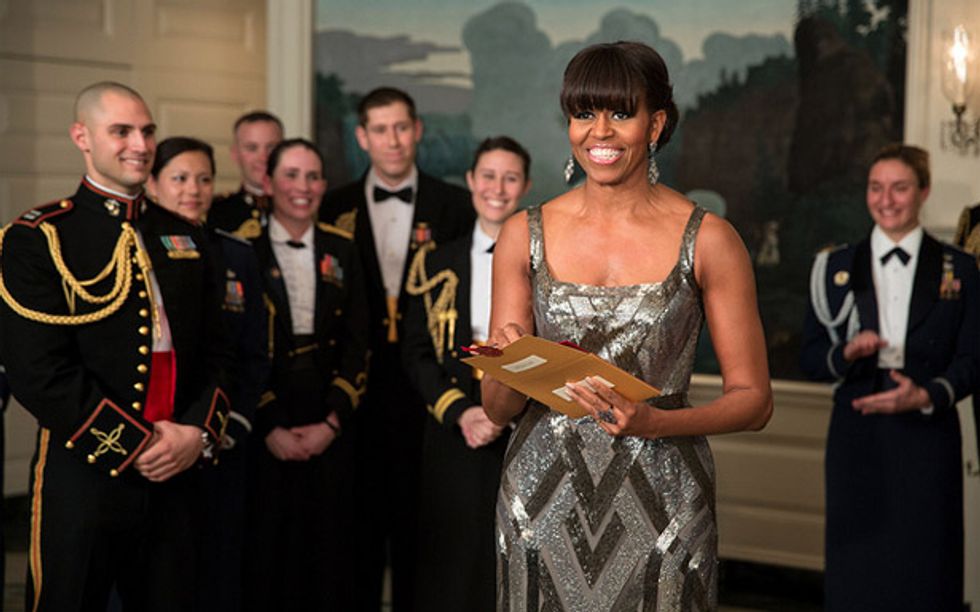 Would you like some facts or some "alternative facts"? Fact is, Kellyanne Conway honestly has no clue what superior means. Because if she did, she would not have fixed her stupid lips to form such stupid words as, "Melania Trump is superior." If "superior" means "cannot hold a candle to a classy First Lady who kept us sane for eight years and made our kids put down the Kindles and go outside and exercise," then sure, okay Kellyanne Conway. But we highly doubt your alternative definition will get much momentum. You lie a lot. Like, bigly.
---
It all started when a TMZ reporter sidled up to Conway to ask, "Do you think there is a double standard with how the media is covering Melania Trump where she hasn't been on the cover of a major US magazine where [Michelle] Obama was on 30 times?" Her answer? "Melania is a superior and excellent First Lady and this country is lucky to have her..." Okay, you got some boilerplate. Some nice words about "philanthropy" and "hard work" and WAIT. Superior to whom? You better not mean Michelle Obama, the person to whom the dumb reporter was just comparing her, because everyone with eyeballs just PULLED THEM OUT THEIR OWN HEADS.
Over here in Realityville, where the population doesn't obsess over the AnticolonialKenyanElitistMuslim ex-president's "Deep State," MICHELLE OBAMA IS STILL THE MOST BEAUTIFUL, ELEGANT, COMPASSIONATE, INTELLIGENT AND FUN DAMN WOMAN IN THE NATION IF NOT THE WORLD. NOT MELANIA, WHOM WE JUST FEEL SORRY FOR (ON A GOOD DAY; ON A BAD DAY, WE REMEMBER.)
Also: SHUT THE FUCK UP KELLYANNE CONWAY.
What has Melania Trump done to show that she is "superior"? Steal Michelle's speech? Rub lanolin on Trump's crusty face? Did she remember Tiffany existed? Or is she "superior" because of that time she saved a kid from a glass of water? Fox News has a SPECIAL REPORT about how freaking classy that is, and how gracious she is, and we need to watch this important event.
Oh, did you see that?!?!? She told him it was just water. My oh my, how absolutely SPECIAL REPORT! So GRACIOUS!! What would Michelle Obama have done in her place, Kellyanne Conway? Swatted him like a fly, a la Barack? Made him eat some lettuce and do jumping jacks as penance? Rub caviar lotion on him after bath time? EXECUTED HIM FOR SPILLING ON HER MUSLIM PRAYER RUG? Not sure what Kellyanne Conway actually thinks, if she thinks, or if she knows what thinking is, but we think Kellyanne Conway is a goddamn liar and needs to shut her face about Michelle Obama.
Now why would Conway say something so outrageously obtuse? Is she feeling sensitive because Melania Trump can't find a magazine that wants her on the cover? Is the former model not a big seller of those glossy magazines that tell us who we should care about? That is sad, we guess. Not as sad as having a quarter of the country call you a disgusting ape for eight years and whine piteously about how inappropriate it is to bare your arms but are a-okay with baring all of it on a bearskin rug just as soon as the First Lady's a white gal. Superior THIS, KELLYANNE.
But there was something quite revealing in what she said to TMZ,
"I don't think she needs to be on the cover of a magazine for everyone to see how wonderful her work is."
We don't think you know the definition of "everyone," Conway, or "philanthropy" and "work." You, Trump, and Melania are not "everyone." We are still trying to figure out when her anti-bullying campaign will make a visit to her own home and tell her husband to stop bullying dark people and women and LGBTQ and "Shithole Countries" and… Well, you get the picture. Everyone.
Wonderbitch
Follow Wonderbitch aka Bravenak aka Bianca DeLaRosa, loves her jobs as Social Media Manager for Wonkette more than Sarah Huckabee Sanders loves lying to America. Bianca also moonlights as a Witch (THE BAD KIND!!) and is a Freelance Goddess of All Things Ever. Be very nice her because she likes to curse people, especially mean people. You can find Bianca on Twitter @Wonderbitch81, or email her at bianca@wonkette.com