Kwame Kilpatrick Maybe Sex-Texted Other Hot Ladies!
News
July 23, 2008 11:22 AM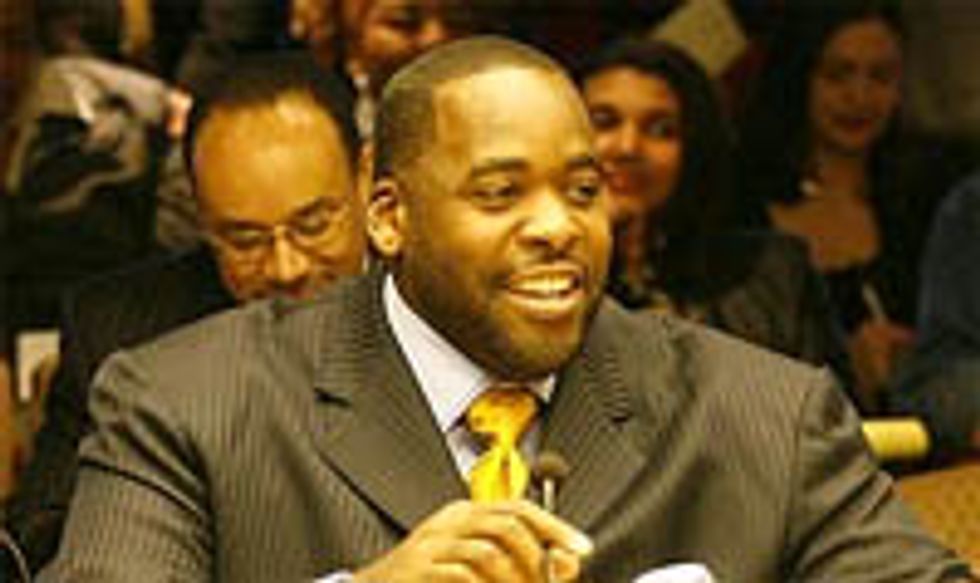 The Great Romancer of Detroit, Mayor Kwame Kilpatrick, may not have confined hissex-LOLs to former aide Christine Beatty. Now the prosecutor in his perjury case, Kym Worthy, has changed the wording in criminal charges to suggest that he was whoring around on women besides Beatty and his wife. In response, this comical doofus said that Worthy was just hoping to use "the racism of this region" against him.
---
According to the Detroit Free Press, "Prosecutors said they have obtained thousands of still-undisclosed text messages, including some that reveal his intimate relationships with women besides Beatty and his wife."
[:O OH NOES!! LOLZ!--Ed.]
At least one criminal defense lawyer was dumbfounded. "The only white guys are the lawyers working for the mayor. It leaves me a little confused," Gail Benson told the paper.
The most hilarious part of this reliably entertaining Freep article comes at the very end, when it is suggested that Kwame Kilpatrick lies about absolutely everything, including kissing his wife:
Kilpatrick said he is continuing to do his job amid the controversy.

"We've been able to deal with a $300-million problem in the budget, so I'm just thankful to God to still be able to wake up in the morning, kiss my wife, hug my children and do my job," he said.

His wife, Carlita Kilpatrick, has been living recently at the family's home near Tallahassee, Fla., with the couple's three sons, according to a Detroit News report.
Kwame Kilpatrick should be appointed Attorney General.
Worthy amends charges, brushes off mayor's accusations [Detroit Free Press]