Lady Gaga And Helen Mirren Are Baal-Worshiping Buddies, Say Trumpists
Conspiracy theories
March 14, 2022 04:30 PM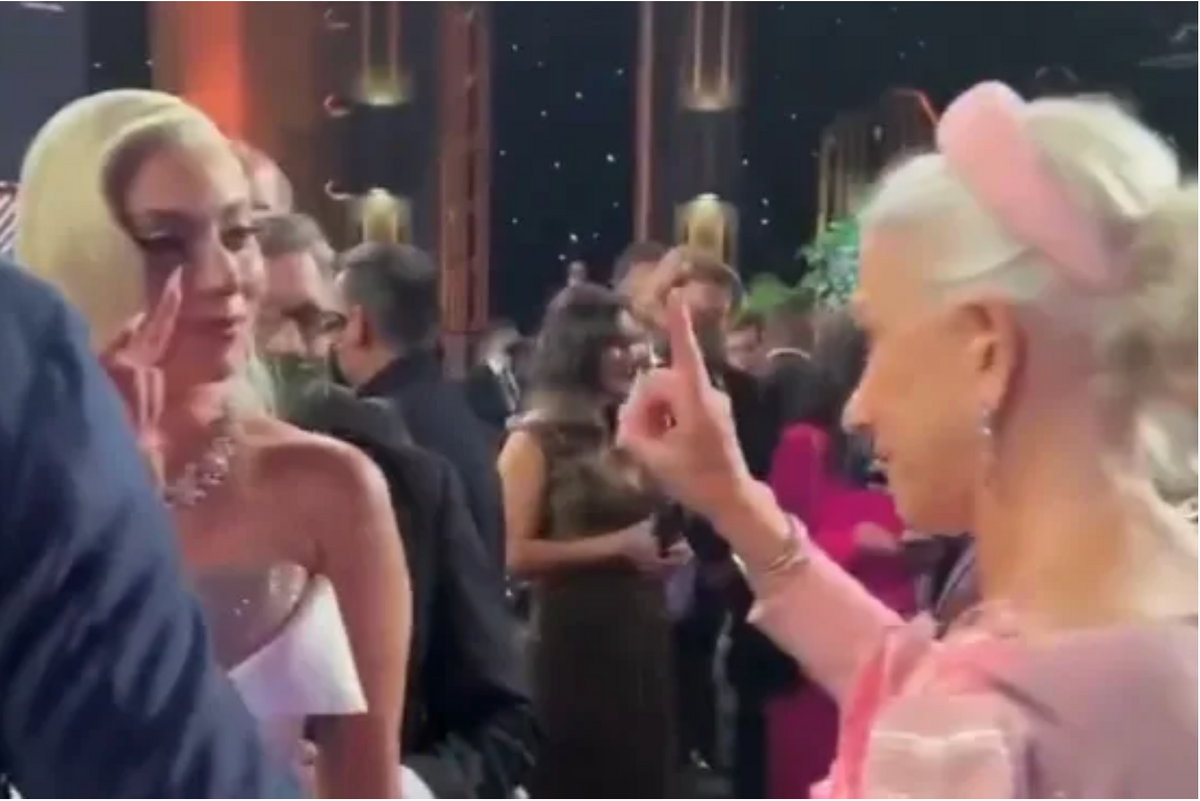 Right-wing conspiracy theorists are losing their minds over a video clip of Dame Helen Mirren and Lady Gaga at last month's Screen Actors Guild (SAG) Awards, and not because it is both adorable and iconic. No, they are flipping out because the two did "devil horn" gestures at each other. They believe this very literally means they both worship Satan and are so incredibly enthusiastic about how much they love Satan that they can't wait until they get home to their secret Satan-worshiping lair to do an occult ritual in honor of him.
BEHOLD:

---
The video has been around for a few days, but has become more popular since being shared on Gettr (which apparently still exists) by white supremacist Trump acolyte Tommy Robinson, who merely commented "Errrr.... Yeah. To be expected."

The responses from his followers were, however, gold.
"It looks like Helen mirron is in charge of her for some strange reason! Judging by the way she gave a firm nod of the head. Weird or what," said one eagle-eyed commenter.
"THE FUKING DEVILS THEMSELVES. SLAGS, WHORES OF THE BODY AND SOUL. THESE DISGUSTING EXCUSES FOR HUMANS FLASHING THE LUCIFERIAN SIGN.. BAPHOMET! These slags will die a slow agonising death for eternity..," said another.
Another very cultured commenter wrote, "Riverdance is the only gig i've been to in the last 45 years where this wasn't done." And thank goodness for that, because we would hate to think the Lord of the Dance had been tainted by the Lord of Darkness.
The video has also been popular on sites like WeLoveTrump.com, which featured an article about the video reading:
I guess Lady Gag-me (errrr, I mean Gaga) and Helen Mirren must just be HUGE Texas Longhorn fans.

That's the only reason I can think of why they would very weirdly make the Devil Horns hand symbols to each other and then nod as if the ritual had been approved.

No other reason possible really….

Oh wait! It is also one of the Occult's most favorite symbols.

But that couldn't be it, could it?

Nahhhhhh.
The video was shared multiple times on Twitter, with many choosing to caption it with "Symbolism will be their downfall," a popular QAnon catchphrase meaning that all of these people are inserting secret symbols and alternate meanings into everything they do, so that conspiracy theorists can figure out their true motives — which are, of course, taking over the world and enslaving humanity.
While Lady Gaga has been a target of the Illuminati-obsessed for some time now, it's possible this is Helen Mirren's first time to that particular rodeo. Even some experts were disappointed to think she is such a big Baphomet booster.
"Hmmm! I've been reading about Lady Gaga and her links to certain clubs/societies, call them what you will," wrote one Twitter user, "Am disappointed in Helen Mirren, but neither am I surprised. Can recommend the book 'The musical truth' by Mark Devlin. Definitely worth a read." The Musical Truth is a book purporting to reveal the secret truth that all popular musicians since at least Mozart are evil occultist Satanists, who, according to one Amazon reviewer, "seem to be able to link themselves to dark physical energies evoked by manipulating the energies of fear and the frequencies of sound."
Sure, why not.
As amazing as an evil Satanic cult run by Lady Gaga and Helen Mirren sounds, it seems far more likely that they were just being silly, like normal people who don't spend all day analyzing everyone else's behavior for secret symbols so they can feel like they live in a Dan Brown novel.
OPEN THREAD.
Do your Amazon shopping through this link, because reasons.
Wonkette is independent and fully funded by readers like you. Click below to tip us!
Robyn Pennacchia
Robyn Pennacchia is a brilliant, fabulously talented and visually stunning angel of a human being, who shrugged off what she is pretty sure would have been a Tony Award-winning career in musical theater in order to write about stuff on the internet. Follow her on Twitter at @RobynElyse