Lauren Boebert Says The Left Hates Women Because She's Every Woman, We Guess
Culture Wars
March 22, 2021 10:45 AM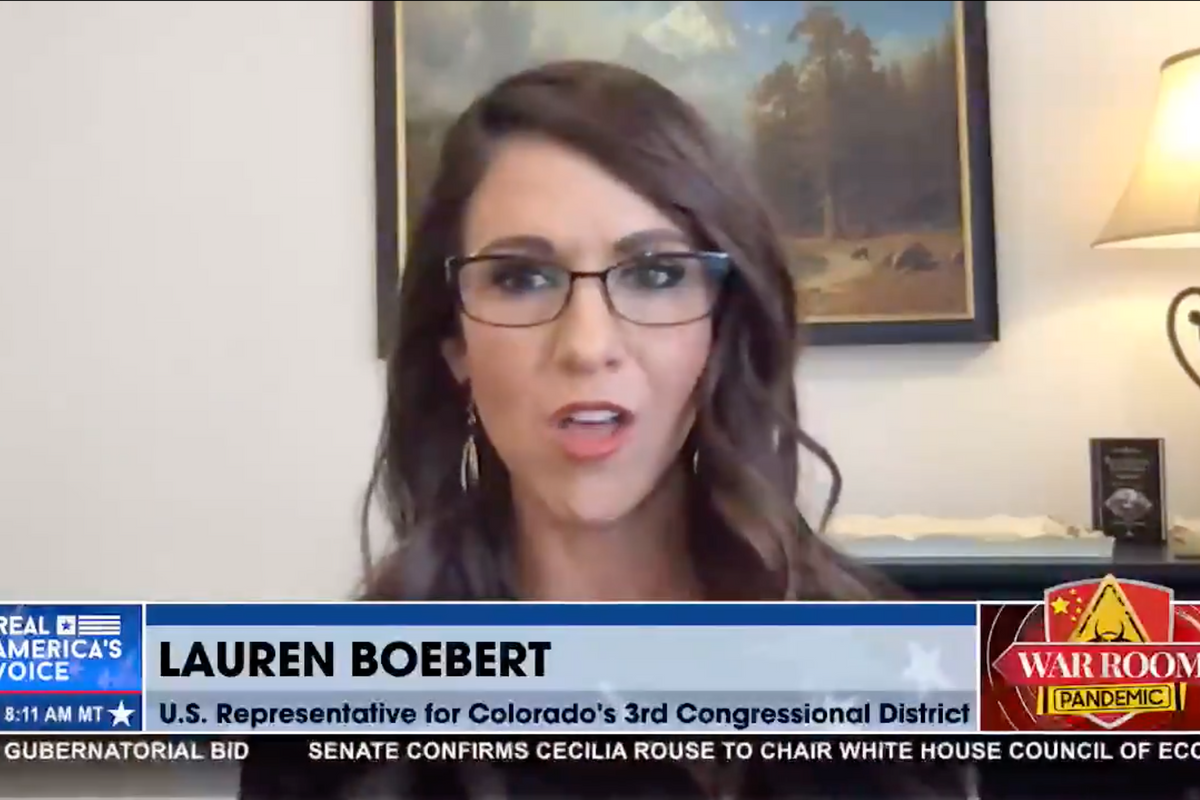 GOP rep and sedition caucus member Lauren Boebert, who represents Colorado's third district, woke up Sunday morning with the following bright idea she shared with her Twitter followers.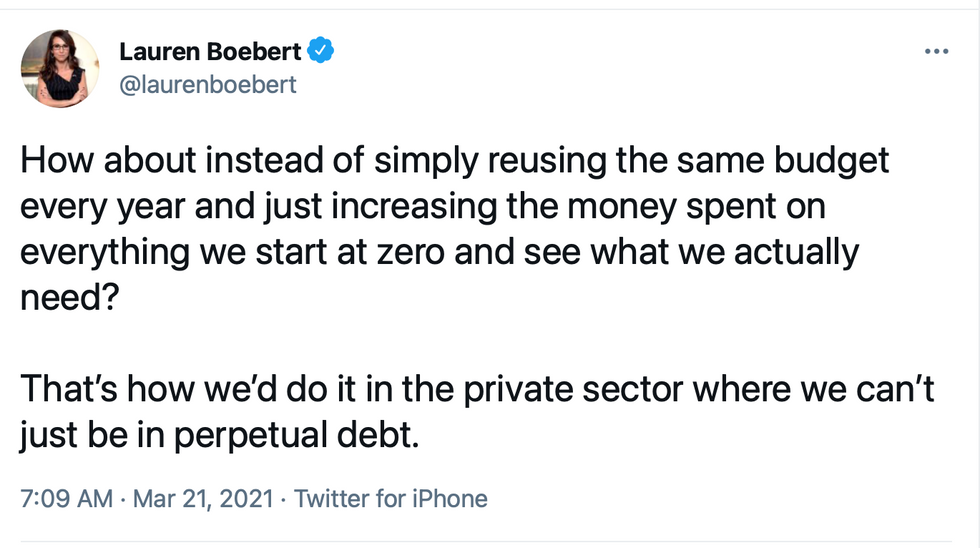 WTF?Twitter
She tweeted:
How about instead of simply reusing the same budget every year and just increasing the money spent on everything we start at zero and see what we actually need? That's how we'd do it in the private sector where we can't just be in perpetual debt.
This "debt BAD!" rhetoric is so goddamn tiresome. Boebert's private sector experience involves running Shooters Grill in Rifle, Colorado, where the wait staff carries guns like it's the old West. That's a little different from the federal government. As people smarter than Boebert — so, like, almost everyone — quickly pointed out, the federal government employs as many people as Walmart, and that corporation's CFO doesn't zero out its budget every year. That would be really dumb.
---
The accumulation of debt doesn't automatically mean an organization is struggling. AT&T, Verizon, Ford, and Comcast all carry significant debt. Although we shouldn't expect Boebert to understand the many solid financial reasons for carrying debt, she does have experience with debt in the private sector. From August 2016 to February 2020, Shooters Grill reportedly accumulated eight liens for nonpayment of unemployment insurance premiums.
The liens, filed by the Colorado Department of Labor and Employment, indicate that Shooters Grill was delinquent on UI premiums dating back to its opening in 2013. By early 2020, Boebert's restaurant owed the state a total of $19,552.86, including interest and penalties.

On Feb. 13, 2020, three of the liens, totaling $553.50, were satisfied and released, records show. The remaining five liens, totaling $18,999.36, were satisfied on Oct. 22, 2020, according to Garfield County records.
Boebert paid off the last of the almost $20,000 in state liens two weeks before the 2020 election. In October, she'd paid herself more than $22,000 from her campaign account. Hmm, those are very similar figures.
The Denver Post reported:
The Republican congresswoman from western Colorado wrote two checks totaling $22,259 from her campaign coffers for mileage between January and mid-November.

To justify those reimbursements, Boebert would have had to drive 38,712 miles while campaigning, despite having no publicly advertised campaign events in March, April or July, and only one in May. Furthermore, because the reimbursements came in two payments — a modest $1,060 at the end of March and $21,200 on Nov. 11 — Boebert would have had to drive 36,870 miles in just over seven months between April 1 and Nov. 11 to justify the second payment.
For contrast, former Rep. Scott Tipton, whom Boebert defeated in the GOP primary last year, reimbursed himself just $9,797 for all travel expenses over a decade. This includes airfare.Rep. Don Young serves the entire state of Alaska and only reimbursed himself $9,965 for travel last year. But maybe Boebert's unique brand of retail politics required her to almost drive around the Earth twice while campaigning for her House seat.
Boebert's very dumb tweet, which started us on this journey through her possible (allegedly! perhaps!) corruption, generated the hashtag #LaurenBoebertIsSoDumb. This offended Boebert, who is not dumb. She's smart and wants respect.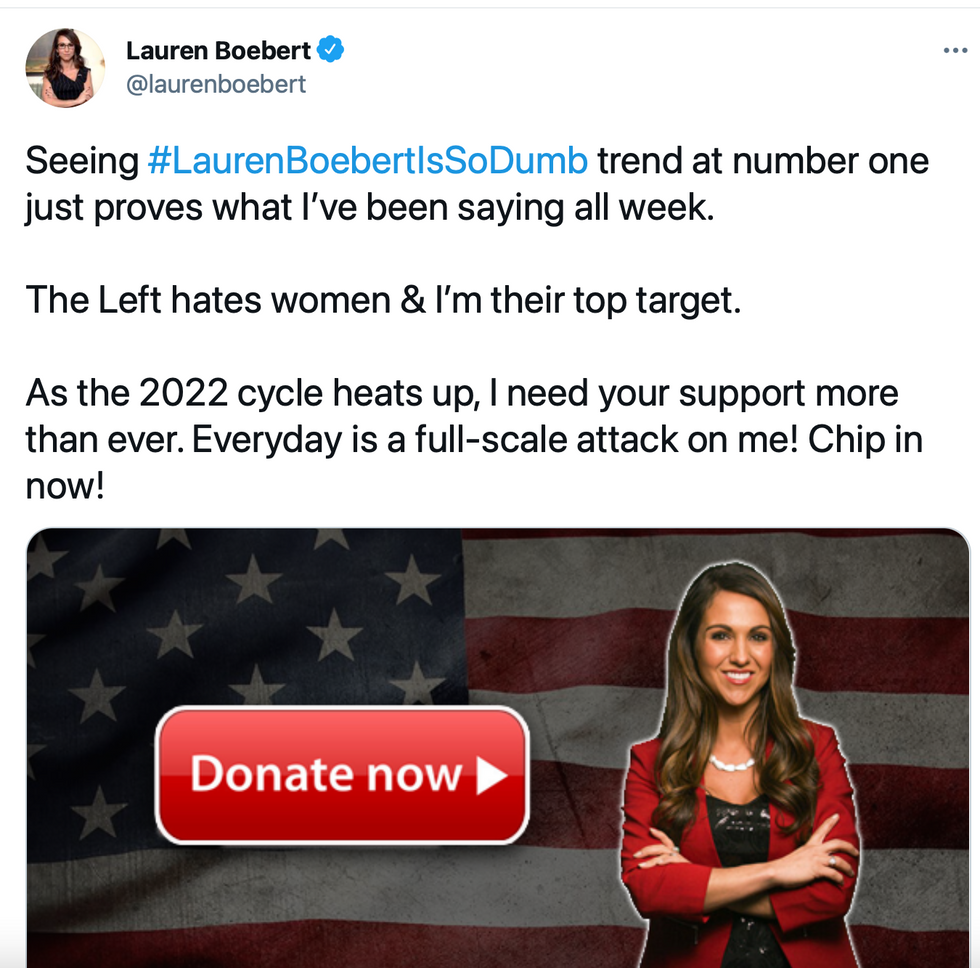 Twitter
Boebert complained: "Seeing #LaurenBoebertIsSoDumb trend at number one just proves what I've been saying all week. The Left hates women and I'm their top target."

Interpreting the meaning behind the hashtag #LaurenBoebertIsSoDumb is hardly a riddle on par with the Sphinx challenge, but Boebert still managed to fail, while also sharing the hashtag with 581,000 followers. The current vice president is a woman and a Democrat. The speaker of the House, whose movements during the Capitol siege Boebert helpfully live-tweeted, is also a woman and a Democrat. The Left has no problem with women. We're just not down with big dummies.
Boebert is an annoying idiot. If not liking a single woman means you hate all women, then Boebert herself is a leading misogynist. Early this month, she released a sick attack ad against Speaker Pelosi, featuring gunshots.
In our brave new political world, nothing Boebert says has to make sense, so long as she amps up the drama. She is predictably fundraising off the #LaurenBoebertIsSoDumb hashtag in preparation for all that driving she'll have to do to keep her seat next year. Maybe she's not as dumb as she acts.
[Colorado Newsline / Denver Post]
Follow Stephen Robinson on Twitter.
Looking for someone to give that cash to? Why not us?
Stephen Robinson
Stephen Robinson is a writer and social kibbitzer based in Portland, Oregon. He writes make believe for Cafe Nordo, an immersive theatre space in Seattle. Once, he wrote a novel called "Mahogany Slade," which you should read or at least buy. He's also on the board of the Portland Playhouse theatre. His son describes him as a "play typer guy."