Listen To Barack Obama's Year-End Playlist While We F*ck Off Out Of Here
Media/Entertainment
December 30, 2019 04:20 PM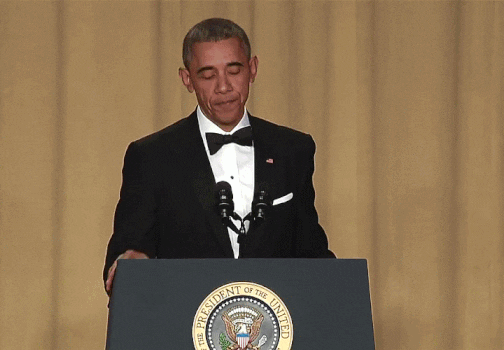 Barack Obama is still a cooler president than you ever were, or your mom ever was. And it goes without saying, but he's cooler than Donald Trump's gross face will ever be.
Point is, he's released his top songs of the year playlist, just like he does with his books and his movies and whatnot. Look, Barack Obama's book recs!
---
Editrix Rebecca just told us in the chatcave that there were some people on Twitter who were super mad about some of Obama's book recs, and we tried to think of something we cared about less than what Twitter randos think about what the 44th president of the United States reads in his spare time, but we give up.
Anyway, what were we saying? Oh yes, that Barack Obama is cooler than you are. His music playlist is a veritable exposition of his prowess in coolness, and, like, you can listen to it if you want.
It is a Spotify playlist and also an Instagram post!
Of course, Lizzo is on there, as is Brandi Carlile's amaaaaaaazing new supergroup The Highwomen, and also Bruce Springsteen and Mavis Staples and Solange and Solange's sister, what's her name, we forget, and many more! Oh yes, and also The National, which is one of our very favorite bands ever.
And when you're done reading all Barry's books and jamming all Barry's jams, you can watch all his favorite movies too, and his favorite TV shows.
God, Barack Obama, just sitting around watching every movie and reading every book and listening to every music, sounds like somebody needs to get out more.
Just kidding, can we please have Barack Obama's favorite recipes of 2019? That would be cool.
OK, we've filled enough space in this post, gonna fuck off right outta here, just like we said in the headline.
OPEN THREAD! SEE YOU NEXT YEAR! EXCEPT FOR HOW THERE WILL BE A BUNCH OF YEAR-END POSTS TOMORROW, AS USUAL, BUT NOT STARTING TILL NOON, AS USUAL!
GOODBYE!
Follow Evan Hurst on Twitter RIGHT HERE, DO IT RIGHT HERE!

Wonkette is fully funded by readers like YOU. If you love Wonkette, SUPPORT WONKETTE FINANCIALLY.
Evan Hurst
Evan Hurst is the managing editor of Wonkette, which means he is the boss of you, unless you are Rebecca, who is boss of him. His dog Lula is judging you right now.
Follow him on Twitter RIGHT HERE.