Livebloggenning the Election, Episode 4 More Years: Return Of The Jedi President
News
November 06, 2012 11:14 PM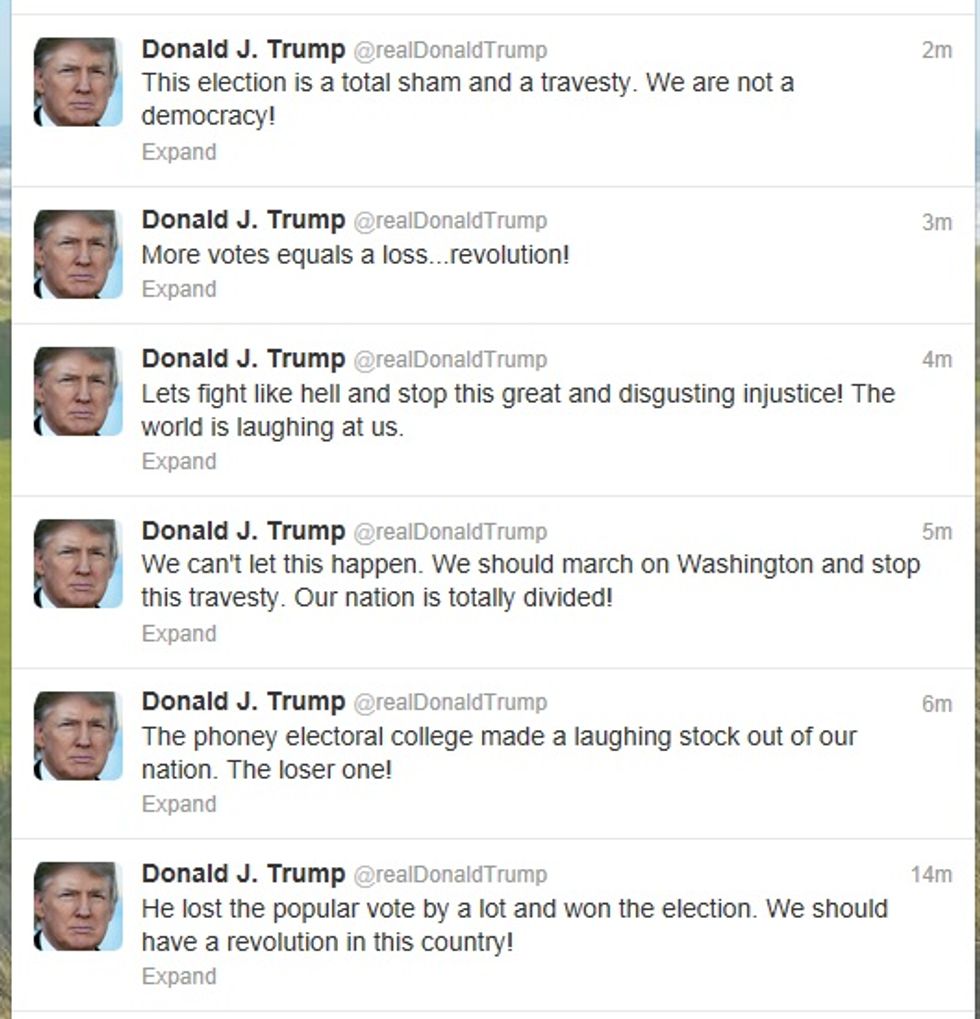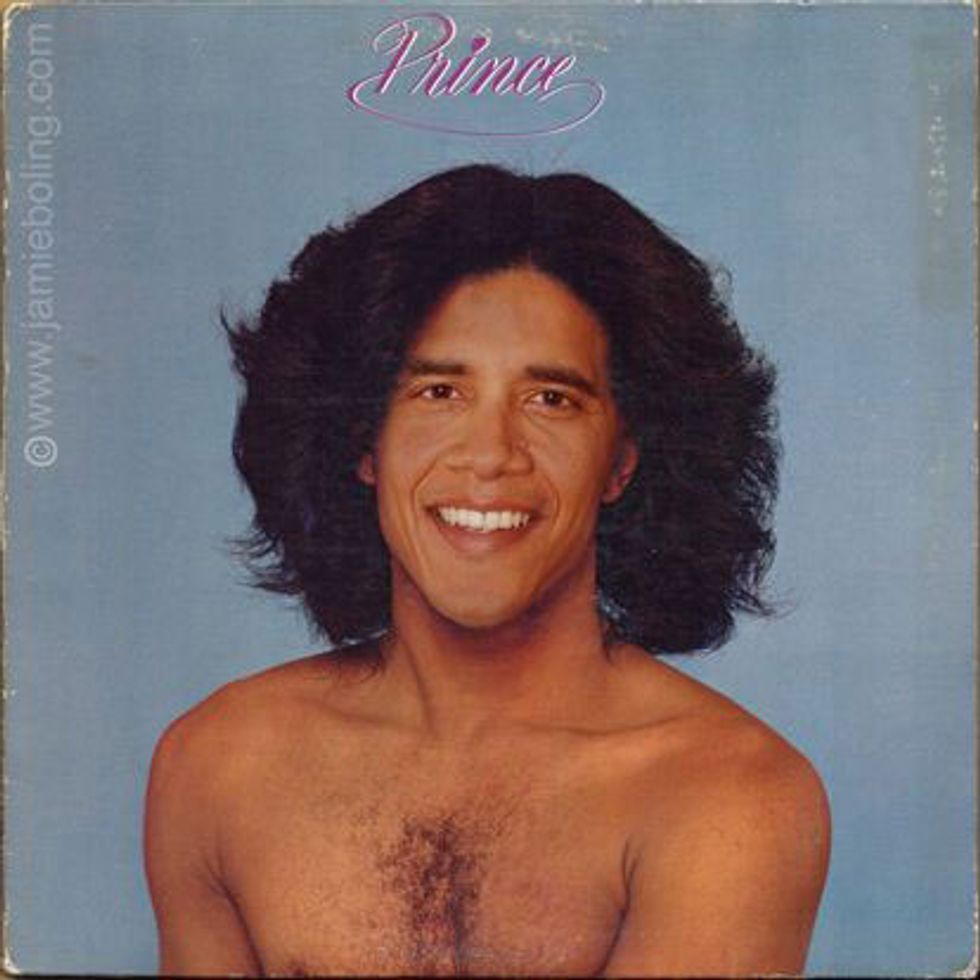 Say, did we mention that we really, REALLY like saying "Senator-Elect Elizabeth Warren"? It's an awfully good phrase, don't you think?
---
Here we are at the fourth installment of this marathon, and Virginia, Ohio, and Florida are all still in "godknowswhat" status. See our earlier rundowns: Part 1, Part 2, and Part 3. And for godssakes, if you're in Los Angeles, get your butt to the Wonkette Party!
11:15 MSNBC CALLS OHIO AND THE ELECTION FOR OBAMA
Kris. he won HE WON WE CAN ALL GO BACK TO NORMAL !
Kris. OUR LIVES, THEY WILL GO BACK TO WHAT PASSES FOR NORMAL NOW!
Kaia M. ohio for obama on fox!
Kaia M. bile choking all over the place.
Josh F. YES!!!!!
Josh F. OHIO MOTHERFUCKER
Josh F. FUCK YOU FLORIDA YOU CAN SUCK A DICK
Kaia M. wish i could tell if brit hume had a sad face. :(
11:20 Kaia M. fox projecting obama re-election!
Kris. is romney scribblng his concession speech on a napkin right no?
Rich A. Wow
Kaia M. with the graphics and the everything.
Kris. FUCK YEAH. ou know it's real when fox calls it. sadly.
Rich A. CNN called it for Barry too
Blair B. FINALLY
Rich A. John King is humping is superscreen
Josh F. BTW nate silver has not missed a state yet BTW
Rich A. Twitter will be pretty much useless for about 12 hours
11:25:
What? Wrong guy's song?
11:26 Josh F. wishes to add that he is 100% pro dick-sucking, and is sorry he used it disparagingly
11:28 Kaia M. BO just tweeted "four more years."
Josh F. i just got a one-word text from my dad that said "yes"
Kaia M. joke from twitter, nate silver making his acceptance speech in about 20 minutes.
11:36: Donald Trump is being statesmanlike, as usual: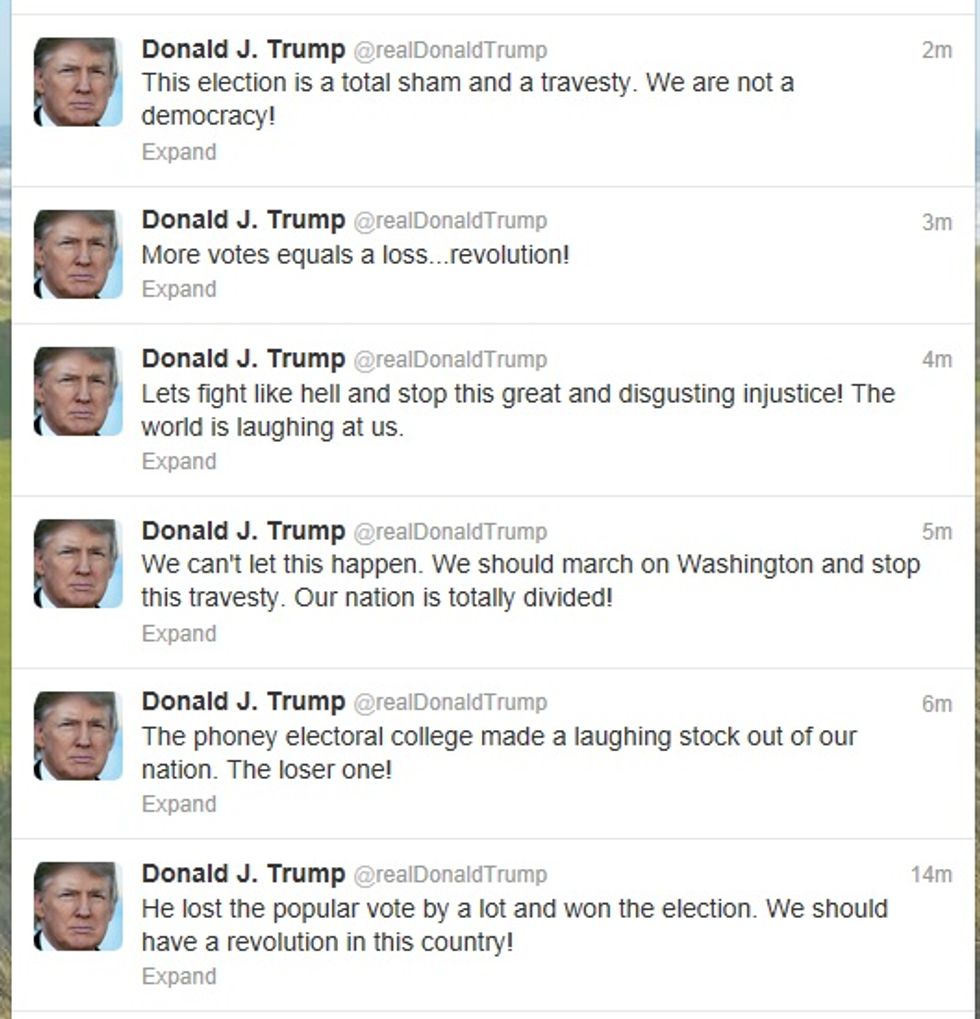 11:39 MSNBC reports that Romney is not ready to concede Ohio. (Nuance Update: OK, that the Romney Campaign is not yet ready to concede Ohio)
11:45 Hey kids, remember to celebrate safely!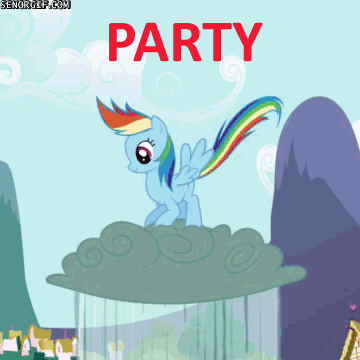 11:54 kristina b. What if Romney is like "I'm not coming out! Fuck him. Obama is STUPID the whole thing is STUPID and I'm not coming out and you can't make me so THERE!"
And Rachel Maddow on MSNBC notes that Karl Rove is now on Fox, asking the network to rescind its projection of Ohio for Obama...in favor of the candidate that Karl Rove bankrolled.
11:57 Josh F. Brian Williams just referred to "the five ohios inside the one ohio" #zen
12:02 Good Morning! Durn it, Jeff Flake won AZ Senate over Richard Carmona
Josh F. Barack Obama just emailed my wife to tell her that he's about to speak to the crowd in chicago but wanted to thank her first
12:05 Kaia M. repub line seems to be NO MANDATE.
Dok Z. Well of course not. Man dates could lead to gay marriages
12:15 In other races! Same-sex marriage looks like a done deal in MD, leading in ME and WA Wingnut heads to commence essplodin' shortly. HOW COULD THEY LOSE WHEN THEY ARE SO SINCERE? Also, say goodbye to the American Patriarchy Association's talking point that "every time it's gone before the voter's dhey marriage been defeated."
12:20: Josh F. Brian Williams just said Donald Trump has "driven well past the last exit to relevance" ... then he read all of Trump's tweets extremely sarcastically and said "So there you have that. That happened."
12:25 Here is a photo of the Romney HQ from the NY Times: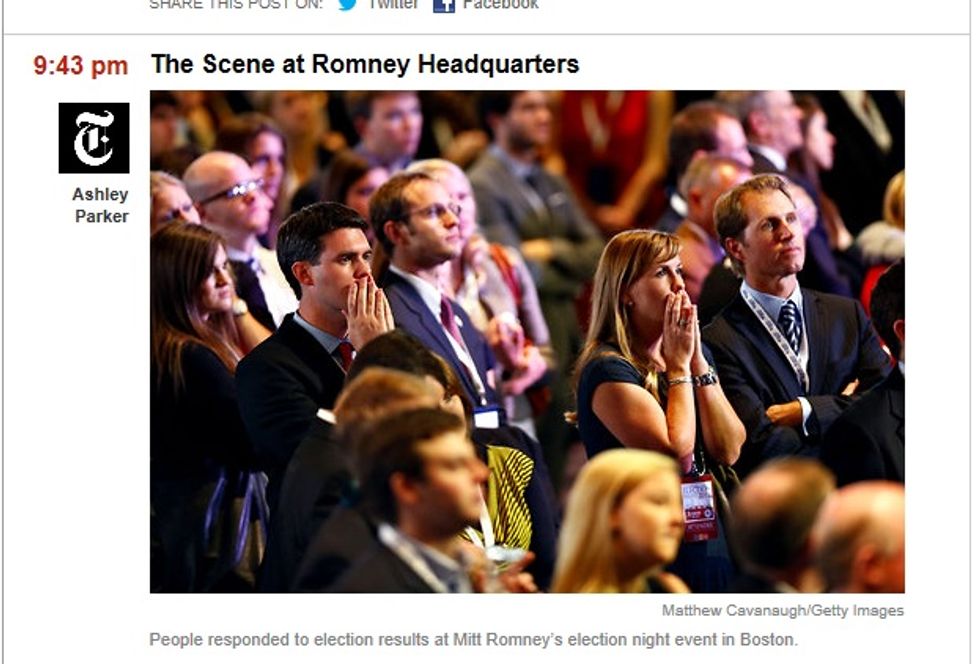 12:30 Kaia and Kristina are calling it a night and departing the ChatCave! Kaia's final note: "Fingers crossed i don't wake up to hear john kerry actually did win."
12:35 Rich A:ALLEN WEST IS BEHIND
Rich A. 97.4 percent in
Rich A. murphy is up by 1,004 votes, 50.2 to 49.8
Rich A. i'm sorry all my hopes and dreams are on this race. I hate Allen West to the point that I would rather not get to write about him anymore than have him in charge of shit
Rich A. I think I peed a little
The Excitement Continues! Florida: Alan Grayson Wins his seat back! Illinois: Vile fucktoad Joe Walsh loses to Real American Hero Tammy Duckworth! Minnesota: Michele "Crazy Eyes" Bachmann too close to call!
New Important Post by Rich Abdil on Donald Trump's Tweesonous Tweats, and coming up NOW, more Liveblogging by Josh Fruhlinger! (Spoiler: Expect a Romney Concession!)