Liveblogging Christine O'Donnell's Big Witchy Jerk-Off Debate
News
October 13, 2010 06:30 PM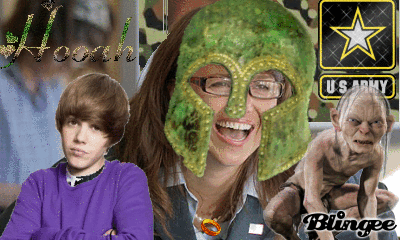 Did Tolkien ever depict a Senate debate in any of those Lord of the Rings books? Probably not, right? Because every character is too busy being Catholic and feminist? Yeah. So there is literally nothing to guide Christine O'Donnell in her big debate tonight. That's okay, because she's you, and you generally spend this time of night masturbating. So that's what you have to look forward to tonight, Christine diving right into her "pudding cup." All the good parts may not be shown, though, because CNN will likely be cutting to each and every miner coming out of that mine in Chile, as if one of them is suddenly going to come out of that tube with Justin Bieber. BORING. Anyway, a debate! Debates are fun! Let's do this!
---
7:29 PM — Sarah Palin called O'Donnell before the debate? Oh, this should be good.
7:31 PM — This Delaware local teevee lady has no idea why Wolf showed up to this dumb thing. But Wolf knows how important some random anti-masturbation candidate who is going to lose in a landslide is.
7:32 PM — What is Christine writing down during Coons' statement? This.
7:33 PM — Wolf needs to jump in here. "Happening now, Coons. We don't care about Delaware. We care about this woman saying something crazy. Happening now."
7:35 PM — It costs Delaware families $10,000 each to vote against O'Donnell? That's probably worth it.
7:37 PM — OOOOHHHH! Coons said he works with the Chamber of Commerce! THAT THING TAKES FOREIGN MONEY FOR ITS ADS! FOREIGN MONEY! SCARY!
7:38 PM — Coons hasn't addressed that insane $10,000 charge O'Donnell lobbed against him. Wonder if he will be asked about it. "Yes, I am going to charge Delaware families $10,000 to elect me. You really don't want to elect this lady, you guys. It's worth it."
7:39 PM — "People should not be on food stamps. They should charge all their meals to a campaign credit card. That's how you earn a living."
7:40 PM — Someone should tell Coons wearing shoulder pads is so 90's.
7:42 PM — Again, Christine wants to give the poors paychecks? She doesn't even know how to get a paycheck, does she?
7:44 PM — We thought Coons was in quicksand based on the way he was holding onto that table before they cut to a shot behind him.
7:45 PM — What Coons is writing: "This lady is stupid. Also, keep your head down so everyone sees your hott baldness."
7:48 PM — This is Christine's only outfit, correct? Doesn't she wear that in her commercials and everything else?
7:49 PM — "I didn't have a trust fund. I had a campaign credit card. I know how hard it is to survive on only a campaign credit card."
7:50 PM — Har har har, Saturday Night Live, we are normal people who know normal things about culture, har har.
7:53 PM — Woah, Wolf, Taliban? You're asking these two about foreign policy?
7:56 PM — "I wear a flag pin every day to remember the neighbor boy"? Jesus, Coons. "HE LOVED FLAG PINS. THAT KID DIED FOR HIS FREEDOM TO COLLECT FLAG PINS IN HIS GARAGE. AND I WILL NOT STAND FOR ANYTHING BUT A FLAG PIN WITHDRAWAL DATE."
7:58 PM — What the hell is this thing on Christine's website? Why is Harry Reid's palm talking about a tax system?

7:59 PM — As soon as they mention the witch stuff, Christine crosses her arms. That's not defensive body language, that's her making a spell liked they did on Bewitched!
8:01 PM — Christine will make all her decisions in the Senate by listening to the Constitution? Huh? "Ladies and gentlemen of the Senate, the Constitution is telling me I need to go lick Scott Brown's face. I SHALL DO AS YOU SAY, O MASTER CONSTITUTION."
8:04 PM — Oh, it's a constitutional right to "teach creationism" in a science class. That Constitution sure is saying some interesting things in her ear!
8:05 PM — Christine O'Donnell is so happy she just called that guy a Marxist! YES! ELECTION WON!!!!!!1!!!1!
8:09 PM — Woah, Coons is on the right side of the screen now? Is that a spell Christine did to throw off the Delaware voters as to which one is "them"?
8:11 PM — Christine looks scared? Or tired? Did she spend all her powers putting Coons back on the left side of the screen?
8:12 PM — The next Chilean miner is probably going to shoot up through that circle in the middle of the table.
8:15 PM — The Crotch Cam must not be working.
8:17 PM — "This bill has COZZZZZED costs to skyrocket"? The costs, with the Jelloooo, and the medical care, and the Cossssssby.
8:17 PM — Christine really doesn't like Uncle Sam. Must be a Muslim.
8:19 PM — Hospitals can come and cut off your fingers if you don't pay. It's up to theeeeeeem! C'mon, get that creepy molester Uncle Sam out of there.
8:21 PM — HAHAHAHA! WE CALLED IT! MINER TIME!
8:21 PM — This is the best crew to talk about mining. Very knowledgeable. Lots of whore diamonds.
8:23 PM — This guy's audio is very high quality. You sure we won't get charged extra for it on our cable bills, CNN?
8:24 PM — "Sega Mine Disaster"? You mean the Emerald Hill Zone from Sonic 2?
8:25 PM — Sorry about that earlier joke! Clearly Eliot Spitzer knows a thing or two about shafts.
8:28 PM — Spitzer, what is this 32nd Chilean miner saying about masturbation? Did he do it in the mine? He couldn't have really gone two months without masturbating, right? Did they masturbate together down there? Did anyone send them news about Christine's LinkedIn profile?
8:29 PM — Oh yes, Candy Crowley, narrow-circumference openings, and shafts. SIGN US UP!
8:30 PM — HOW IS THIS ONE CHILE MINER MORE IMPORTANT THAN THE DELAWARE DEBATE? Oh right, both are pretty meaningless.
8:32 PM — We are switching to C-SPAN, where the debate is also on? Is that right?
8:33 PM — What did we miss? Oh, rape and incest are insignificant. Got it, Christine!
8:34 PM — Adultery is not allowed in the military? Yes, bet they get kicked out a lot for that, Christine.
8:35 PM — Apparently nothing is Christine O'Donnell's "job as Senator." Oh, right, because that will never be her job.
8:35 PM — Predicting Christine's response: Campaign finance reform is okay as long as she is still allowed to buy herself Taco Bell with campaign contributions.
8:36 PM — "Exempt" is the new "exempted." Hip, anti-masturbation lady!
8:39 PM — MUSLIN! IT'S A MUSLIN! ON THE TEEVEE! HE'S GONNA ESPLODE THAT TEEVEE!
8:39 PM — Muslims try to blend in with their track jackets, but nobody wears track jackets anymore. UR NOT FOOLING ANYONE!
8:41 PM — The Supreme Court has always ruled community members are in charge of free speech? So, you know, everyone in the South was cool with that school prayer and Ten Commandment statue stuff?
8:41 PM — Yes, everyone can have a "9/11 mosque" if they want one.
8:43 PM — "What is the Supreme Court? I'm sorry? What?"
8:43 PM — Oh yes, she hates porn. CONFIRMED.
8:43 PM — O'Donnell would not have broken with the Supreme Court on any recent decisions? Sounds like an ideal Bush appointee. PUT THAT WOMAN ON THE COURT SHE KNOWS NOTHING ABOUT!
8:43 PM — Christine O'Donnell will put her views on recent Supreme Court cases up on her website as soon as she reads a newspaper from any week in recent history.
8:46 PM — "A fascinating question that makes no sense." HAHA, COONS. Ya burnt, Christine!
8:48 PM — Coons' family will make $5 by improving the environment! Uh oh! We should definitely not save the planet, then!
8:48 PM — She is running to be a "Congressman"?
8:49 PM — What if a candidate's family made money from oil? They should definitely not be allowed in politics, right, Christine?
8:50 PM — Oh God, she would make floor speeches? Please elect her, Delaware!
8:53 PM — Yes, Wolf, she thought very seriously about what they told her to put in her commercial.
8:53 PM — We need to "treat" some random Obama terrorist in Yemen? Huh?
8:54 PM — This "Delawarean" thing is just awkward. Sounds like a LOTR thing. Stop speaking her language, everyone.
8:55 PM — Christine would "break" backroom deals with the same karate chop she uses to emphasize her points.
8:56 PM — GANG SIGNS! SHE'S FLASHING GANG SIGNS!
8:57 PM — Those walls back there look pretty thin. Keep the stage mic'd after the debate, CNN.
8:57 PM — This debate ended early? How very Delaware.
9:00 PM — Flipped back to CNN. Looks like this miner is about to make out with the Chile president. Good night, miner. Good night, Moon.