Liveblogging Obama's Response To Crazy Ass Walnuts
News
September 24, 2008 04:38 PM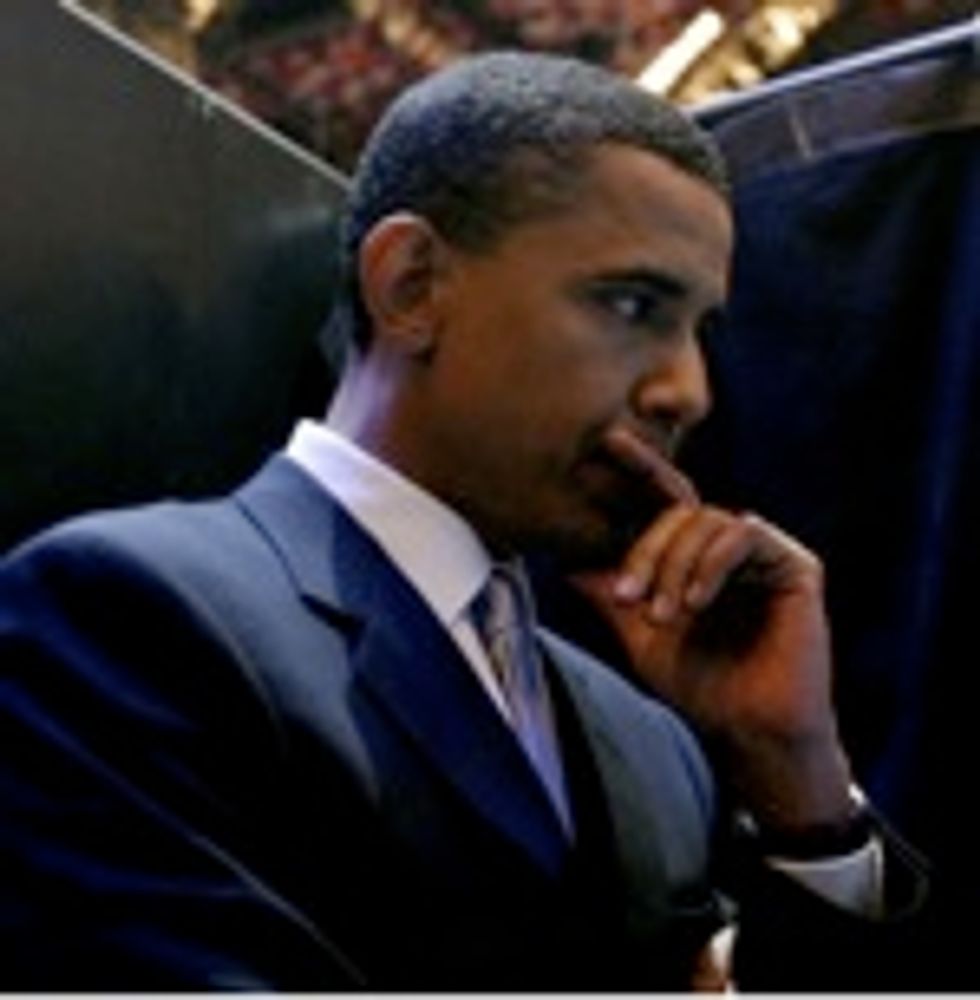 Obama has a podium set up, and he's going to make a statement! Let's liveblog the biotch. Among the important questions: will Obama be wearing pants? Should Clay Aiken go to Washington to solve this crisis in his place, now that he's a gay? GO GO GO...
---
4:40 -- Here he is! One reporter was playing golf and he stopped to show up. Oh Boy.
4:41 -- The economy is important.
4:41 -- I CALLED MCCAIN FUCKING FIRST ABOUT A JOINT STATEMENT. TOM COBURN WAS THERE - ASK HIM. HE'S REPUBLICAN.
4:42 -- Time for a bulleted list of Important things.
4:42 -- Must have independent oversight board, taxpayers must get money back, Main Street must keep its roads or whatever. Free pay-porn subscriptions for all taxpayers if this thing passes.
4:44 -- It's not a Democrat or Republican problem -- it's no one's problem, so let's pay for it hooray QUESTIONS.
4:45 -- First question: was John McCain try to fuck you in the ass with this thing?
4:45 -- Answer: "Well let me explain the timeline," meaning YES MOTHERFUCKER JOHN MCCAIN IS A POLITICAL SHITBIRD FROM PLUTO.
4:46 -- "More important than ever" that we have the debate. Because of all the terrible problems today.
4:46 -- President should know how to multi-task. Ooh doggy.
4:47 -- Question: did John McCain tell you on the telephone that he wanted to cancel the debate, like a jackhole?
4:48 -- Answer: He kind of mentioned that he might want to do that, but who knew he was SETTLED ON IT? Like what is that even.
4:49 -- He told Capitol Hill that he'd come back if they wanted him, but he doesn't want to introduce presidential politics into an already tenuous debate. Hmm well that sounds like a good response and stuff. HAHA CNN has a hilarious angry face of John McCain on its subscreen.
4:51 -- Will there be a debate if there's no decision Friday, Mr. Hussein?
4:51 -- "Like I sez, if they want us up there we can go. Otherwise, let's debate. Let's just debate everything. I will debate his WIFE FTW."
4:52 -- Barry laughs, but he is so angry at this old lying coot Walnuts.
4:52 -- We're waiting for an interruption BREAKING NEWS thing from CNN announcing that McCain has fired Barack Obama from the SEC. Hey, a statement's a statement right?
4:55 -- He's done, and he tells a reporter friend, "I'm having a great time." Now he will go backstage and eat three live dogs out of rage.
4:56 -- LOL, Chuck Schumer, direct quote: "I thought what Senator McCain did was just weird."
4:57 -- So to sum up: Barry will do whatever these Capitol Hill people want, but he's still planning on debating. Don't enter presidential politics into this. Thanks for doing that, Walnuts. You've just destroyed the economy.