Liveblogging the Razorback Blanche Lincoln-Palmetto Nikki Haley Memorial Pig Race
News
June 08, 2010 11:27 PM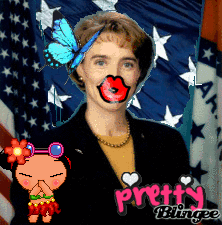 Is it already night-time in the Arkansas-Iowa-Utah portion of Real America? Yes! And thanks to Wonkette veteranPrincess Sparkle Pony for posting this blingee he made for Blanche Lincoln, who is now LOSING, with 60% of the vote counted. She's only got 49%, and that's apparently "less than 50%" and that means let's start the next round of our (Some of) America votes (June) 2010 Liveblogging! ALSO: Nikki Haley has to have a runoff, which means so many sexy stories about Nikki Haley's boy-toys.
---
10:26 PM -- The previous super-soaker Liveblogging is here, in case you've Lost Your Way.
10:29 PM -- It wasn't so long ago when Olbermann honored your editor with that "Worst Guy In the Solar System" award, and now Olbermann is praising Twitters by wingnut-beat reporter Dave Weigel. How far we've come!
10:32 PM -- But the Politico says Blanche Lincoln now has 51.3%, with 63.3% reporting. She's back, like a squealing Razorback!
10:35 PM -- Meanwhile, in Iowa, America's other favorite dirty-Twitter-typer Chuck Grassley might just win his uncontested GOP primary. Go Chuck! Let's check his Twitter:
Isreal is a sovereign state They hv rite to defend their citizenry Neighbors shld recognize Statehood for Israel 10:32 PM Jun 3rd via UberTwitter
10:38 PM -- CNN is running murder news. And on CNN Headline News, as always, it is murder news. CNN is America's Place 4 Politics.
10:39 PM -- "Voters in New Jersey went to the polls for the state's primary, and sent a former Philadelphia Eagle off to a fall battle with an incumbent for a seat in the House of Representatives. Jon Runyan beat attorney Justin Murphy to win the Republican nomination for New Jersey's third congressional district." SEE?
10:44 PM -- States with fake no-contest elections tonight are: Virginia, North Dakota and the Maine House races. These states will be expelled from the Union.
10:50 PM --
11:00 PM -- And how many newsy items did WordPress just eat? Three? Four? We'll never know. But Blanche "I hate Democrat stuff" Lincoln squeaked by, AP calls it for her, hooray?
11:01 PM -- Polls are closed in California. Are you ready for the Jungle Primary? Well, check back in two or three hours! Go Orly!
11:02 PM -- Oh yeah, we wanted to say this: It is sad to not have Newell here for liveblogging, and maybe sadder still that he's not liveblogging (or posting Election Night news at all) for Gawker. Needs more Glee, we guess.
11:03 PM -- Jim Gibbons is out of the gate with a strong (cough, tomatoes) 23% in the Republican primary.
11:10 PM -- Oh golly, Bland Blanche Lincoln is giving her victory speech. Oh her vote "is not for sale," eh? Unless you own a health insurance company. Fraud.
11:12 PM -- "Ar-Kansans," meh. Maybe she'll show some interest in what Democrats think?
11:14 PM -- The new conventional wisdom here will be that Lincoln's half-ass barely-won-her-runoff is a "victory" for the White House, because the Obama administration very blandly supported her, sort of, and would've been completely fine with the Democrat winning.
11:15 PM -- Brian Sandoval has WON the GOP primary for governor, so good-bye, sleazy Jim Gibbons.
11:27 PM -- Let's switch the West Coast Liveblogging Nightmare, starting NOW.