Liveblogging the Season Finale of the 2010 Primary and/or 'Lost'
News
May 18, 2010 07:03 PM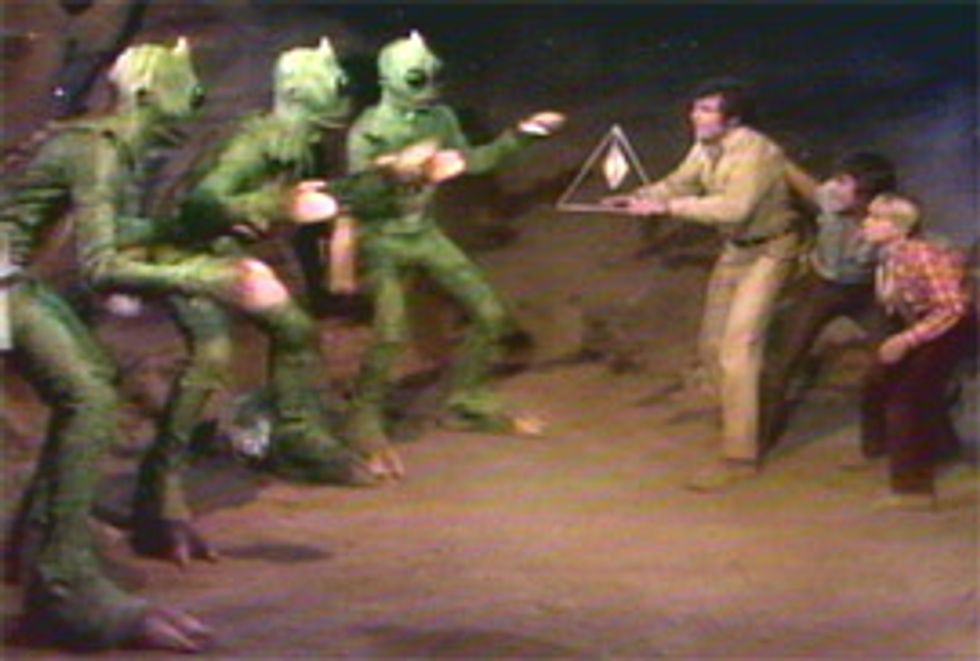 Can you believe after all these years/months, the career of Arlen Specter and/or the hit teevee show I'm Lost finally ends, right now? Let's liveblog the greatest election ever in mid-May 2010. Rand Paul is already the absolute King of Kentucky, and all new hillbilly children will be named "Ayn," but what about the 80-year-old Vietnam vet Arlen Specter?
---
8:00 PM -- Oh sad Chris Matthews, thank you for your service to Vietnam, the way you just bitched about what's his name, Blumenthal, for the way he lied about the ending to Lost.
8:01 PM -- Conway will beat Mongiardo! Who even knows what this race is, this one Wolf Blitzer is discussing. We have changed to CNN, obviously.
8:03 PM -- Newell is trying to convince your editor that it is not truly the final episode of the hit singing show Land of the Lost, but we know the truth. The radio tower is a metaphor for Aliens/Jesus! The girls are boys! It was all a Dream!
8:04 PM -- Can you believe it's really over for energetic youngster Arlen Specter? Did you know Campbell Brown still had a show at 8 p.m.? (We sort of forgot about this show the second her advertising budget ran out, two years ago.)
8:05 PM -- Drudge has a sad, sad picture of Arlen Specter, plus a joke?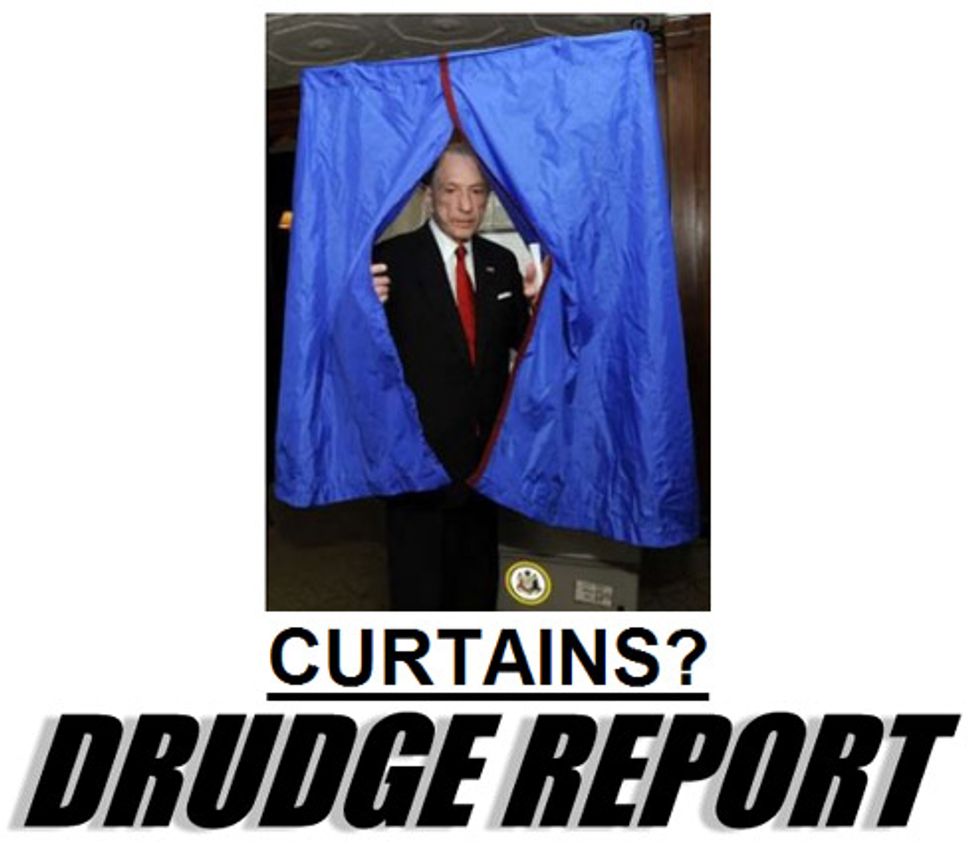 8:08 PM -- Newell is ordering pizza. We are going to have a Pizza Party, for the last episode of Arlen Specter Is LOST.
8:10 PM -- Oh jesus god help us all, Lucinda Williams' grandpa and Laura Bush's grandma had a "grandma baby" and it is on CNN and its name is called Mary Matalin.
8:11 PM -- Ha ha we really have not seen this Campbell Brown show in two years. It still sucks! The same horrible people are on it, too, but now they're much older, just like the characters on the season finale of tonight's must-see-teevee, Land of the Lost.
8:12 PM -- Let's try Olbermann. Looks like nobody's just going to have fucking NEWS COVERAGE, of a four-state BELLWETHER PRIMARY.
8:13 PM -- It's always "funny" when Keith Olbermann has to act like a teevee news anchor instead of a talking version of the DailyKos.com ... oh wait he is not even trying tonight, just being Keith Olbermann. But he's aging better than Mary Matalin!
8:18 PM -- Uhhh, what is going on in Pennsylvania? Does it have "alternate time lines" just like LOST and/or "Kentucky"?
8:18 PM -- Suspiciously, the one news website in Pennsylvania ("Philly.com") also has no real idea what's happening in this important election, "An 80-Year-Old Man vs. The Sleestak."
POLLS CLOSE

The polls snapped shut at 8 p.m. Tuesday -- or at least they were supposed to -- ending the voting portion of a Pennsylvania primary election day that had low turnout.
8:19 PM -- What do they mean, "at least they were supposed to"? Is the radio tower on top of the mysterious mountain a hologram from an alternate dimension, perhaps some type of Vast Active Living Intelligence System"?
8:22 PM -- Let's check in with The Politico and find out how many dumb quotes can be stuffed into a few headlines on the front page of the website:

8:29 PM -- Did we honestly skip the evening walk with the dog for this liveblog? We regret that decision. Okay, here's what's his name, Pizza Boy, with the next liveblog nobody will fucking read, you fucks.
8:33 PM -- Oh look Jim Newell is posting now, hooray! HERE IS HIS LIVEBLOG WHERE ALL SECRETS OF THE HIT VIDEO SHOW LOST HIGHWAY WILL BE REVEALED. (ARLEN SPECTER IS "MYSTERY MAN.")