Make Your Own Pumpkin Spice Latte, On The Real
Recipe Hub
October 18, 2014 12:05 PM
Now is the time when millennials and their mothers squee for a piping hot Pumpkin Spice Latte. What is this about?
---
Pumpkin Spice Lattes are hot things people drink in October. It provokes ridiculous smiles and smells like pie. Millions of people have a girlish devotion for this drink, even neck-beards, and none of them look like they live in the same October that I do. They are oblivious to Ebola panic, elections, and How to Get Away with Murder. How can this be? I drink one espresso from a cafetiere every day of my life, as any adult should, but was I missing a happy thing? I needed to know if pumpkin lattes were real or bullshit.
I bought pumpkin lattes at popular coffee establishments. Having tried three variations, I was still confused because everything I bought tasted like medicine. The smell of them adhered to my hair and pores, and it took days before I felt free of it all. Commercially prepared pumpkin lattes are sweet, too, and (probably) almost gave me diabetes. All of them tasted weird, and it made me angry because I felt duped by the latte fakers and their enablers.
Having researched the popular pumpkin spice recipes on Google, I discovered that NONE of them have anything to do with real pumpkin. The first clue, and where I stopped investigating, was the absence of dietary fiber included on their nutrition FAQs. Pumpkin has some fiber, people. Beyond corn syrup and flavorings, those coffee chains are selling a diabolical sham. People could be drinking the sweetened tears of Alzheimer's patients for all we know, as they wait for trick-or-treaters who never come. The worst part is that the hidden elements don't seem to matter because a great number of people like sweet things that smell like pumpkin pie. If ISIS smelled like ground cloves, coffee and hot milk, none of us babies would have a head by morning.
I feel obliged, nay –- I am on a mission –- to correct this sad pumpkin mess. I spent the weekend breaking it all down, and I figured out how to make a delicious and real Pumpkin Spice Latte in a microwave, in less than 15 minutes. Quick, inexpensive, and no one needs a fancy espresso machine to make it happen. Best of all, making my own pumpkin latte helped me find empathy for the people who have been deceived by something that pretends to taste as good as it smells. Those people have no idea, but I do. You have to try this.
Ingredients
2 c. milk
4 tbs. pumpkin puree
Sugar, as much as you need
½ tsp. Pumpkin Spice*, plus some for sprinkling
½ tsp. vanilla extract
Espresso, two servings, hot
Sweet whipped cream
White chocolate, shaved, for garnish (optional)
* Pumpkin Spice
3 tbs. ground cinnamon
1 tsp. ground ginger
1 tsp. ground nutmeg,
1 ½ tsp. ground allspice
12 cloves, ground (or 1 tsp. ground cloves)
Combine the milk, pumpkin, sugar, spice and vanilla extract in microwaveable bowl. Heat for two minutes, covered, and then stir. Remove from the nuker, stir again, and heat until bubbly (one or two minutes more). Wisk until foamy. Add to the coffee, mix well, and divide into two tall mugs. Top with whipped cream, spice and white chocolate.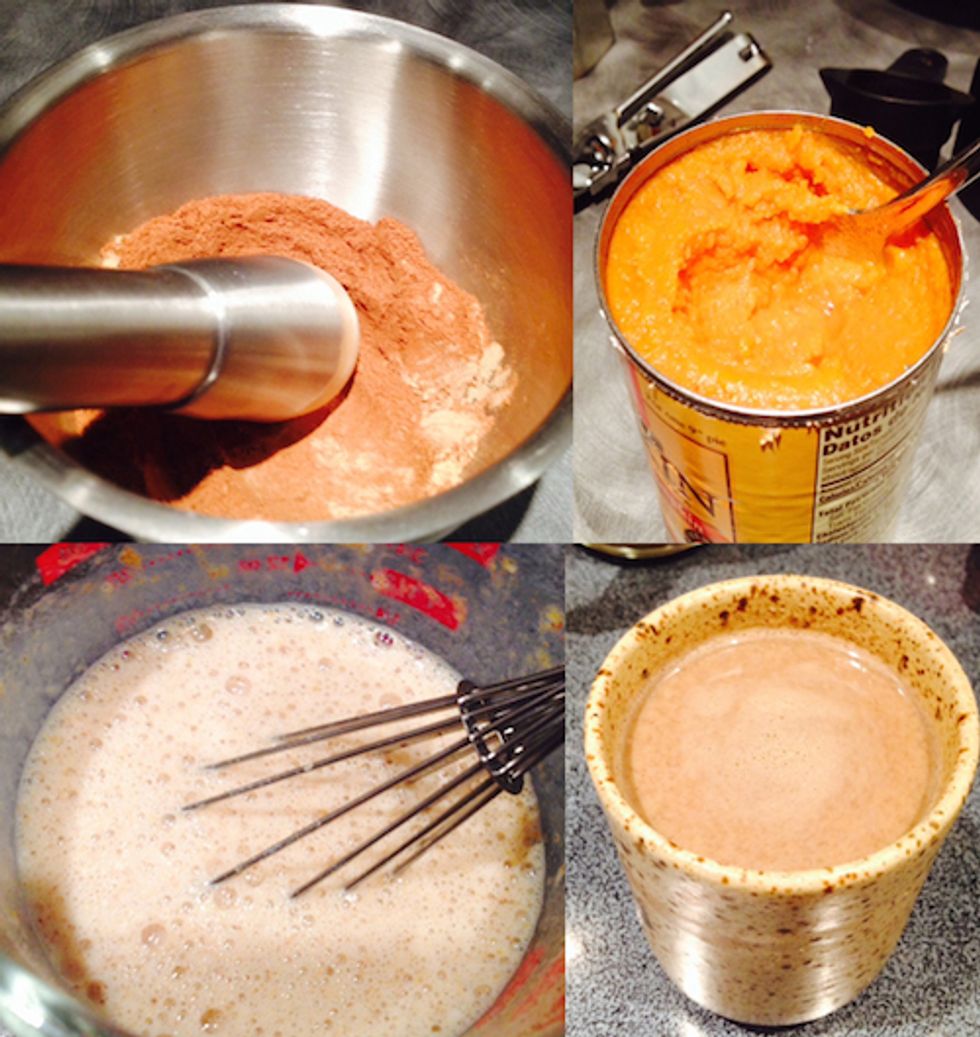 Enjoy this, please, and be smug about it. If anyone asks what your deal is, lay down the reality of pumpkin lattes like a boss. Have a great week!