Maryland Cops Will Now Have To Settle For Same Old Bill Of Rights As Rest Of Us
Cops
April 12, 2021 11:15 AM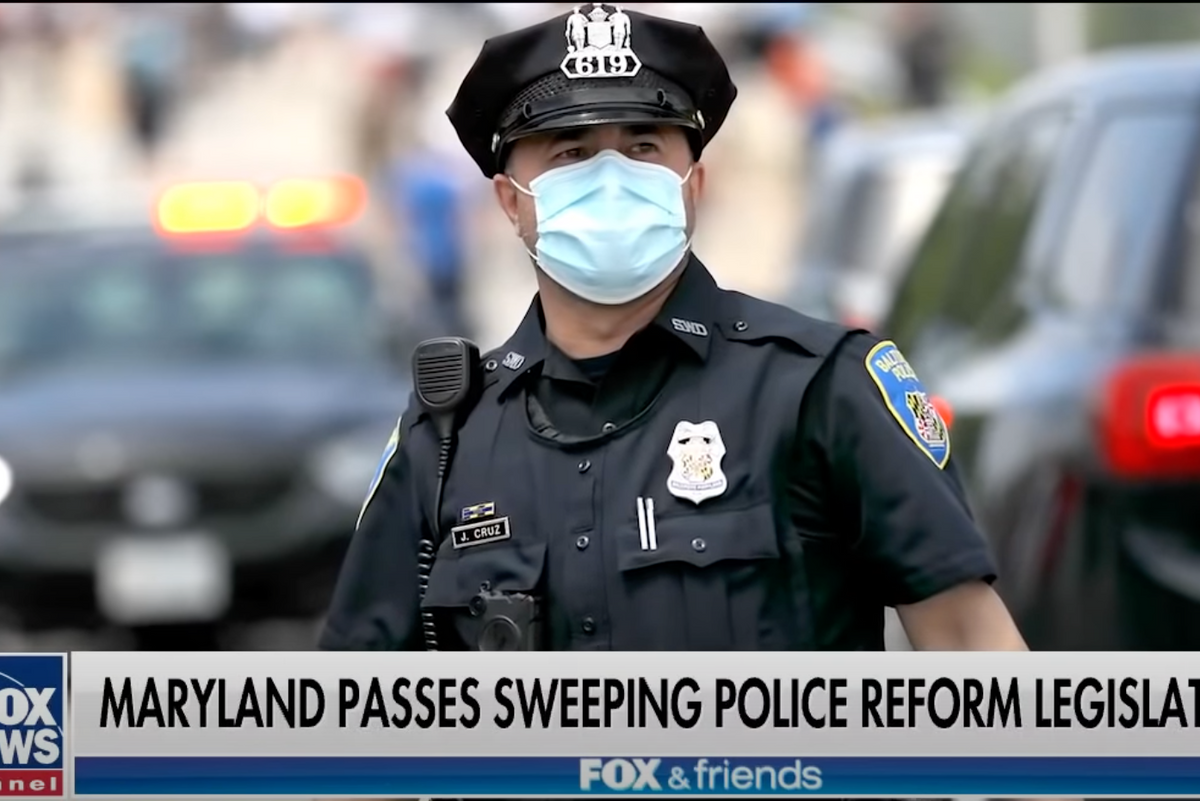 The Democratic-controlled Maryland legislature passed historic police reform Saturday, voting to repeal the so-called Law Enforcement Officers' Bill of Rights, and enacting new rules that limit how police can use force against civilians. The measures restrict no-knock warrants (or the old "surprise visit"), mandate body cameras, and open some allegations of police misconduct for public review. Maryland has declared itself a full-on democracy and not a police state.
Governor Larry Hogan is a Republican, so naturally he vetoed the measures. Republicans love police states because they're not the ones who actually live in them. The legislature overrode Hogan's vetoes Saturday in a stinging rebuke. Some Black lawmakers even read aloud the names of people police officers had killed in the state.
The New York Times reports:
"This is what the community wants — they want reform, they want transparency, and they want accountability," said Caylin A. Young, public policy director of the A.C.L.U. of Maryland, which was part of a coalition of 90 groups that had backed the bills. "There needs to be a reimagining of what policing in Maryland looks like."
Republicans often leap on the phrase "reimagining" policing. They claim this is just the first step in a dystopian Purge-like future. "Reimagining" sounds less scary than "defund," but it's not like they make a distinction. They aren't arguing in good faith. When police killed George Floyd and Breonna Taylor last year, this led to a nationwide debate about police brutality and excessive force. Conservatives joined most of law enforcement on the pro-police brutality side of the debate. It's not as if they enjoy killing Black people. We guess it's just that even the tiniest measure that might prevent them from doing so with impunity is bad for morale.
---
Mr. Hogan, a Republican, had vetoed the measures on Friday, saying their original intent had been "overtaken by political agendas that do not serve the public safety needs of the citizens of Maryland." He said the changes would "further erode police morale, community relationships and public confidence."
When Hogan talks about maintaining "public confidence," he means white people. Black Maryland residents never had tremendous confidence in law enforcement. On April 12, 2015, Baltimore police arrested Freddie Gray for possession of a knife, which itself is not a crime, and while in their custody, Gray's spine was mysteriously severed during a 44-minute ride in a police van. No officers were ultimately held accountable for Gray's death, even though this is technically America and not North Korea. This is a flawed system that requires correction. Damn "police morale."
"The reality is they have reinvented policing in the state of Maryland," said Angelo Consoli, second vice president and legislative committee chairman of the Maryland Fraternal Order of Police. "They're going to make it tougher for the police to police. There's reform, and this went beyond reform."
Are the police really interested in reform? They never proactively address the most egregious examples of police misconduct, like Gray's "rough ride." Instead, they wink at white folks in the suburbs and imply that this inhuman brutality is what's necessary for the "police to police." That's sort of how the debate played out in the legislature, with white Republicans suggesting the police are literally under siege the moment they walk out the door, and Black Democrats passionately arguing that police need better training on how not to kill Black people.
Maryland is leading the country in transforming our broken policing system. I am proud to lead the House in overrid… https://t.co/ZyoHb6HVW4

— Speaker Jones (@Speaker Jones) 1618090687.0
The Maryland General Assembly is showing the nation exactly where we stand as a state - fair treatment for every pe… https://t.co/KEogjXIdZi

— Speaker Jones (@Speaker Jones) 1618090687.0
You might wonder why the police had their own separate bill of rights in the first place. In March 1973, Maryland cops strong-armed lawmakers into defending them against "high-handed police chiefs" they claimed wrongfully disciplined them. This was bad for the morale of cops who enjoyed lording over the public without any accountability. The bill of rights ensured that only fellow wiseguys officers, not pesky civilians, could investigate them. Cops were also given a formal waiting period before any internal inquiry into police misconduct. That's a protection no other citizen has when they're suspected of committing a crime. Complaints brought against officers were scrubbed after a certain period, as if they never happened.

While 15 other states, including Wisconsin, where a cop shot Jacob Blake in the back, have a police bill of rights, Maryland's was the most repugnant. According to the Washington Post, while other states allow "officers involved in an incident to wait 48 hours or so before they have to cooperate with internal investigators, Maryland lets officers wait five days before being interrogated." That's more than enough time to get your story straight and adapt it to the stage.
Experts claim Maryland's reforms implement some of the strictest police use-of-force standards in the nation. Officers are now required to prioritize de-escalation tactics, and there are criminal penalties for those found to have used excessive force. Cops might gripe, but policing is only easy and without any personal risk in a police state. As Alec Baldwin said in Glengarry Glen Ross, if they don't like it, leave, but this is an important step forward.
[Washington Post / New York Times]
Follow Stephen Robinson on Twitter.

Looking for someone to give that cash to? Why not us?
Stephen Robinson
Stephen Robinson is a writer and social kibbitzer based in Portland, Oregon. He writes make believe for Cafe Nordo, an immersive theatre space in Seattle. Once, he wrote a novel called "Mahogany Slade," which you should read or at least buy. He's also on the board of the Portland Playhouse theatre. His son describes him as a "play typer guy."