Meanwhile, House Prices Down 16.3%
News
September 30, 2008 10:23 AM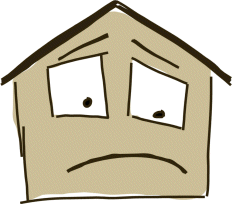 Thanks to evil poor people who were kindly given expensive mortgages they couldn't afford, U.S. home prices continue to plunge, and that means the financial apocalypse will continue, because every time another home loan defaults, another weird mortgage-based security is worth less, and there are 10,000 new foreclosures every day in the Country of Dreams.
---
The new Case-Shiller Index numbers are out and they show July was another rancid month, with home prices now down 16.3% from last July and 19.5% down from two years ago.
But it is much worse in some places! Las Vegas is down 30% since the peak. When it all shakes down, more than half of all homeowners will owe more on their mortgage than their houses are worth. the WSJ reports:
"There are signs of a slow down in the rate of decline across the metro areas, but no evidence of a bottom," David M. Blitzer, chairman of Standard & Poor's index committee, said in a statement.
Home prices plunge record 16.3 percent in July: S&P [Reuters]