Michele Bachmann Constantly Answering Her Own Questions Wrong
News
June 28, 2011 09:17 AM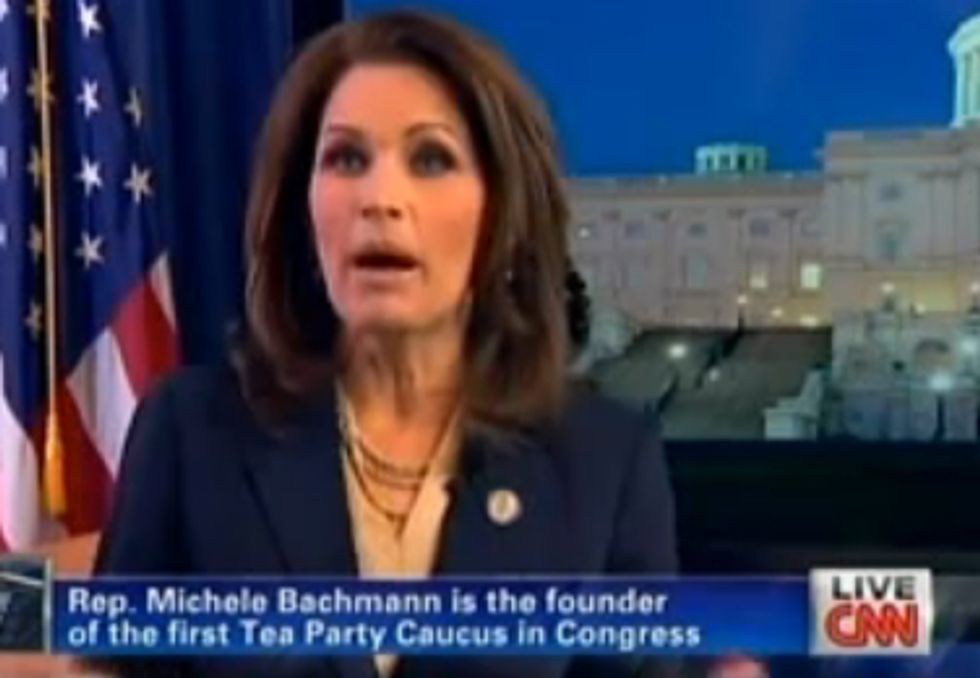 If you had to take a test where you also got to make up all the questions, would you probably still answer all of them wrong? Yes, you would, if you are lunatic Bible-humper Michele Bachmann. A Politifact.comanalysis of 24 "Michele Bachmann statements" showed that 23 of those fell somewhere between stretching the truth and utterly insane. Maybe the 6th dimension is actually just inside Michele Bachmann's mind? In the horror movie trailer of her thoughts, America killed everyone in Libya with a bomb strike Nagasaki-style, the entire U.S. strategic oil reserve is at the bottom of the Gulf of Mexico left there by Obama alongside the Newt Gingrich campaign, and the tens of thousands of dollars her family farm received in federal handouts are fictional products of everyone else's imagination.
---
What if someone tried some "gotcha" questions on Michele instead, would she accidentally get those right?
From the AP:
The more the political season heats up, the more that exaggerations and sound-bite oversimplifications emanate from the Republicans going after Obama — and from the Democrats playing defense. Still, Bachmann's record on this score is distinct.

Examining 24 of her statements, Politifact.com, the Pulitzer Prize-winning fact-checking service of the St. Petersburg (Fla.) Times, found just one to be fully true and 17 to be false (seven of them "pants on fire" false). No other Republican candidate whose statements have been vigorously vetted matched that record of inaccuracy.
Meanwhile, Michele has never managed to pass a single bill or amendment that she sponsored while in Congress, because who even has time for that these days.
Oh, and UPDATE: Michele still cannot manage to even read the freaking Wikipedia entry on the Founding Fathers, one of whom was not, in fact, John Quincy Adams, who was eight years old when the Revolutionary War started. But she told George Stephanopoulos that he was "involved," somehow, in the Bible version of American history that Michele once read. [AP/ Politico]