Michele Bachmann Throws Donald Trump A Party, Doesn't Invite Him
News
October 17, 2011 06:04 PM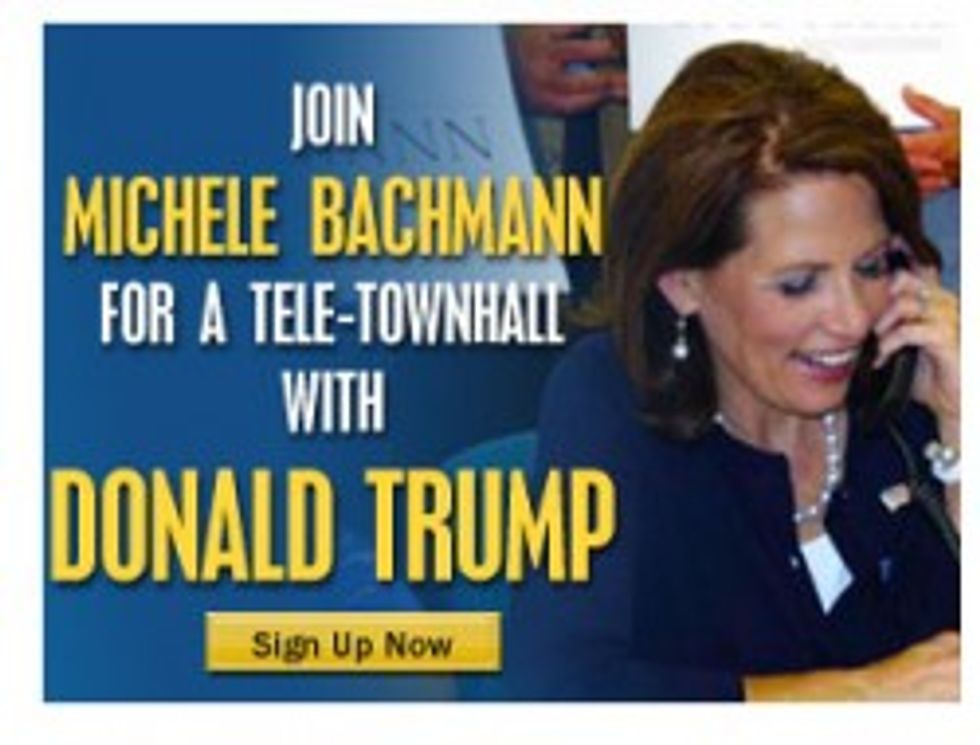 Michele Bachmann's campaign is running low on cash, which sort of explains the creepy spam letter we received from her today with a nightmarish threat in the subject line claiming that "Donald Trump and I want to call you tonight," to jointly demand coins from listeners in exchange for some shrill phone sex. SHUDDER. We immediately hit the "Go Back to Hell" button on the keyboard and forgot about it, but, whoops, this isalso apparently what Donald Trump did with his own invite to Michele Bachmann's lame orgy, starring him. Fox News asked Trump this morning if he was excited about it, to which he said, "I didn't even know I was doing it till you just told me."
---
From The Hill:
Business mogul Donald Trump said he is honored to be hosting a town-hall-style conference call with Republican presidential candidate Michele Bachmann tonight, but seemed unsure that he was in fact participating until this morning.

"It's called a modern-day town-hall meeting, right? And I said, 'I guess I could.' I didn't even know I was doing it till you just told me … but that's OK," said Trump on "Fox and Friends" Monday.

Trump then said it was his "honor" to participate in the event.

"I think it's fine and you'll have lots of people calling in, and I look forward to it … it's my honor to do it," he added.

The host of the reality TV show "The Apprentice" will join the Minnesota congresswoman Monday night for what is being billed as national 'tele-town-hall' meeting, in which they will take questions from the audience. Bachmann announced the call-in town hall in an email to supporters Sunday night.
Weirdest way to ask Donald Trump on a phone date ever. [The Hill]