Michelle Bachmann's All-Stud Tea Party Caucus Fest
News
July 21, 2010 08:31 AM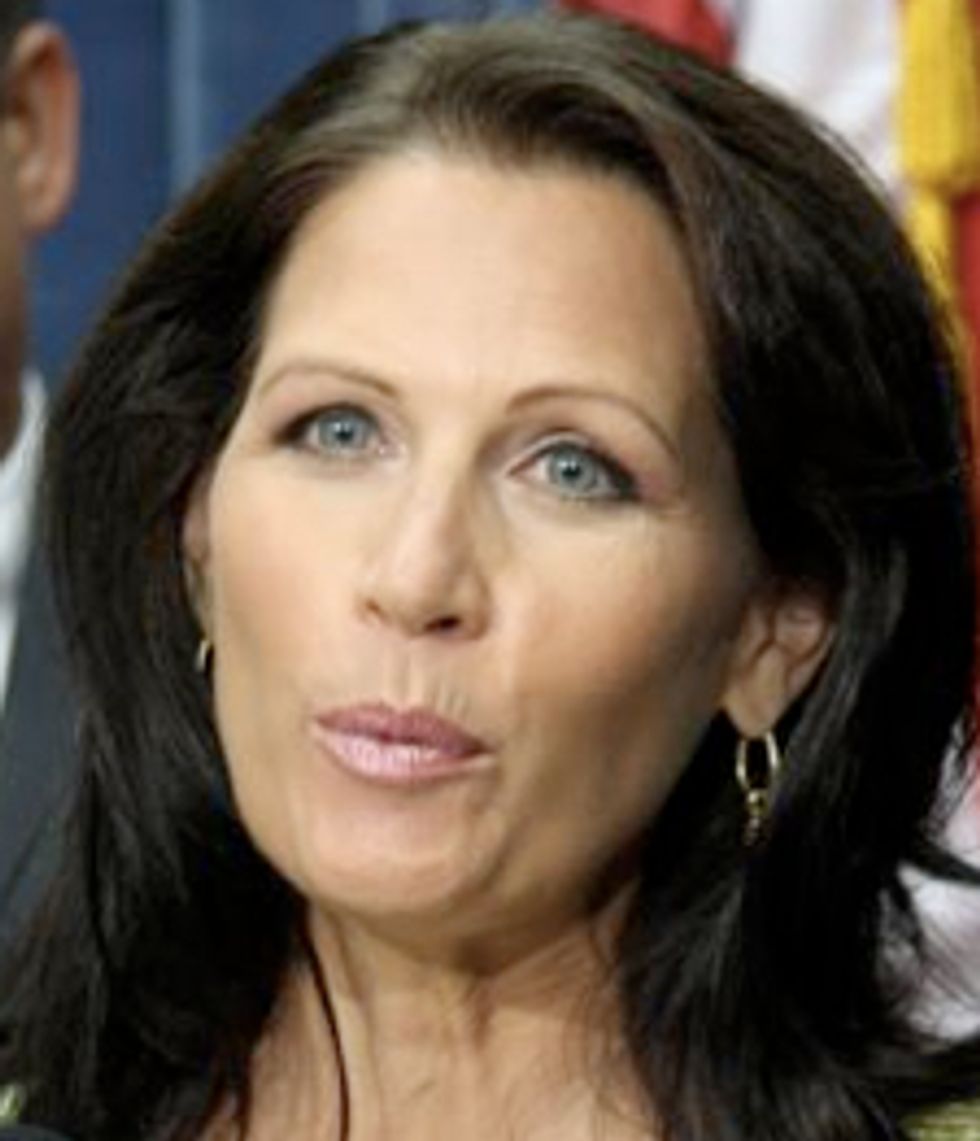 Less than a week after first filing the papers, Michele Bachmann's already got her new House Tea Party Caucus approved, a-movin', and a-groovin' -- with a patriotic tea party kicking off the creation of America's newest and greatest revolutionary sect. As your Wonkette goes to press, either seven or "nearly a dozen" Congressional reps have agreed to break biscuits with Our Lady of the St. Paul Tundra. Interestingly, they are all former winners of the "People's Sexiest Man Alive" contest! Just like Bachmann once was, before the surgery.
---
Reports Fox News:
At least eight House members, all Republicans, are joining the Tea Party Caucus. The members include Reps. Mike Pence of Indiana, Pete Hoekstra of Michigan, Paul Broun of Georgia, Todd Tiahrt of Kansas, John Carter of Texas, Cliff Stearns of Florida and Dan Burton of Indiana.
The Wall Street Journal adds a few other names to the sign-up list, including Pete Sessions of Texas and Steve "the mothafuckin'" King of Iowa. "A spokesman for Bachmann told Washington Wire that 'several more' lawmakers have expressed interest in the caucus so the ranks are expected to swell," America's best business paper reports. Wouldn't it be cool if those "several more" included all the members of the Congressional Black Caucus? Wonder what would happen.
Anyway, for now Michelle Bachmann's raucous new caucus is like a single lady's fantasy come true! A single, conservative, Republican lady who has incredibly low standards (almost all of them). Ooh, but Bachmann isn't a single lady -- she's got a hubster who helps take care of the 400 foster kids, 62 foster cats, and 17 foster Komodo dragons roaming independently and freedomistical on their Real-American money farm. Let's hope Mr. Bachmann doesn't get jealous.
If Lady GAH-GAH does decide to get cozy with one of her fellow Congresscreeps, however, we hope it's Mr. Kansas Leather '07 winner Todd Tiahrt, who will understand her tough yet feminine nature. Florida rep Cliff Stearns would also be good: though a bit older than Bachmann, he has a degree in electrical engineering -- a very practical major! -- and can probably fix her electric chairs when they short a fuse.
It should be assumed that no women are attending this historic gathering of the TP Caucus because all Congresswomen are jealous of Bachmann for her unparalleled beauty and brains. Bachmann's BFF since high school, Sarah Palin, had hoped to join, but then someone reminded her that she's only a TV star and not an elected official. [Fox News/Wall Street Journal]