Michigan Gov. Rick Snyder Finally Decides Flint Residents Drinking Lead Not Such A Great Idea
Featured
January 06, 2016 09:30 AM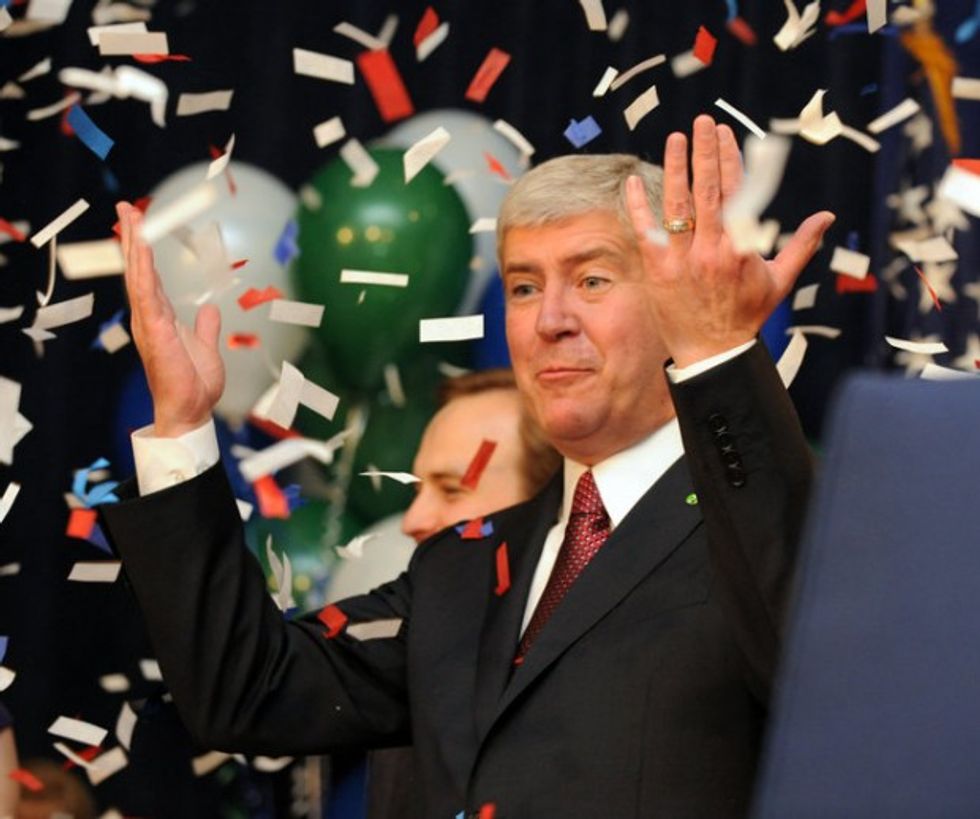 who could have known?
---
You will recall that a few weeks ago, we told you all about how people in Flint, Michigan, are drinking water so lead-ridden that they are basically becoming human versions of those lead weights you use to sink yourself to the bottom when you scuba dive. While that sounds all delightful and science fiction-y, people actually do not enjoy having lead course through their bloodstreams. Particularly the bloodstreams of their children, since lead completely stunts brain development.
Let us remind you, oh-so-briefly, why the people in Flint get to drink sludge. It is not just because they are lucky duckies. It is because, after Flint and some other cities needed to build their own water system, the interim solution that Gov. Rick Snyder and his state-appointed Flint city emergency manager hit upon while that system got itself built was to hook Flintians up to the Flint River. The problem was that the Flint River features water that is basically a tall not-sparkling glass of sludgy death. The other problem, alleges a lawsuit filed by a bunch of Flint residents, is that the city and the state knew about it and did nothing.
Late last year, comically bad Gov. Snyder roused himself from a winter slumber to fully investigate the matter find a fall guy and allow his Department of Environmental Quality Director Dan Wyant to be quit-fired and spend more time with his family. Weirdly, people did not really feel like that fixed the problem of how they were drinking lead!
Fast forward to Tuesday, when the day kicked off with the feds acknowledging that yes indeed they were investigating the whole shebang, which is notable because that is a thing the feds never let you know beforehand, probably because they'd have to kill you.
Gina Balaya, spokeswoman for the U.S. Attorney's Office in Detroit, said Tuesday her office is working with the U.S. Environmental Protection Agency on an investigation. She would not say whether the investigation is a criminal or civil matter. [...]

She said the U.S. Attorney's Office doesn't normally confirm nor deny the existence of an investigation, but it made an exception in this case because of the number of inquiries it was receiving from Flint residents. She would not place a time line on the investigation.

"In an effort to address the concerns of Flint residents, the United States Attorney's Office for the eastern district of Michigan is working closely with the EPA in the investigation of the contamination of the city of Flint's water supply," she said.
Later in the day, Snyder finally realized that he should do what Flint itself did last month: declare a goddamn state of emergency so resources could be mobilized and maybe -- just maybe -- kids wouldn't have to drink lead any longer. While normally we brush off any Snyderian proclamations as mere theater, the declaration of a state of emergency actually means that state and federal resources can be brought to bear and perhaps even some jackbooted thugs from FEMA might be able to come in and do a damage assessment to see if federal aid is warranted.
Now you might be saying to yourself, "Self, didn't I hear that they'd switched those poor sods in Flint back to Detroit's water supply, which is actually water and not lead?" Self, you are correct, but there's just one tiny problem.
Although the state assisted Flint in switching its drinking water supply back to Lake Huron water from Flint River water in October, there are concerns that lead problems persist due to damage the corrosive river water caused to the water distribution system.
So even after this shitty deal has been unwound, the people of Flint get to drink poison, because you know the state isn't going to pay to re-do all the pipes. Neat!