Midterm Madness: Illinois 5th, and the Lying, Lady-Punching Douchebag
News
March 11, 2018 03:42 PM
photo by Dominic Gwinn.
---
This week we're in Chicago and taking a look at Illinois' historic 5th district! It's a pretty and gritty place; you won't believe the scumbag we actually get to vote against.
In the past, the 5th was rep'd by former Illinois Governor Rod Blagojevich, who is still in jail for being a crooked bastard, and current Chicago Mayor Rahm Emanuel, also a bastard. Today, the 5th is rep'd by Mike Quigley; he's not a bastard, but he is running against one.
Quigley is a solidly Democratic vote. Pro-choice and a long time friend of the gay community, he's tried to stop the Keystone XL Pipeline, the repeal of Dodd-Frank, and tried prohibit people on the Terrorist Watch List from buying guns. Lately he's known for introducing HR 2884: COVFEFE Act which would would have amended the Presidential Records Act of 1978 to include archiving of social media posts -- that way Trump can't just whitewash his shitposts when he passes out live tweeting Hannity.
Quigley also has positions on two of the most important House committees -- Appropriations, where he keeps an eye on Uncle Sam's wallet, and the House Permanent Select Committee on Intelligence, where he investigates the Trump-Russia fuckery and reminds Devin Nunes that Chicago doesn't milk cows, we slaughter them.
The fifth contains a little bit of of everything in Chicago: yuppies, gentrifying hipsters, working class schmoes, and some suburbanites (ed -- Also Robyn!). Most of the area consists of twenty and thirty-something year-old white people working in bars, restaurants and retail, as well as a good number of construction workers and cops in the far North West corner. Over to the East are the yuppies and people with "disposable incomes."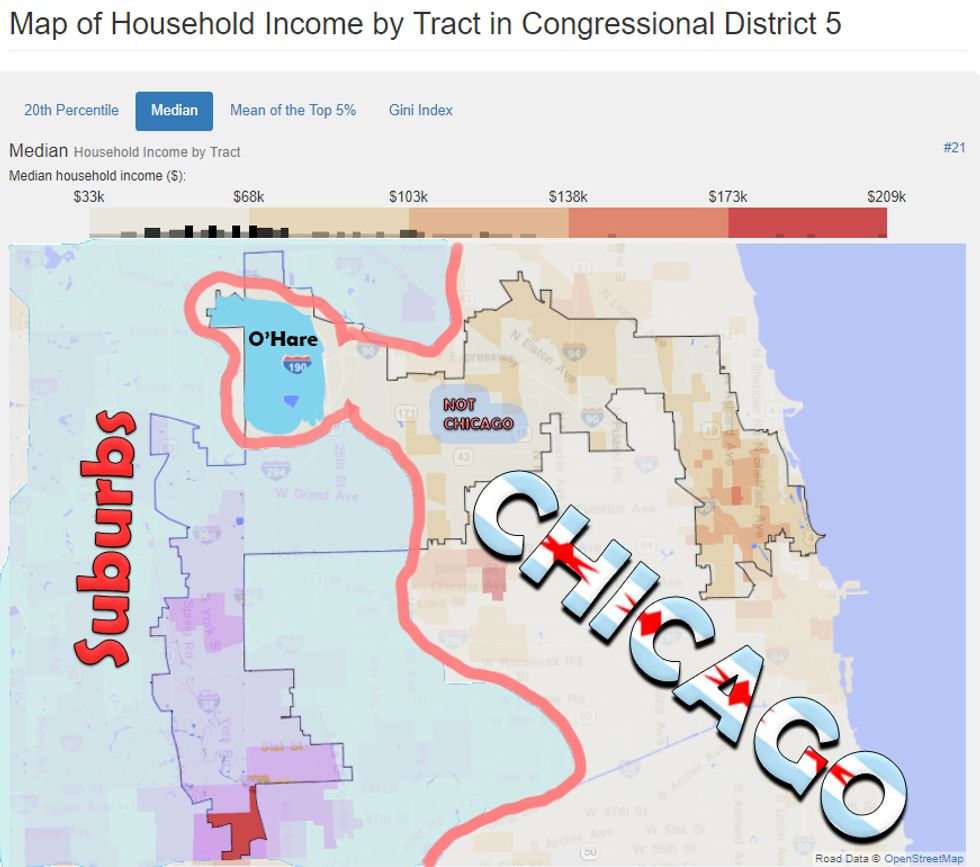 Chicago city limits shown are not exact. The blob in the middle is Norridge, AKA "Not Chicago."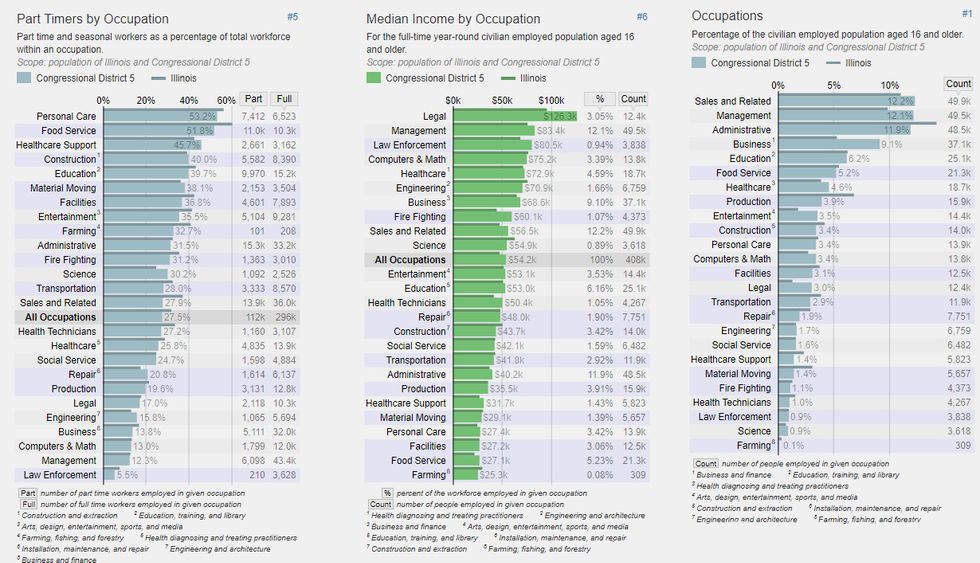 Maps and charts via Statistical Atlas.
Also worth noting is the historically large Polish and Latino population. As a historically immigrant-friendly city, this area is home to one of the largest Polish-speaking demographics in America, as well as an increasingly large number of people from Mexico and Puerto Rico. Needless to say, many corner bars here stock Żywiec next to the Modelo, Hamms, and Old Style.
Despite averaging 66 percent of the vote in his last four elections, Quigley is facing three primary challengers this year. Two of these candidates, Sameena Mustafa and Steve Schwartzberg, suffer from lack of experience in old school "Chicago politics," an unfortunate and longstanding necessity in this city. While Schwartzberg is the Berniecrat running on a laundry list ideals, Mustafa has been using community outreach to run a very people-focused campaign. If they're willing to get their hands dirty, both could be serious progressive politicos in the future.
Then there's Benjamin Thomas Wolf. He gained national attention a few weeks ago after posting a photo that ALLEGEDLY depicts him smoking a joint. Wolf has been running ads on porn sites, and campaigning heavily in Wicker Park and Lake View, gentrified areas of the city where Gen Xers drink fancy coffee and craft beer after buying oversized messenger bags and purses. After they retired their piercings, people here bought in to high snobriety.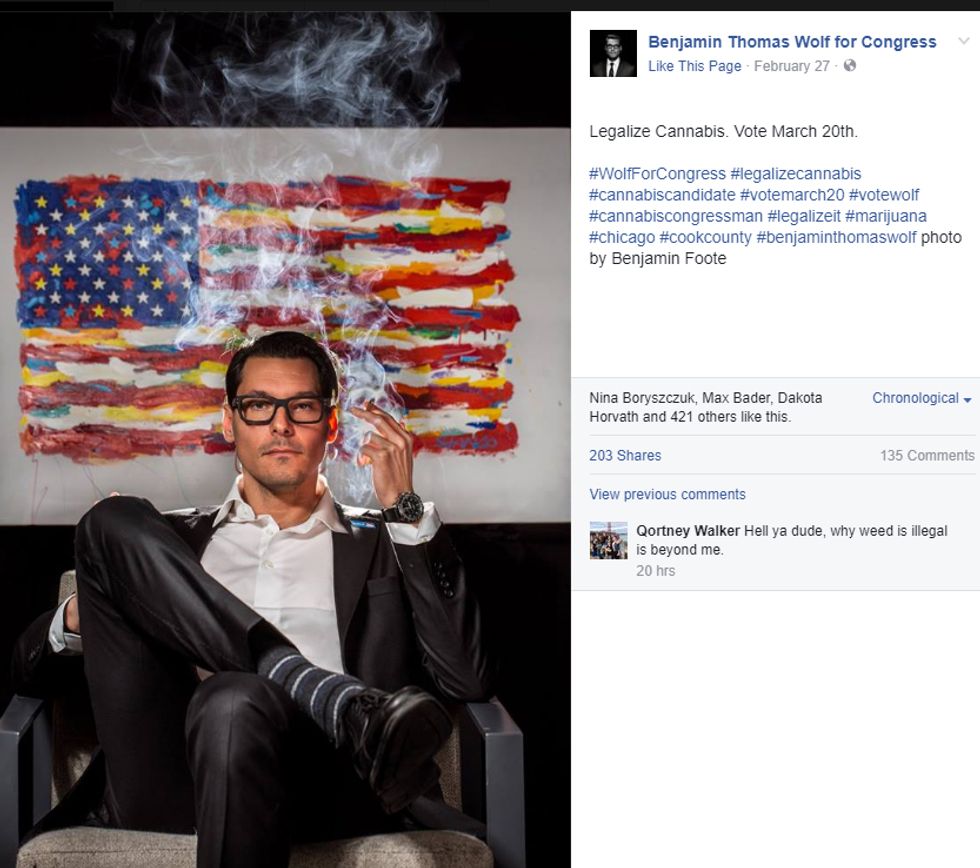 Benjamin Thomas Wolf: Douche canoe
After that photo went up, Wolf was dubbed the "cannabis candidate," and started getting national attention. He got several puff pieces that allowed him to play the cool former FBI agent and Iraq veteran who came back from war and found another battle at home. There was even a forgettable five minute segment on Fox and Friends that is basically him telling Steve Doocey, "Hey, hey, smoke weed every day."
But then Politico had kill his buzz with a story about domestic violence and accusations of stolen valor. 
According to Politico, Wolf has a history of physical and emotional abuse. The story alleges that Wolf assaulted a former girlfriend, Katarina Coates, who was interning for his campaign. Wolf ALLEGEDLY doxxed her, and called then cops to protect himself.
He actually hit me, threw me to the ground, put his foot on my chest. He was really angry. He grabbed my face...There were times I would ask him, 'Do you ever regret hitting me?' He would say: 'No, but I'm relieved when you put your head down so I don't have to do it again.'
The incident ultimately led to him being banned from DePaul University in Chicago. Yesterday, Wolf defended himself against allegations of domestic violence by attacking Coates, calling her mentally unstable at a candidate forum.
#wolfforcongress response to domestic violence allegations. A lying piece of garbage. #wolfforprison pic.twitter.com/Q0ICunHVX3

— devinthomas (@thedevthomas) March 10, 2018
video via @thedevinthomas
Wolf is also accused of threatening a professor at Roosevelt University where he worked as tutor, though Wolf has claimed he was an adjunct professor/faculty member. The professor claims that Wolf sent several letters encouraging the professor to kill himself. When asked if he ever told the professor to commit suicide, Wolf told Politico, "Honestly, I have no idea. No. I sincerely hope not."
Then there's the allegations of stolen valor. Wolf claims that he's a former FBI agent, and served multiple tours in Iraq, but the FBI has clarified his title as, "non-special agent professional support employee." In defense of his "service" record, or lack thereof, Wolf is telling reporters that the DOD and veterans, "cannot copyright the term 'service,'" which is like jizz mopper calling themself a porn star.
Recent updates to his website show his State Department and FBI credentials, and a couple of photos of him playing soldier. A number of links simply show questionable ID badges and business cards, and he even renamed the "Recognition" section on his website to "Credentials," and included a press release from State Department, circa 2005.
I got a little curious about how Wolf was funding his campaign, so I decided to take a quick peek at his recent FEC filings. Though there's nothing wrong with giving your own campaign $11,000 in three months, it is certainly worth keeping in mind just in case he decides he's "funded by the people," or something.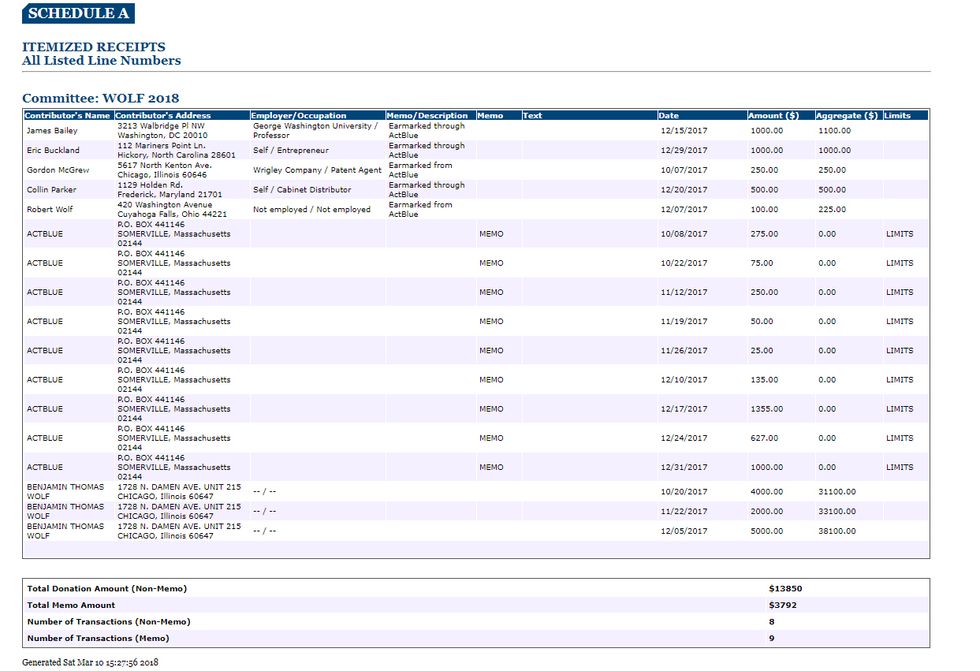 Since the Politico story broke, Porn Hub has pulled his ads from their platform, several groups have pulled their endorsements, local papers are running personal stories about being burned, and a Twitter account has been created with the sole purpose of documenting his alternative facts. Even a weed magazine is calling bullshit on his weed cred after he couldn't even answer the most basic legalization policy questions. Everyday more of his lies are being revealed, and documenting them all would be an entirely separate story. We haven't talked about how he owns an AR-15 despite a city wide ban on assault weapons.
The most important thing to take away is this: clueless frauds like Wolf will undermine actual reform efforts. The 2020 Census is coming up, and since we can't ADD seats to the House, we're stuck with dividing congressional districts into crooked swaths 325,000 people. In time, districts like the fifth will be divided along lines of race and income, a potential benefit for any opportunistic sleazeball looking to capitalize on disenfranchised voters, no matter where they live.
Wonkette is 100% ad-free and reader supported; we ain't lyin'! Buy us an Old Style and shot of Malort!
[FEC / Statistical Atlas / Ballotpedia / GovTrack / Chicago Reader / Politico / Newsweek / Chicago Tribune / CNN / Fox News / Observer / High Times / Herb / Chicago Sun-Times /Chicago Mag /  Daily Mail / Wolf Detective]
Dominic Gwinn
Dominic is a broke journalist in Chicago. You can find him in a dirty bar talking to weirdos, or in a gutter taking photos.