Mike Brown's Body Lay Mouldering On The Ground (With Six Bullets In It)
Featured
August 18, 2014 10:35 AM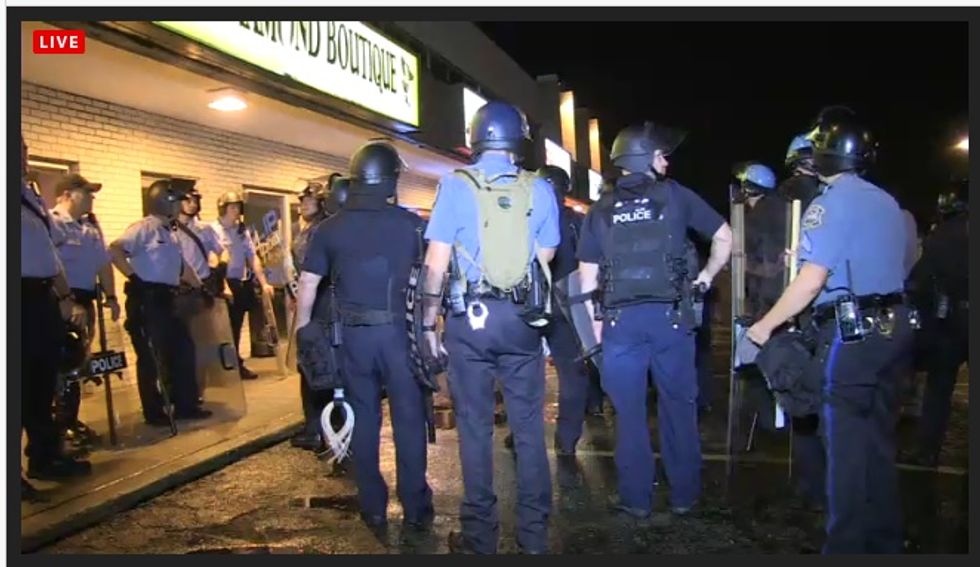 Image from Tim Pool's livestream via YouTube
---
As last week drew to a close, hopes were high that Ferguson might have turned a corner. Captain Ron Johnson of the Missouri Highway Patrol was in charge, and the demonstration he attended Thursday night was both the largest and the most peaceful in the five days since Michael Brown's shooting. Then, on Friday, the Ferguson Police Department, evidently without asking or even warning Captain Johnson, released still photos and video allegedly showing Michael Brown involved in a "strong-arm robbery" at a nearby business before he was shot.
The police were under increasing pressure to release the name of the officer who pulled the trigger, and they did do that, but threw in the tape from the convenience store over reported objections of the Department of Justice, where there was concern that it could reignite the unrest. Tom Jackson, Ferguson's Chief of Police, said that he was only releasing the tape because "you," meaning the media, "asked for it." He did not elaborate.
After the short-lived peace went down the tubes Friday night, Governor Jay Nixon held a press conference on Saturday that failed spectacularly to dispel his image as Not Quite Sure What To Make Of This and announced a curfew in Ferguson from midnight to five a.m. Tim Pool from Vice News was streaming video from the ground as curfew arrived, and reported that the crowd kneeling in the road where he was consisted of about five or six people, with a dozen journalists swarming around taking photos, before the police massed up the block started advancing and firing teargas. (Pool, who mostly covers protests and has been teargassed "many times," credibly calls BS on police claims that only smoke bombs were thrown before a shooting occurred, at which time they brought out the teargas in order to reach the victim.)
Pool's archived coverage is almost four hours long, and the full version is included below. Click here to see Tim's shot showing that the smallish crowd was "about 60 percent journalists" when police made the first announcement ordering them to disperse, here to jump to the first launch of gas (or SMOKE, whatever cops), and here is almost certainly the outbreak of gunfire that sent one person to the hospital in critical condition and, according to the police, justified the deployment of the teargas which had already been deployed by then.
The midnight-to-five curfew was kept in place Sunday night, but things got heated way before midnight. By 8:30, there were reports of multiple shootings among the protesters and a group marched to a Target store far removed from the central protest area and got into a confrontation with police staging in the parking lot that ended with teargas. Police claim that the crowd attacked their position with Molotov cocktails, though Tim Pool appears to show continuous video footage refuting that, along with reporting that police vehicles slowed down and fired on a crowd on a street corner. The police announced that "seven or eight" people had been arrested for failure to disperse.
Journalists found themselves particular targets for law enforcement on Sunday night, with MSNBC's Chris Hayes threatened with mace while he was giving a phone update live on the air and at least two others detained when they stepped in front of a police line.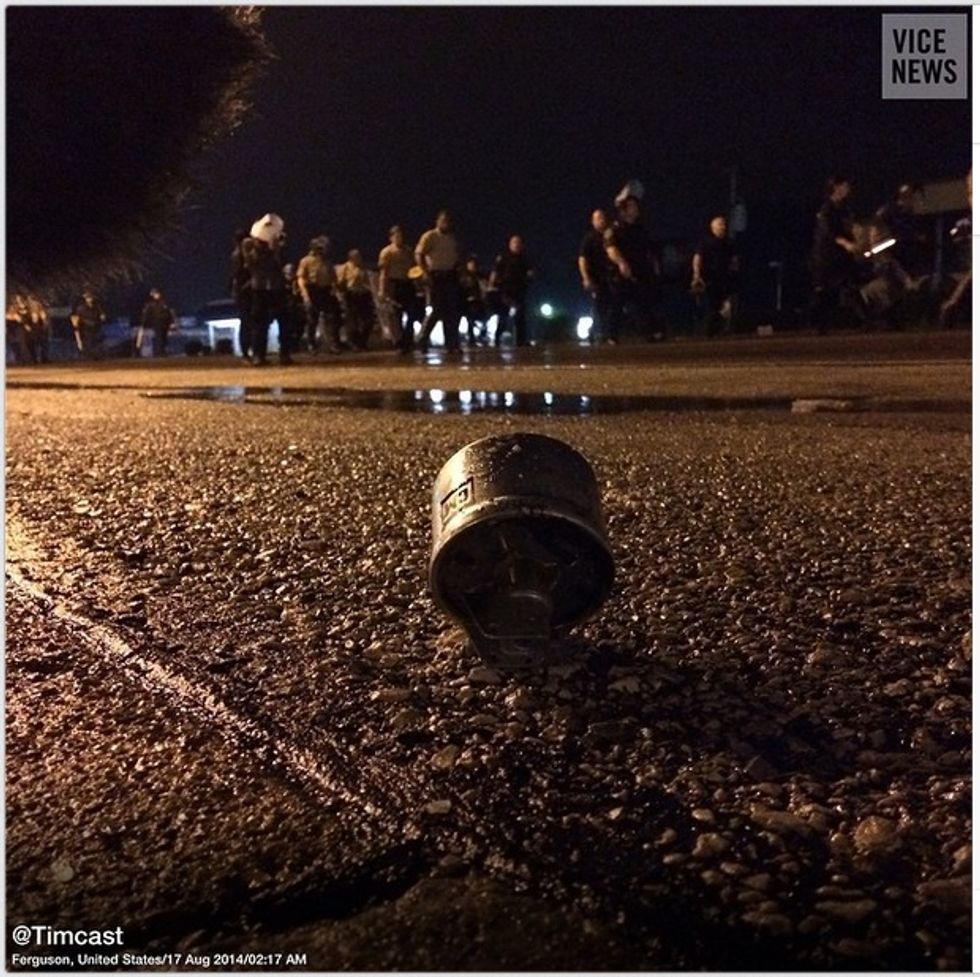 Photo: Tim Pool via Instagram
The press conference at 1:00 Monday morning Missouri time featured an exhausted-looking Captain Ron Johnson, who described looting and shooting and (alleged) Molotov cocktail tossing as calling for an escalated response. (The presser gets started at about 35:30 in the video below.) Captain Ron pledged that new operational strategies were being finalized at that very moment, gotta get back to it guys, later! In response to a journalist's shouted question, he said that bringing in the Missouri National Guard was not one of the options on the table.
[livestream http://new.livestream.com/accounts/9035483/events/3271930/videos/59728266/player?width=560&height=315&autoPlay=false&mute=false expand=1]
So naturally Governor Nixon released a statement only minutes later activating the Missouri National Guard, which is expected to arrive in Ferguson shortly.
Coincidentally, on Sunday, the New York Timesreported that the private autopsy requested by Michael Brown's family found that he was likely shot from a distance at least six times, including twice in the head.
[ HuffPo /MediaIte /Raw Story / Post-Dispatch / NYT ]