Mitt Romney Meets With Old Campaign Chums For No Special Reason, Why Do You Ask?
News
January 08, 2015 12:09 PM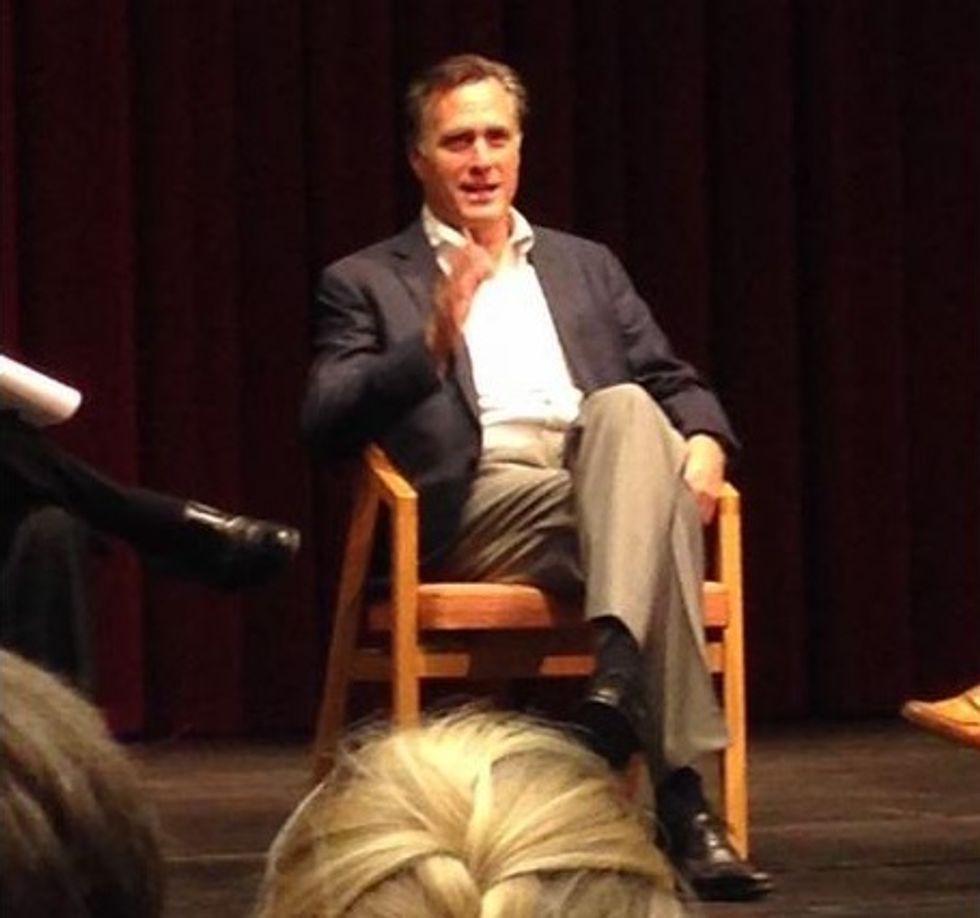 Mitt Romney gives a lecture about 2016 election at Stanford University. Pic by Stelio Ropokisvia Twitter
---
Mitt Romney has been keeping busy since our wayward nation made the biggest mistake of her life by walking away from the blissful comfort of his mechanical, Downy-scented embrace two years ago. Mitt is the forgiving type and has remained in the background of our political lives, just being our friend, because he would hate to think he and the American voters couldn't be friends anymore. And he's been meeting up with some of his best buds who, by total coincidence, played integral roles in his last run for president, just to say hi.
A lesser man with Lord Romnington's politically inconvenient level of personal wealth would get past electoral rejection by whiling away his days doing the wildest things he could imagine, like drinking Diet Cokes (he remains a Mormon), but just this week Mitt showed his serious side as a learned lecturer at Stanford University. It's an especially brave endeavor considering how conservatives are relentlessly savaged and oppressed in the liberally biased world of academia, leading to a chronic shortage of affirming role models for that one dude who takes all the Women's Studies classes to "try to provide a different viewpoint and engage in real dialogue."
Robert Costa reported Wednesday in the Washington Post that Romney was planning to relax after his professorial debut in POLISCI 72: "Understanding the 2016 Campaign from Start to Finish" by getting together with some old friends for a casual bite.
Former Massachusetts governor Mitt Romney, who has been encouraged by his allies to consider another run for the White House, will meet with several of his former political advisers Wednesday in Menlo Park, Calif., for a private dinner.

The dinner will be held at Madera, a Michelin-starred New American restaurant about a mile from Stanford University's campus, shortly after he lectures at Stanford University on presidential politics, according to Republicans familiar with his plans. [...]

At the table Wednesday will be four Romney loyalists who held senior positions in Romney's 2012 presidential campaign: Ben Ginsberg, Katie Biber Chen, Andrea Saul, and Lanhee Chen.
It's always fun to catch up with old friends, just because! It'll be a nice nightcap following Mitt's triumphant return to the Stanford campus after his younger days of picketing anti-war pickets when he wasn't in France avoiding the draft. Sadly for the students in POLISCI 72, Mittens will not be sticking around to guide them through the rest of the 2016 campaign, a process that is 22 months from completion that they will study from "start to finish" in the next three months. He has politically significant places to be.
After the dinner, Romney will take a red-eye flight to Boston to attend Massachusetts Republican Charlie Baker's gubernatorial inauguration Thursday. New Jersey Gov. Chris Christie (R), who is mulling his own 2016 presidential campaign, will also be at Baker's swearing-in.
With Mitt being so busy and all, he probably hasn't even noticed the approaching 2016 election and associated jockeying for position by would-be candidates. It's a good thing that some heavy hitters have taken it upon themselves to start the Ready for Romney super PAC to show Mitt that if he ever wanted to consider making the decision to talk to his family about a potential run for an unspecified political office, a solid structure built on ambiguous fundraising would be there for him to step into. A shell of a website is ready for him too!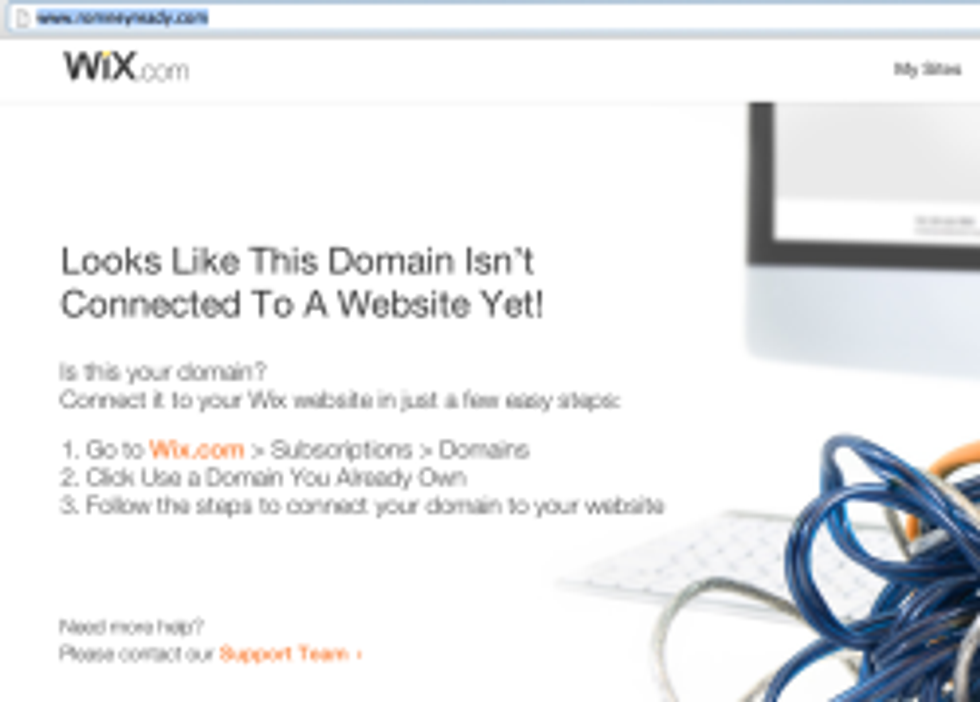 Ready for Romney appears to be, at best, political amateur hour.

The executive director is a 26-year-old named Jeffrey Goff who lives in Boston and has never worked on a campaign, let alone for the former Massachusetts governor.

Goff told The Daily Beast he had previously worked at the conservative Heritage Foundation think tank, then acknowledged he had merely attended a seminar there. He said he worked for an IT security consultancy, but when pressed for the name of his firm, he said clients just make out a check to him personally.

The goal of the organization, he said, is to "lay the groundwork for a Romney candidacy, get an email list going, and compile a list of donors that will be ready if he's ready to run. What we want to do is work with those folks to stay all on the same message."

Goff is joined by Peter Giuta, Ready for Romney's director of outreach, who works for a New York State Assembly member. Goff lives in Massachusetts, Giuta lives in New York, and the organization's FEC filing indicates a mailing address in California. (Goff says he registered a postal forwarding service there.)
We're sure that Mitt did not engage in any improper coordination with the Ready for Romney mailbox while he was in California. What with the non-functional website, a stub of a Twitter account, and $5,000 in donations, they seem like they're off to a great start without him! (Romney has his own super PAC, anyway, which will achieve its goal of restoring America's future any day now.) Some of Romney's hangers-on seem threatened by his new friends and are unfairly painting the eager young Mitt-heads as somehow shady or opportunistic, just because they're total unknowns with no prior connections to Romney.
It is not unheard of for consultants to get rich off super PACs that fundraise on behalf of candidates and then do little to support their campaigns — something former Romney aides fear is happening with Ready for Romney.

But Goff called it "insulting" to suggest that he might be running a super PAC for personal gain. He said he dipped into his personal funds and "reached out to some people who gave money" to get the PAC started.

"I'm not affiliated with anybody in the Romney camp, but I certainly believe, as adamantly as the next person, in Gov. Romney and his leadership ability," Goff said.
We weren't aware that Mitt had an official "camp" these days, but once these two get their website up and running, the sky's the limit! Romney 2016!
[WaPo]
Folllowing Beth on Twitter is not considered improper coordination by the Federal Election Commission.