Mitt Romney Trying Really-Super-Hard-You-Guys With Spotify Playlist of Sadness
News
March 09, 2012 05:43 PM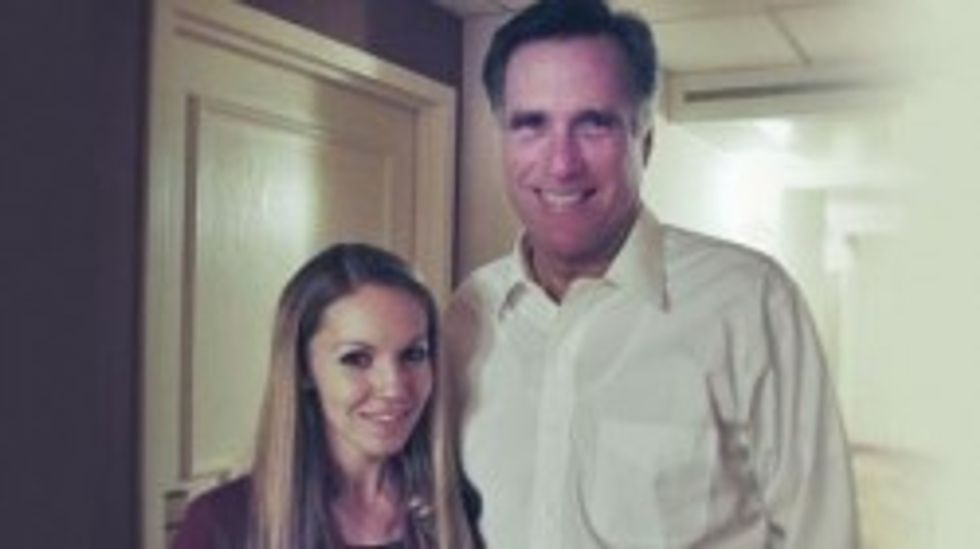 Hey you guys! Common dude/man of the people/human being made of many kinds of tissue and various organs Mitt Romney has released his"Spotify" playlist for a lighthearted "road trip"-themed look into beepboopbeepERRORERRORERRORERROR. In other news, many people who were just trying to drink a goddamned beer and post a few things for Friday larfs have now been forced to join goddamned Spotify and annoy their Facebook friends with unwanted crap updates on what musical shite they are listening to now. BEHOLD!
---
Man of Constant Sorrow, The Soggy Bottom Boys. Hey, are you having a Depression-themed birthday party? The Soggy Bottom Boys and the rest of the O Brother Where Art Thou soundtrack will prove invaluable (lots of Emmylou Harris, yay!). Good, pretty, excellent bluegrass. Good job, Romney social media person!
MTA (Boston Subway Song), Kingston Trio. This is a sort of lawful version of Alice's Restaurant, for people who came of age during the folk era but were afraid of taking their shoes off, and without the middle-finger to the fuzz and the Army. It is perhaps the whitest music to banjo-pick your ears outside of Parker Posey's band in the underwhelming A Mighty Wind.
Good Vibrations, the Beach Boys. Sure. Fine. Whatever.
Desperado, Clint Black. Why not the Eagles original, you are surely wondering? Because they are disgusting sex-fiend liberals who do drugs and hookers and besides, even hippies don't like them anymore.
Ring of Fire, Johnny Cash. The Man in Black kept his country fan base despite being antiwar and pro-drug and anti-the-justice-system and a total freakazoid. Romney's people chose the song that could least be construed as total fucking commie, but seem to have forgotten it was written by June Carter Cash about their adulterous affair. Well, you lose some, you lose some!
Born Free, Kid Rock. This is gross, and is hurting your editrix's feelings, and if Mitt Romney ever heard it, he would get even more stuttery and uncomfortable than usual. Your editrix imagines her sister, who is a Hessian and finds Kid Rock sexy (!) would totally dig it.
Over the Rainbow, Willie Nelson. Nelson, of course, ties with Johnny Cash (see above) for number one crossover appeal with hipsters and rednecks. Good thing they found a super-inoffensive song that wouldn't remind The Base about Willie's busloads of artisanal weed.
All-American Girl, Carrie Underwood. Listened to this, didn't hear a word. Pure American Idol pablum, from the iota that penetrated our consciousness.
Franki Vallee, Commodores, Roy Orbison, Nat King Cole, and Del Shannon. These might be on Romney's actual playlist; they are '50s-y, when he was but a young android, and would have given Lawrence Welk a stroke (rebellious, dood) and are very nice.
Read My Mind and Somebody Told Me, the Killers. Now you are just fucking with our heads. YOU ARE NOT GETTING THE YOUTH VOTE, AND THEY DON'T LISTEN TO THE KILLERS ANYMORE ANYWAY THEY LISTEN TO LIL WAYNE JESUS CHRIST.
As Good As I Once Was, Toby Keith. We heard this song once on one of those LA-to-SF trips where every five minutes you run out of radio signal and have to switch between Spanish stations, country stations and JAYSUS stations, and we didn't know what it was and we were shrieking in horror at the man singing about his gross disgusting threesomes with some vile bar-rats and when we got home we googled it and found out it was Toby Keith and threw up so many times. Here, have a listen your own bad self, and then die. [Mitt's Spotify]
Rebecca Schoenkopf
Rebecca Schoenkopf is the owner, publisher, and editrix of Wonkette. She is a nice lady, SHUT UP YUH HUH. She is very tired with this fucking nonsense all of the time, and it would be terrific if you sent money to keep this bitch afloat. She is on maternity leave until 2033.