Money Makes the World Go Around! Wonkagenda for Friday, December 16, 2016
POTUS
December 16, 2016 09:07 AM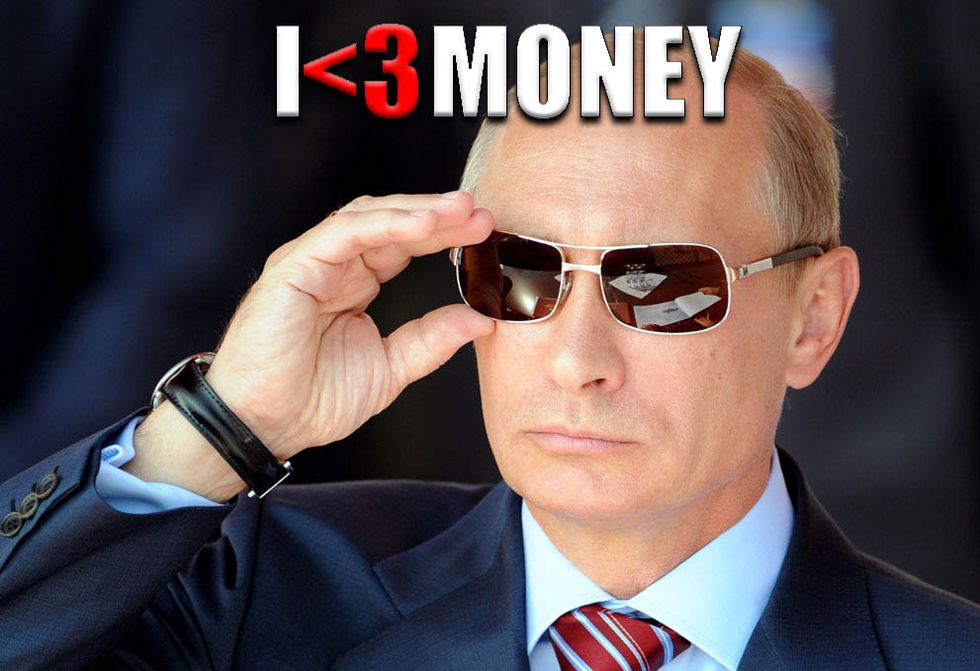 Woah, you like money too? We should totally hang out!
---
Morning all you beautiful Wonkers! We've got a big day ahead of us with lots of 'splainering, so here's SOME of the stories that we might be talking about today!
Obama is saying the U.S. will strike back against Russia for the hacks, but we may have some problems in trying to find the people responsible since it's super hard difficult to identify Russian hackers.
Retired Lt. Gen. Keith Kellogg and Monica Crowley have been named to national security posts under Mike Flynn, so not only will we have a former Iraq war planner whispering in Trump's ear, but a we'll also get Fox News's resident Nixonian blow hard to remind us it's not a crime if it's done by the president.
If you have an extra three quarters of a million Ameros lying around, you could buy yourself a coffee date with Ivanka Trump, which is NOT proof that you can literally buy your way into power due to a lack of scruples, it's just charity. *wink*
Donald Trump's cabinet are some of the wealthiest people in the country (brought to you by Carl's Jr.) so it doesn't really matter if you like them or not, they're rich, that means they're successful, which means they're better than you are.
After Facebook announced that it was going to start flagging suspected fake news stories based on Poynter's International Fact-Checking Network in an effort to restore some sanity to the people and validity to news organizations, the wing-nut-o-sphere started to lose their minds and scream bloody murder about censorship and brainwashing, while Alex Jones is threatening to sue.
Republicans in North Carolina's statehouse held a special session aimed at stripping the incoming Democratic governor of the powers held by the state's former governor (the one with the potty problems). And people went APESHIT.
New York Rep. Peter King went to Trump Tower and talked about the need for Muslim surveillance programs like the one that spied on Muslim people all over New York only thwarted by obnoxious journalists and those damn civil liberties advocates after the NYPD admitted in court that it was a useless program.
Senior Republican aides are quietly whispering that Obamacare might take years to repeal since bans on pre-existing conditions and the expansion of Medicaid have actually been pretty beneficial. Fancy that!
The Army Inspector General has concluded that sexual misconduct and harassment allegations against senior Army leaders has increased this year, but the good news is that it decreased among low level minions. Way to lead by example, Uncle Sam, but you don't get gold stars for grab ass.
Apparently Scott Baio doesn't like it when you grab him by the pussy, according to the wife of the Red Hot Chili Peppers's drummer, who Baio says beat him up. (The wife, not the drummer.)
Some alt-right dingus got VERY butthurt when the Clarendon Ballroom in Arlington, Virginia, decided it didn't want to host his party so he decided to wage war with shitty memes, twitter, and a whiny youtube video. Clearly this is all the fault of Hillary Clinton's pizza loving sex kittens that roam the double-secret super basement under the Potomac River.
Guys, just in case you forgot, if you criticize Gordon Klingenschmitt you're possessed by demons.
Since it's Friday, here's some Morning Maddow! Last night Rachel 'splainered with some journalism how Vladimir Putin not only came into power, but how Putin became (possibly) the richest person in the world by buying stakes in government-owned businesses. And you were SO concerned about nepotism!
And now, your morning Nice Time! OMG IT'S A RED PANDA and you totally forgot about all those deplora-whatevers you were so mad about! Look at that face!
Dominic Gwinn
Dominic is a broke journalist in Chicago. You can find him in a dirty bar talking to weirdos, or in a gutter taking photos.