More Heartwarming Voting Tales From America
News
November 04, 2008 06:03 PM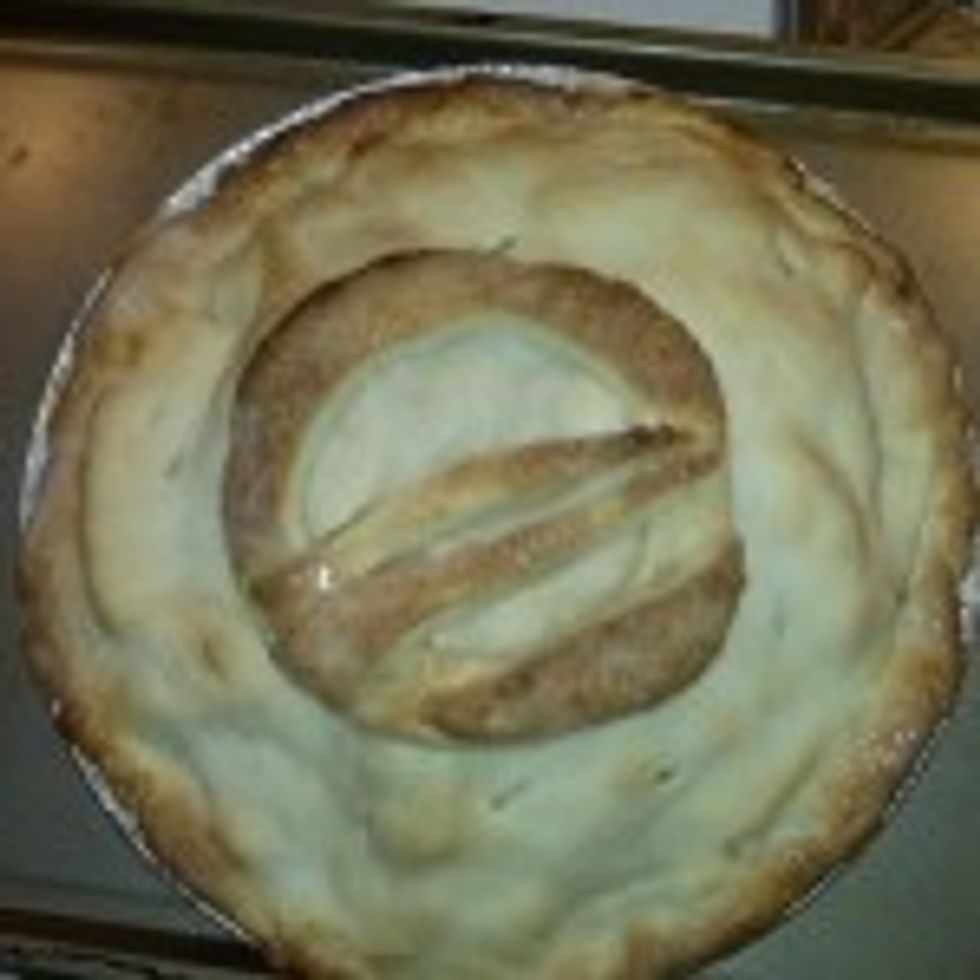 Hello friends! Your editors need to go gather supplies (guns, liquor) and walk our various beasts in the fields, and otherwise prepare for what begins at 7 p.m. Eastern. So enjoy this picture of a patriotic apple-o-bama pie by Ruth D., and tell us your election/voting tales of fun and horror, inside, in the comments. (ALSO:What is wrong with McCain's website??!)
---
Here's our first long post of polling-place voting tales from America, and here are a few more tales to get you started:
sexychica009 writes:
I just wanted to share to you this little account, in contrast to all those around the block lines and comfort teams, etc. No one's heard of Pound Ridge, NY, where the average property value is $1m...and the residents want to keep it that way since they don't want to get bothered by all those poor minoritahs. Got to the town hall around 10:30 am, after eating a full breakfast. Was in and out in 5 minutes, after standing in line behind a couple rich folks. Some highschool kid and his mom voted for Walnuts. Everyone stood around all relaxed and talking 'bout the weather, home renovations, stock option, prep school. Made it to class on time for my 11 am class. Read the news on less priviledged areas, where people stood in line for hours with faulty voting machines. Got a niggling feeling of inequality in the back of my head.
And this Hero put the subject line "unicorn pooping rainbows in prince william county" on his email, which is a Win:
I closed my business and I'm volunteering for the scary black muslin guy here in Prince William County,Virginia today. At 6 am there were maybe 200 people in line, no rain... just darkness, weather and the sky are both in the tank for Obambi. 12:00 pm: we are now about halfway through the total registered voters in our precinct. My guess: 80% Unicornman, 20% McCrypt. We have like five dems working out front handing out propaganda ballots PLUS two dem lawyers with us. The pugs have one guy who doesn't want to be there and a 17 year old who is being forced by her pug parents as a school project to volunteer for gramps. The mood: totally joyous and some tears! The dems coming in, big smiles, big hellos and goodbyes as they leave. The thugs: total and abject anger/denial. Anger bears won't even look at anybody in the face, if they say anything it's angry. You can tell how they are voting by the looks on their faces..amazing! One thug lady when handed a republican sample ballot was happy, she also took one of the democratic ballots and loudly announced "I better take one of these or my car will get trashed"..funnytard. Curiously there were a couple of hookerish looking Bible Spice impersonators voting for the republicans. This kind of excited the mendems in our group. We had to bitchslap them back to reality.

We've also had non-partisan vote checkers driving about to make sure there are no problems. We've had three of them come by and check up on us, secretly, they are all in the tank for Obambi. They reported that at all of the precincts they are checking, something like 8, have no problems.

I'm trying to not get too excited but it's difficult with so many joyous people about! You know that scene at the end of the third star wars movie when all the ewoks are dancing around...yeah I FEEL just like that!